Israel's Calling Card

"This is a very dangerous development. I hope at least that the US military and those of the countries participating in the coalition led by the United States understand that."




Russian Foreign Minister Sergey Lavrov





"Iran and the [Iranian Revolutionary Guards Corps' special unit] Quds Force for some time have been operating the T-4 Air Base in Syria next to Palmyra, with support from the Syrian military and with permission from the Syrian regime."




Israel Defense Forces statement, earlier February 10 airstrike in Syria





"[The] red lines [Jerusalem considers grounds for launching strikes, led to yesterday's strike]."




"In Syria many forces, from various bodies and coalitions, are operating. Each one says what it says and denies what it denies."




"We have clear interests in Syria and we set red lines. We will not allow weapons to pass from Syria to Lebanon, and we will not allow the establishment of an Iranian base."




Yoav Galant, former IDF major general, member of Israel's security cabinet





"I won't comment on the security matter being attributed to us, but the fact that this morning they are attributing to us what they are attributing to us shows the independence of Israel in every way."




"The State of Israel presents an object of admiration for the entire world [in defending its security and reaching out to strike a humanitarian admonition on a regime that gases its own citizens]."




Public Security Minister Gilad Erdan
This image released early Sunday, April 8, 2018 by the Syrian Civil Defense White Helmets, shows a rescue worker carrying a child following an alleged chemical weapons attack in the rebel-held town of Douma, near Damascus, Syria.
(Syrian Civil Defense White Helmets via AP)
Israel is besieged on all fronts, threatened by Hezbollah on its border with Lebanon, and by the Syrian regime with its Iranian Republican Guard al-Quds division on the border with Syria. The IDF has on previous occasions air-bombed convoys carrying military weapons from Iran and Syria to Hezbollah, and it did so again last night, targeting the Tiyas air base (referred to as the T-4 air base) in central Syria. This air base was struck before by Israel targeting an Iranian drone program.
Two Israeli F-15 fighter jets were identified by the Russian defense ministry, angry that it had not been consulted prior to the strike, concerned that the eight missiles launched at the base could have harmed Russian personnel had they been at the base at the time. Flying over Lebanese airspace, five of the missiles were intercepted, three struck their target. There were two Israeli warplanes acting as escorts for the two bombers that carried out the successful attack. Four Iranians died in the strikes, along with ten additional personnel.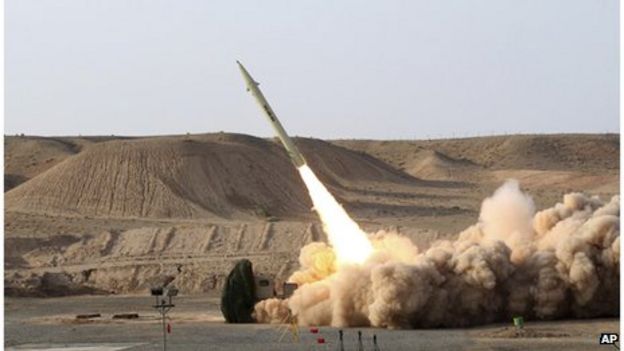 It is generally understood that this attack by Israel was in part a reaction to the Douma chemical weapons attack where dozens of Syrians were killed on Saturday night in eastern Ghouta. The outrage of yet another chemical weapons attack by the Syrian regime on Syrian civilians has aroused anger in the West, and denials by Syria and Russia.
"Many dead, including women and children, in mindless chemical attack in Syria. Area of atrocity is in lockdown and encircled by Syrian Army, making it completely inaccessible to outside world"
, wrote U.S. President Donald Trump.
He also warned darkly of a presumed U.S. military response to yet another
"red line"
attack that struck children in particular, with rumours that a hospital had been the target, but it is yet to be seen whether the United States will, as it did before, target the Syrian military from offshore.
"President Putin, Russia and Iran are responsible for backing Animal Assad. Big price..."
, wrote Trump. Yet it was not American warplanes that expressed their condemnation for this repeat blot against humanity, but Israeli warplanes delivering a dual message on Israeli security and Israeli disgust for crimes against humanity.
It is the next step that is a subject for speculation; whether Syria or Hezbollah or both will respond from the Golan Heights boundary, or what the Islamic Republic of Iran may choose to do to elaborate on its many rabid threats against the Jewish State. Russia is caught in the middle, a situation of its own devising, since it made the determination that an alliance with Syria and Iran and dragging Turkey along would best accomplish for Russia what the Kremlin imagines as an influential presence in the volatile Middle East.
In fact, the situation as it stands invites an American intervention, long overdue. Trump has access to Vladimir Putin, is able to discuss with him how things appear from the American viewpoint, advise Mr. Putin to withdraw his troops temporarily at whichever site the U.S. military plans to make its statement, and take action to redeem the United States in the opinion of onlookers like France and the Arab League which has proven itself to be incapable of any reactive solution to the Syrian massacre of Sunni Muslims.
Labels: Chemical Weapons, Defence, Hezbollah, Iran, Israel, Russia, Security, Syria