Collegial Cooperation in Conflict : Syria
"February 19 was the one of the worst days that we've ever had in the history of this crisis."




"I opened his mouth [one-year-old baby with blue skin and faint pulse] to put in a breathing tube and I found it packed with dirt."




"This is just one story from among hundreds of wounded."




Abu al-Yasa, doctor, Eastern Ghouta





"Since this morning the bombing has not stopped."




"I was in the street and twenty rockets hit houses around me. The people are living as if they are dead."




Abu Jihad Darawi, Ghouta resident
A Syrian civil defense member carries an injured child rescued from between the rubble of buildings after a government bombing in the rebel-held town of Hammuriyeh, in the besieged Eastern Ghouta region on the outskirts of the capital Damascus, on February 19, 2018.
(AFP Photo/Abdulmonan Eassa)
"We no longer have the words to describe children's suffering and our outrage."




"Do those inflicting the suffering still have words to justify their barbaric acts?"




UNICEF statement
Over 400,000 people live in Eastern Ghouta. An enclave of Damascus, in the hands of the Sunni Syrian rebels whom Syrian President Bashar al-Assad contemptuously calls "terrorists", for spurning his Shiite-centric regime. The enclave has been surrounded by government troops since 2013, in a siege tactic meant to starve out the residents, forcing them to live with inhumane privation. Food, medicine, the very basic necessities of life have been denied the population.
In the hands of a variant array of rebels, some of them jihadists, zones of control have been claimed in Eastern Ghouta. There is also a Kurdish minority living there, but all have been denied humanitarian aid, punishment for having among them the presence of rebel militias, defiant of the rule of the Alawite regime whose assaults upon the civilian populations of Sunni Syrians have proven to be equally atrocious to the humanity-debased attacks of Islamic State whose dread slaughters have garnered it global disgust.
The latest attacks on Eastern Ghouta for three days straight have intensified the civilian death toll;
"spinning out of control"
is how the United Nations described the situation in the rebel area. Rocket and artillery fire, air strikes and an absolute dedication to cleansing the area of its fighters has battered the enclave in an apparent softening up of the area preparatory to a large ground onslaught planned for the besieged and suffering region.
According to the Syrian Observatory for Human Rights, about 200 civilians have died, a quarter of them children.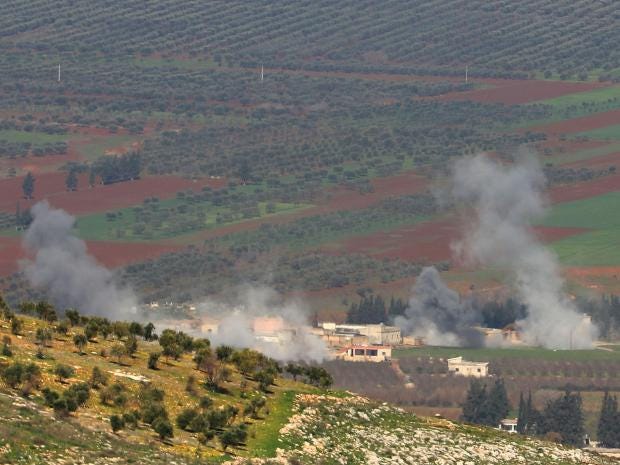 Turkish-backed Syrian rebel fighters fire from the town of Salwah, less than 10 kilometres from the Syria-Turkey border, towards Kurdish forces from the People's Protection Units (YPG) in the Afrin region.
Labels: Afrin, Conflict, Damascus, Kurds Defence, Rebels, Syria, Turkey