There Will Be Repercussions
"[Turkey's] patience has ended. We want to know that our allies will stand not with a terrorist organization, but with us."




Turkish President Recep Tayyip Erdogan





"We hope the U.S. administration will put a stop to this wrong and turn back from it. Such a policy will not be beneficial; you can't be in the same sack as terrorist organizations."




"There is no reality in the comments that a ground operation against Daesh [Islamic State] can only be successful with the YPG. I hope they turn back from this mistake."




"We are carrying out, and will carry out, all necessary diplomatic communications. Our wish is that the U.S. stops this wrong and does what is mandated by our friendship."




Deputy Turkish Prime Minister Nurettin Canikli





"[The U.S. has given Ankara few options beyond intensified military action against the YPG which Turkey considers a] direct national security threat."




"Is it going to affect the Raqqa operation? Probably yes. But the problem is, the U.S. is offering nothing -- no way to appease Turkey's security concerns."




Ufuk Ulutas, foreign policy director, Foundation for Political, Economic and Social Research, Ankara
Turkey is displeased. As far as Turkey is concerned, support of any kind for any reason, must be withheld from the YPG, the U.S.-backed Syrian Kurdish Peoples Protection Units and the PKK, since they present an existential threat to Turkey. There will be repercussions, warned Erdogan darkly, should the Trump administration continue on this trajectory. The United States of course, is anything but complacent about Turkey attacking YPG units, has protested those attacks, and has installed a greater American military presence to ensure Turkey takes the full measure of repercussions that would accrue to it, should it continue targeting the Kurdish fighters whom the U.S. relies upon to counter Islamic State.
Message sent, message received. On both sides, although Turkey is concerned only with the message they have sent as a warning to the Americans to proceed no further.

"Turkey's message to the Trump administration was that Turkey reserves the right to take military action"

, according to a senior Turkish official. Military action? Against whom? Certainly they haven't been concentrating on the Islamic State jihadis, but then Turkey has been fairly polarized about their position on ISIL, first supporting them, then, back against the wall as a NATO member, reluctantly countering them.
"[The United States led] open discussions] with Turkey. [The situation] is not always tidy, but we work [together on issues to resolve differences]."




"[Turkey being] the only NATO ally [confronting an insurgency, the U.S. plans to work closely to defend Turkey's southern border]."




"It's Europe's southern border, and we'll stay closely connected."




U.S. Defense Secretary Jim Mattis
It isn't all that difficult to imagine, after all, what Turkey's frustrated moves could lead to, in countering the Trump administration's decision to finally supply the Kurdish fighting forces in Syria with the kind of heavy weaponry they require to effectively battle the better-equipped Islamic State militias. There was a taste of that with the strikes Turkey conducted in northern Syria. And that taste could be ratcheted-up to become a full-scale feast beleaguering the Kurds with the superior war machinery of the Turkish military.
The goal to deprive Islamic State of the last of its large population holdings, one that is widely recognized as ISIL's purported capital of its caliphate, would, when successful, strike a deadly blow to their aspirations in direct contrast to where they were over a year ago when they held control of much of Syria and Iraq. Their ouster from Raqqa, the ISIL capital, would reflect in real time, Islamic State's fall from the power base they had acquired and defended in record time. The lock-step conquest of Raqqa with that of Mosul in Iraq, would put the final nail in the coffin of ISIL's Middle East ambitions.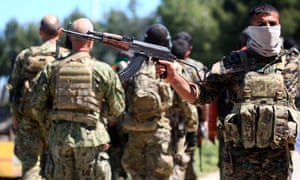 Fighters from the Kurdish People's Protection Units (YPG) in north-eastern Syria. The YPG welcomed the US decision, describing it as late but historic.
Photograph: Delil Souleiman/AFP/Getty Images
The Syrian Kurds just happen to have immense strategic importance to the United States in their joint efforts to dislodge and defeat Islamic State. That the U.S.-allied force is affiliated with the Kurdistan Workers' Party is an issue that drives Erdogan to a frenzy of hatred. The PKK has long fought Turkish forces in its bid to 'persuade' the Turkish state that it is high time to surrender the Kurdish homeland back to the Kurds, sacrificing a geographic proportion of Turkey's sovereign territory that has always been Kurdish.
It seems clear that the Kurd-frenzied Erdogan, a still-evolving tyrant, was a trifle hasty in welcoming the successor to the U.S. President with whom he had had a testy relationship. Erdogan had somehow envisaged Donald Trump as being more malleable, more susceptible to falling in line with Turkey's goals and views than Obama. Perhaps he had convinced himself on the basis that the two seemed to have much in common; Erdogan and Trump, both given to bellicose grandstanding, narcissism, and uncompromising entitlements.
Labels: Armaments, Erdogan, Kurds, Threats, Trump, Turkey, United States