The Prestige and Privilege of Higher Education : Diversity, Equity, Inclusiveness
"Why is diversity so important?"




"Diversity is a powerful agent of change. Indeed, diversity is an imperative that must be embraced if colleges and universities are to be successful in a pluralistic and interconnected world."




Dalhousie University, 200 years of intellectual rigour
"The academy has been so focused on attaining diversity by race and gender [which are valuable] that it has created a hostile climate for people who think differently."




"The American Academy has -- arguably become a politically orthodox and quasi-religious institution."


Jonathan Haidt, The Coddling of the American Mind



"Loud noises, including whooping and traditional applause, could pose an issue for students with disabilities, such as those with anxiety or sensory issues."




"[Jazz hands are required at debates, panels and talks, along with at meetings of the student senate.]"




"Jazz hands [was designed to support those with disabilities and/or sensory conditions to participate in events."




"Students' unions strive to make their events welcoming to all of their students by acknowledging their experiences and responding to their needs."




Manchester University student union
Oh dear, the poor darlings, all of them. Due regard for their comfort and feelings must always be uppermost in mind at today's institutes of higher learning. And so, we must, all of us be aware, those within the sacred halls of universities where the young are nurtured, instilled with obligatory compassion for others, while science, history, politics, economics are all filtered through the delicate lens of leftist perception and compassion for the social-economic-political-non-gendered underdogs of society in the new(ish) social compact to produce sterling citizens of tomorrow today.
Dalhousie University, to celebrate its 200 centuries of existence as a hallowed hall of cerebral functioning has recognized a problem in its ceremonial mace; it is now viewed as an oppressive symbol of an oppressive past. So its function is being redesigned to enable it to
"better reflect the University's evolving values and commitment to diversity and inclusiveness"
. Oh, thank heavens, really!
As for Lord Dalhousie who founded that eponymous institution, the old colonialist pale-male no longer appears to reflect the humanitarian values Dalhousie is now embracing. Did you know that Lord Dalhousie spoke of blacks fleeing the perdition of the United States post War of 1812 as
"slaves by habit and education"
? Well, he damn well did, the old rogue. What to do? Strike a scholarly panel to debate and probe: honour or expunge?
This past fall, Michelle Williams – the director of the Indigenous Blacks & Mi'kmaq Initiative, Schulich School of Law – was selected as co-leader of the Diversity and Inclusiveness Strategy. She replaced Dr. Wanda Thomas Bernard who completed her term summer 2017 after being appointed to the Canadian Senate. Michelle has been working alongside Jasmine Walsh, co-leader and assistant vice president, Human Resources.

Dal News
What is indisputable, however, is that Dalhousie has signed on to a Strategic Priority to
"foster a collegial culture grounded in diversity and inclusiveness"
. To that end, an advert for a new dean of students specified that candidates be
"racially visible"
. Courses? How about one on pulp fiction, another on popular culture, mystery and detective fiction, science fiction, fan culture, afrofuturism?
No kidding, chum...
Front and centre, top of mind, eclipsing all other matters of concern however notable is the new face of the Academy: anti-racism, anti-oppression, and so then it becomes de rigueur that Pride Week, Respect Week, African Heritage Month, Mi'kmaq History Month and Days of Activism against Gender-Based Violence be regarded as the fulcrum spokes around which Dalhousie and others of its accreditation ilk revolve. Of course Dalhousie has lots and lots of company.
Leaving Canada for London: students there now are no longer to use loud clapping, whoops and any noisy applause in appreciation of concerts or lectures. Sara Khan, Manchester University's liberation and access officer nixed traditional applause as being insufficiently
"accessible"
, so clapping is banned and
"jazz hands"
is in, where people wave their hands about, instead, urging
"student groups and societies to do the same".
The National Union of Students adopted "jazz hands" in 2015 on the grounds that clapping
"triggers anxiety"
. Students who whoop, cheer and clap should, feels the National Union of Students, face
"consequences"
. Audiences must be aware that to whoop in expressing support for a speaker has a
"serious impact"
on disabled students who under those circumstances, will find attendance at conferences
"inaccessible"
.
Oxford University's equality and diversity unit last year issued guidance to its students advising that those who avoid making eye contact with their fellows could be guilty of racism. Can't get too much more august than Oxford; can't get too much more threatening than to be accused of
(shudder)
racism.
"Trigger warnings"
have been issued at University of Glasgow for theology students studying Jesus Christ's crucifixion; informed in advance they may view distressing images, and thus have permission to leave, should they wish to.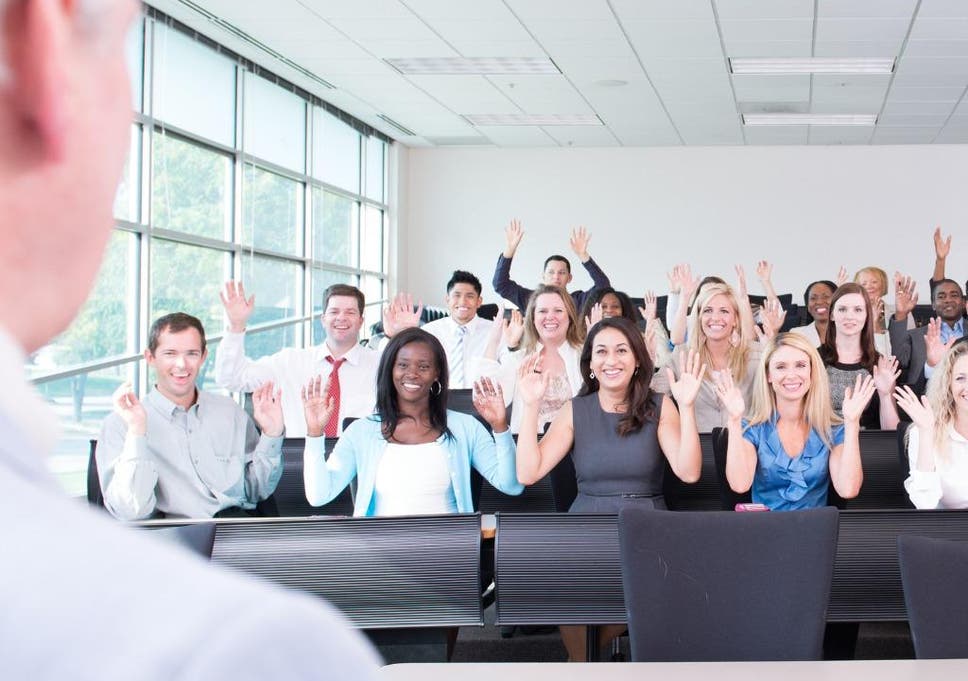 Jazz Hands...British Sign Language action for applause

The Independent
Labels: Bigotry, Gender Equality, Human Relations, Intelligence, Political Correctness, Political Realities, Racism