Israel: The Jewish State
"Every country must guard its borders."




"It is important that people understand that we are doing something here that is completely legal and completely essential."




Israeli Prime Minister Benjamin Netanyahu





"We are talking about the history of the Jewish people, from the exodus from Egypt to the terrible tragedy of the Holocaust."




"Refugeedom is in our DNA. Seeking asylum is in our blood."




Rabbi Nava Hefetz, leader, refugee support group





"Israel is too small and has its own problems."




"It can not serve as the employment agency for the African continent."




Ayelet Shaked, Israeli justice minister
Over the years Israel has undertaken the 'rescue' and patriation transfer of thousands of Ethiopians. Both secretly and more latterly in agreement with the government of Ethiopia in a 'magic carpet' enterprise that saw Ethiopians flown discreetly to Israel to become citizens. Theirs was a type of historical re-uniting, however, since those Ethiopians called 'Falashas' were from ancient times to the present, faithful to Judaism and as such eager to live in Israel in a Jewish state where they would no longer face religious discrimination.
When does a Jewish state face the peril of losing its majority Jewish status and raison d'etre? When too large a proportion of its population is not Jewish, and then the state risks losing its original purpose and as such its status as a haven for persecuted Jews from all over the world. In the last few years, black Africans have been fleeing institutionalized persecution, the carnage of conflict, the lack of economic opportunities, and flooding to areas of the world where they see a potential for a better future.
While Europe has been flooded with migrants and refugees, Israel too has been infiltrated by illegal migrants. Europe is a vast geographic estate whereas Israel is a tiny sliver of a country in the midst of much larger territories governed by Arab and Muslim nations. Those Arab nations are contending with their own influx of refugees from war-torn Syria, from Lebanon, Libya, from Iraq and from the Palestinian Territories, but they have closed their borders to African migrants who have infiltrated Egypt and crossed into Israel in search of employment.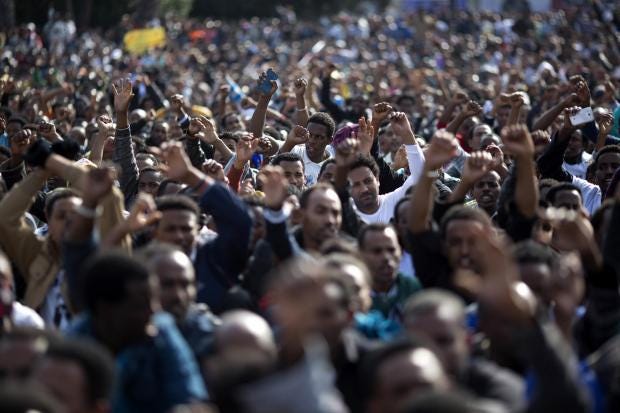 African migrants protest about the deportation plans in Rabin Square, Tel Aviv
Tens of thousands of Eritreans, Sudanese and others from the African continent have penetrated Israel. Some like the Eritreans flee their country's national service, deemed a crime punishable by death. Israel also has a national service draft, given its history of military invasions by its neighbours. Ultra-religious orthodox Israeli Jews manage to evade the draft, by and large without punishment. As do Arabs, Druze and other minority Israeli citizens, though some are proud to serve.
Israel cannot afford to absorb the estimated 60,000 Africans who have migrated in the last decade and has initiated a deportation program which some Jewish Israelis protest against. Other Jewish Israelis complain that where their areas have a dense congregation of these migrants, crime proliferates and security fails. The Israeli government has offered 38,000 migrants from Eritrea and Sudan a choice of $3,500 and a plane ticket to a third country in Africa, or jail.
Petitions opposing the policy emanating from Israeli Jews across the spectrum arguing that a nation comprised of refugees after the Holocaust has an obligation to welcome refugees with compassion. Israel, like all other nations has an existential obligation to protect its borders against these incursions, however, to prevent illegal immigration, striking a balance with compassion. Its choice is a stark one; preserve the Jewish character of the state or diminish it beyond recognition.
International conventions disallow the repatriation of asylum seekers to countries they emanate from where they may face persecution or criminal prosecution. A steel barrier along the border with Egypt built to stop the influx years ago, succeeded. Although thousands of Eritreans and Sudanese filed asylum requests in Israel, a vanishing number have received refugee status -- representing Darfurians from Sudan, granted special humanitarian status.
Some 20,000 African migrants chose to leave Israel under the expressed terms. The remainder are now subject to deportation. Some third countries in Africa have agreed to take the deported migrants, but only if the migrants themselves agree. Israel has deported over 5,000 non-African illegal immigrants in the past year representing over 20,000 Ukrainians and Georgians who have sought asylum in recent years in Israel.
Families of the approximately five thousand children of asylum seekers born in Israel would not be affected by the new deportation policy, aiming pointedly to move single African men out of Israel, those who had not submitted asylum requests by the new year.
Deportation notices are only being handed out to men with no dependents in Israel who have not been awarded asylum. All women and children are allowed to stay - for now. Pictured: African migrant children in Tel Aviv last week
Labels: Controversy, Deportation, Eritreans, Ethiopians, Israel, Jews, Migrants, Sudanese