The Philippine War on Drugs
"I witnessed bloody scenes just about everywhere -- on the sidewalk, on train tracks, in front of a girls' school, outside 7-Eleven stores and a McDonald's restaurant, across bedroom mattresses and living room sofas. I watched as a woman in red peeked at one of those grisly sites through fingers held over her eyes at once trying to protect herself and permit herself one last glance at a man killed in the middle of a busy road."




"I have covered wars in Iraq and Afghanistan. What I experienced in the Philippines felt like a new level of ruthlessness: police officers summarily shooting anyone suspected of dealing or even using drugs. Vigilantes taking seriously Mr. Duterte's call to 'slaughter them all'."


Journalist Daniel Berehulak: Witnessing Slaughter in Duterte's Philippines, The New York Times



"We in the slums of Manila who have been living in constant fear for the past ten-plus years because of the denial of the previous administration that we are becoming a narco state feel safer. You do not have the right to tell that you don't feel safe if you haven't experience[d] violence from drug infested areas!!!




Ann Mendoza, Philippines





"I'm living in the Philippines, and yes one of my family got killed because of this campaign, but I still and the rest of my relatives support this campaign because since the administration changed we feel more safer. And about his efforts, we, most of Filipinos are very satisfied to his [Duterte's] works."




Jhudie Rap Ram-Jo, Philippines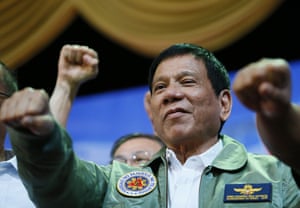 President Rodrigo Duterte has ordered a nationwide crackdown on drugs criminals. Since he became president in June 2016, more than 3,000 are thought to have died.
Photograph: Bullit Marquez/AP
Last year Rodrigo Duterte, who had garnered a reputation as a brutally fearless law-and-order, coarse-speaking politician who had cleaned up his own crime-ridden city in the Philippines in his stint as its mayor, ran for the office of president of the country, boasting he would rid his country of terrorists and drug dealers to bring justice to bear and remediate the quality of life of the people of his nation. And he was handily elected to office. Immediately on assuming the presidency he launched a war against drugs.
Since President Duterte formally unveiled his war on drugs, urging everyone to become involved, he has inspired extrajudicial killings committed by vigilantes or just plain thugs to take place without consequences or question let alone trial and justice, the administration content to allow the situation to unroll as it would, with the police, the military and the public becoming involved. The police essentially have license to kill anyone they feel is a suspect.
President Duterte would not shed a tear for the hundreds, perhaps thousands of people killed, satisfying his determination to cleanse the country of the presence of users and dealers alike.
"Suspect Cruz ran inside the house then pulled a firearm and successively shot the lawmen, prompting the same to return fire in order to prevent and repel Cruz's unlawful aggression"
one police report stated. Obviously exculpatory reason to act as they did.
But an exonerating tale that was not supported by the eyewitness account of Florjohn Cruz's wife. Who told her own story of her 34-year-old husband busy fixing a transistor radio owned by his 71-year-old mother. Armed men clattered their way into the living room and shot Mr. Cruz dead, a man who was not a drug dealer but who used methamphetamine. Police knew where he lived because months ago he had, like tens of thousands others, 'surrendered' in response to a presidential decree.
Which had included an opportunity while turning oneself in to authorities, to take advantage of a drug treatment program presumably available to anyone who registered as either a drug dealer or a user of drugs, but failed to materialize. Joselito Jumaquio was one of those users, a pedicab driver who surrendered to the authorities. His end came when 14 masked men entered the shantytown where he lived and dragged him down an alley, calling to neighbours to stay inside their homes.
They exited after two shots were fired, and then another four, to find Mr. Jumaquio's bloodied body. A plastic bag of amphetamines beside his handcuffed hands, along with a gun, in an operation that the subsequent police report described as a
"buy-bust operation"
. There are so many bodies of those summarily executed that they are piled like firewood in morgues for eventual burial in mass graves.
Benjamin Visda was at a food outlet eating cake when he was taken by eight men. He lived for another 20 minutes, after which his body was dumped outside a police station. Crisostomo Diaz, 51 years of age, had nine children with his wife Nellie. He worked at odd jobs and was a drug user who had turned himself in to authorities. His wife wanted him to stay with relatives, but missing his family he returned, to sleep at home. And was murdered there.
According to Mr. Diaz's 19 year old son, a man in a motorcycle helmet kicked in their front door, two others behind him. The helmeted man said
"Goodbye, my friend"
, while his companions held guns at the chests of the boys gathered in the house, and Mr. Diaz was shot point blank in the chest. As he sank to the floor he was shot twice more, in his head and his cheeks. The children watched as the three men left, laughing.
Over 35,600 people have been arrested in anti-drug operations the government has named Project Tokhang, a Cebuano language phrase meaning
"Knock and plead"
. In poor districts police seize teenage boys and men directly off the street, make arrests after running background checks, but sometimes shooting to kill. Over 3.57 million residences have had government forces knock on their doors.
More than 727,600 drug users and 56,500 dealers have surrendered to the police, leading to massively overcrowded prisons. President Duterte is usually seen smiling in public. He is fulfilling his election promise.
CRIMINALS KILLING CRIMINALS? This photo shows a placard reading 'Do not follow me, I am a drug pusher and my house is a drug den,' next to victims who were shot dead by unidentified gunmen in Manila on July 28, 2016.
Photo from EPA
Labels: Crime, Drugs, Philippines