Sharia Under Islamic State
"This isn't something we want our children to see [two dead Islamic State fighters lying on the neighbourhood sidewalk, decomposing]."




"I asked them [Iraqi special forces] to please take the bodies away, the smell is terrible."




"We've received nothing [in the way of foreign humanitarian aid]."




"We are so thankful for these soldiers [driving around in black armoured Humvees], but what we really need now is a medical centre."




Muhammad Jassim, eastern Mosul





"We want people to know that this area is safe, that the military is here now."




Lt.-Gen.Abdul Wahab al-Saadi, Iraqi special forces





"I put on everything -- the niqab, the abaya, the gloves, the socks. All I forgot to do is cover my eyes."




"They [morality police] said: 'Where is your husband Does he accept that just anyone can see your face? ' I said: 'But I wasn't showing my face. Only my eyes'!"




Halima Ali Beder, 39, Khazer Camp, Iraq





"To the virtuous women. In modesty [wear] the wide, loose jilbab, stay in your homes and leave them only in cases of necessity."




ISIL 'Bill of the City' governing Mosul
The Islamic State set up their police headquarters, commonly called the hisha, wherever they controlled cities; in Syria, in Iraq, in Libya, in pursuit of spreading virtue and modesty. Offenses against the circulated 'Bill of the City' setting out ISIL's expectations for deportment under ISIL's Sharia law, were prosecuted from their bureaucracy, handing out fines, flogging men if their beard was the wrong length, for failure to pray at the sanctioned hours, for possession of tobacco and alcohol, among other moral missteps.
A 39-year-old woman named Wafa living in Mosul described how she had barely lifted the khimar fabric over her face to enable her to bring a spoon to her mouth at a family picnic with her children, when she was overseen by police. She was arrested, taken away by police, and an ISIL judge ordered the punishment of 21 lashes. A woman with a cable of metal spikes at the end, had her kneel:
"It's indescribable the pain I felt. I was screaming, crying -- begging -- reciting prayers."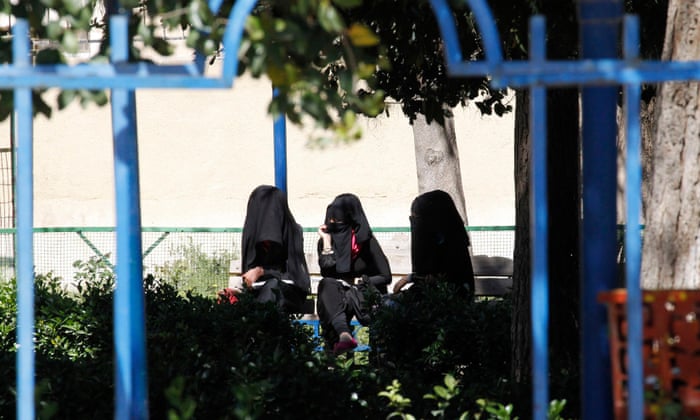 Veiled women sit on a bench in Raqqa. Isis has imposed sweeping restrictions on personal freedoms, and women must wear the niqab, or full face veil, in public or face punishment.
Photograph: Reuters
If a woman was caught by the morality and virtue police not adequately observing the ISIL dress code, her husband was expected to appear at a hearing where he was levied a fine, or else he or his wife would be sentenced to be whipped. Mrs. Beder, recounting the restrictive lives led in Mosul under Islamic State rule, said her husband was fined 50,000 dinars, representing a huge portion of the family monthly income.
For Iraqi forces, now that Islamic State fighters have been forced out of much of Mosul, a routine of slow progress inside the city is taking place, even while civilians remain trapped along the front lines. Although Jassim Mishraq's neighbourhood was declared to have been liberated by the Iraqi military a week earlier, the neighbourhood is still too dangerous for humanitarian aid groups to enter and give aid to the residents, since just a few hundred metres away, violent clashes are still ongoing in the effort to roust ISIL from the city.
ISIL counterattacks emphasize for Iraqi forces that they remain a force to be reckoned with, necessitating their slower progress in clashing with the jihadis. Mosul's dense residential neighbourhoods demand more caution. The Iraqi government has no intention of emulating what neighbouring Syria's government is engaged in, bombing civilian enclaves. The initial swift advances in the outskirts and outlying towns of Mosul have given way to slower progress, as the military negotiates its way carefully around traps.
The Iraqi know they remain vulnerable to ISIL suicide attacks and bombs set to explode where they least expect them.
Labels: Iraq, Islamic State, Mosul, Sharia