The Overwhelming Tragedy
"Crossing in those conditions would be very tough."




"They [smugglers] are criminals. They took their money [of the refugees], put them on boats, and sent them to their death."




Manolis Galanakis, local fisherman, Lesbos, Greece





"We can't have a situation continuing with dead children in the sea every day."




"Thousands are coming every day, escaping war. We have handled the situation with dignity, but the truth is that we can't even meet their basic needs."




Giorgos Pallis, Greek member of Parliament representing Lesbos





"The Greek Coast Guard is severely under-resourced. The EU has to get the rescue boats in the water right now."




"Leaders have pledged to increase the Frontex [EU's border protection agency] presence in the Aegean. It's shocking that so many people had to die before we heard that pledge, and there's no more time for delays."




Judith Sunderland, Human Rights Watch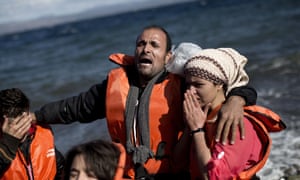 A refugee family weeps after arriving on Lesbos, as the weather continued to deteriorate for those trying to cross from Turkey.
Photograph: Angelos Tzortzinis/AFP/Getty Images
And where will they go? Most have no desire to remain in Greece, whose economy is in ruins, a country which cannot afford to offer the migrants and refugees a promising future of advancing their ambitions to live a better life than many of them have been able to enjoy, until the last several years of chaotic, brutal turmoil owing to sectarian violence in their countries of origin.
The countries of eastern Europe are adamant that they will take no part in the EU's hapless and desperate scheme to apportion refugee numbers to all its members; a handful have gone so far as to erect fences to stem the flow from adjoining countries. Even Austria, which beside Germany and Denmark promised to take in as many refugees as could manage to make their way to their borders, has begun to build a fence.
All of Europe is alarmed, their populations restive with apprehension over the unending tide of refugees streaming into their borders, needy and helpless, expecting that the countries they enter will be prepared to take them in, comfort them with lodging, food, medicine, and promise of a future, or at the least expedite them to other countries which can provide all of that.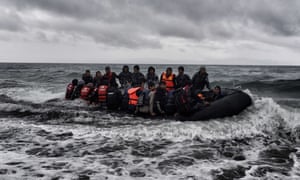 Refugees and migrants arrive on a dinghy at Lesbos, Greece, on 23 October.
Photograph: Aris Messinis/AFP/Getty Images
Germany stands out, alongside Denmark as the showpieces of empathetic humanity, prepared to welcome those fleeing instability and conflict. But their resources are finite and their enthusiasm is beginning to lag, as problems surface in insufficient places to put the refugees and haven seekers, in surfacing anger from the indigenous populations and from the refugees themselves, disappointed in the paltry offerings of their reception.
Incidents of brutality between the refugees, including the plight of Christian refugees assailed by Muslims, the rape of women, the vulnerability of children in unstable situations, has increased the concerns of the receiving countries. The reality is that the tragedy is boundless. The flight of those in fear of their lives, having lost all their possessions, victimized by geography and fate and the simmering hatreds of tribal, sectarian dysfunction continues to overwhelm Europe.
Small, unseaworthy boats continue to leave Turkey to reach the first portion of their long, arduous journey to a destination the refugees are uncertain of, crossing the cold and stormy waters of the Mediterranean which swallows the lives of hundreds of children. Lesbos is finding itself with burial space for dead migrants diminishing day by day.
Labels: Africa, Asia, Conflict, Europe, Greece, Haven, Refugees, Syria