Political Manoeuvring and Deadly Realities
"Minister Alexander has been one of the strongest allies of the Kurdish community and stood by the Syrian Kurds in their darkest hour in Kobani from where the boy and his family fled in the face of attacks on them by Islamist ISIS and their Turkish allies."




"It is despicable for Liberal and NDP politicians to use the dead boy as a political tool to score partisan political points. Shame on them. They want Canada to stop attacking ISIS, and then shed crocodile tears when a victim of ISIS drowns on a Turkish beach."




"If there is anyone who is guilty of this crime, it is Turkey, Saudi Arabia, Qatar and UN, all those who have refused to embrace hundreds of thousands of refugees fleeing war, not Minister Chris Alexander who needs no lectures on compassion by politicians who are catering to the Islamists inside Canada."




Hadi Elis, spokesman, Kurdish Community Centre of Toronto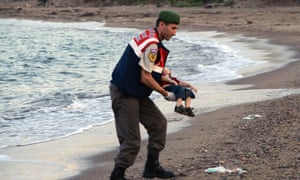 A paramilitary police officer carries the lifeless body of Aylan Kurdi, three, after a number of migrants died and a smaller number were reported missing after boats carrying them to the Greek island of Kos capsized.
Photograph: AP
When tiny Alan Kurdi was born three years ago, the Syrian conflict was a year in the making, and 500 Syrian Sunni and Syrian Kurd children had already died. By the time, three years later, when Alan Kurdi died, a casualty in his family's effort to flee the conflict and arrive in Europe, fully 12,000 Syrian children had died. None of them deserved to die. Not little Alan nor his five-year-old brother, Ghalib, and not his mother Rehenna Kurdi.
The family had ricocheted from one place to another, from the capital Damascus to the border city of Kobane, and each time they moved hoping to escape the conflict, they became embroiled in the fallout of the Syrian government's war on its own population. In desperation to remove themselves entirely from the scene, they decided to use money sent to them from a relative in British Columbia to buy their passage on a rubber dinghy out of Turkey toward Europe.
The story is a convoluted one, and but so is the Syrian civil war, with the entrance of foreign jihadists to fight alongside Syrian Sunni rebels, and sometimes against them, finally reaching the point where the ultimate jihadist Islamist group formed itself, spurning association with al-Qaeda which itself never practised quite the deadly violence of their new rivals, the Islamic State of Iraq and the Levant. All three however, al-Qaeda, ISIL and Bashar al-Assad rival one another for mass-scale butchery.
Alan Kurdi's aunt who lives in Canada tried to sponsor her older brother and his family to come to Canada. That attempt failed for technical, UN-refugee-status-involved reasons along with Turkey's refusal to grant an exit visa. The aunt meant to sponsor her older brother first, then to go on to sponsor Alan's father. But no completed visa application was ever accepted from Alan's father, Abdullah, to bring himself, his wife Rehenna and their two young sons to Canada.
Which hasn't stopped the leaders of the New Democratic Party and the Liberal Party of Canada, in blaming the current Conservative-led government and its ministers for the death of the little boy whose photographs have circled the Globe, causing a somewhat-tardy reaction to the genocide that Syrian President Bashar al-Assad, along with his mentor the Islamic Republic of Iran and its proxy militias in Hezbollah and Shiite death gangs have targeted Syrian civilians with.