Criminalization of Broadcasting "False News"
"It has been proven beyond reasonable doubt that the Al Jazeera media channel has dedicated its broadcasting to the service and support of the Muslim Brotherhood faction and that they have permanently sided with them at the expense of their media ethics."




"This provides enough ground for a conviction of belonging to a group based on violations of the law."




Egyptian court finding on sentencing of three Al-Jazeera English journalists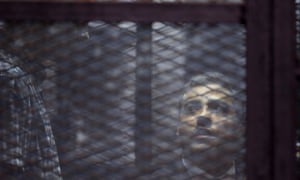 Baher Mohamed, left, and Mohamed Fahmy listen to their verdict in a soundproof cage in a courtroom in Tora prison in Cairo. Their initial 2014 conviction said the journalists had been brought together 'by the devil' to destabilise Egypt.
Photograph: Amr Nabil/Associated Press
The Egyptian state news agency
MENA
reported that biased coverage at the journalistic hands of Egyptian-Canadian Mohamed Fahmy, Australian journalist Peter Greste and Egyptian producer Baher Mohammed, betrayed their Muslim Brotherhood membership by default, a banned group in Egypt, considered to be Islamist 'terrorists'. For their sins they have been re-sentenced from their original sentences to three years each in jail.
Since the three journalists were operating in Egypt without press credentials, working out of the Marriott hotel in central Cairo without a permit, they were clearly in contravention of Egyptian law. Admittedly three years is far preferable to the original 7 and ten years' incarceration which their appeal has appeared to have reduced. Journalists who go astray of the official line in the Middle East don't seem to fare well at any time.
And Al Jazeera, out of Qatar, does not enjoy universal popularity for its brand of 'neutral' journalism. It espouses the Qatari view. And Qatar does indeed champion the Muslim Brotherhood, just as it does the Palestinian branch of the Brotherhood, Gaza's Hamas. Since Egypt has declared both to be persona non grata, characterizing them as 'terrorists', the connection is obvious and damning.
So Mr. Mohammed and Mr. Fahmy have been returned to prison, and Mr. Greste, deported back to his native Australia, isn't very likely to offer to return to Egypt to take up presence once again in prison there. It's not hard to imagine Egypt's position on this. Qatar is critical, alongside Turkey where journalists are equally held in contempt, of Egypt's removal of Mohammed Morsi as President, and the forced downfall of the Muslim Brotherhood.
Egyptian President Abdel-Fattah el-Sissi isn't thrilled with the negative international publicity this issue has cast his way, and would, without doubt, like to rid himself of the headache, since he has many dangerously unsettling issues threatening Egypt to deal with, but he has also explained that the matter is not his to settle, but one that the Egyptian judiciary must deal with, independently, according to Egyptian law.
There were extenuating circumstances since police had raided the Al Jazeera English office located close to Tahrir Square. The decision by Mr. Fahmy, the station manager, to relocate to the hotel premises in a bid to continue covering the chaos that resulted with the removal of Mr. Morsi was one any journalist might make. But an unfortunate one for him, given the interference by Qatar in Egypt's internal affairs, and the obvious links between Qatar and its media network
Labels: Conflict, Egypt, Muslim Brotherhood, News Media, Qatar