Deadly Missile Strike Source: Russian Federation
"State responsibility comes into play when states fail to uphold provisions of international law and that's clearly the case [where the Russian military involved itself in the ethnic Russian Ukrainian revolt, supplying the rebels with guidance, military irregulars, and deadly equipment]."




Dutch Prime Minister Mark Rutte, The Hague





"If military weapons can be deployed and then used to bring down civilian aircraft in what was essentially a war zone, then international security is at risk and we call on all countries to inform the Russian Federation that its conduct [in this very grave incident] is unacceptable."




Australian Foreign Minister Julie Bishop





"It is time for Russia to acknowledge its role in the shooting down of MH17 and to cease its callous disinformation campaign."




"As the findings of the joint investigative team made clear, the BUK missile launcher used to bring down the passenger aircraft is owned by the Russian Federation and was assigned to the Russian 53rd anti-aircraft brigade near Kursk."




"It was brought into sovereign Ukrainian territory from Russia, was fired from territory controlled by Russia and Russia-led forces in eastern Ukraine, and was then returned to Russian territory."




Heather Nauert, spokeswoman, U.S. State Department





"The Kremlin believes it can act with impunity. The Russian government must now answer for its actions in relation to the downing of MH17."

"This is an egregious example of the Kremlin's disregard for innocent life."




"The UK will continue to offer its full support to the efforts of the joint investigation team, the Dutch and Australian authorities and other grieving nations to deliver accountability for this terrible act and justice for all those who died."




British Foreign Secretary Boris Johnson
Nothing new about the conclusion reached by international prosecutors holding Russia fully to account for the downing in 2014 of Malaysian passenger jet MH17, flying some 10,000 metres over eastern Ukraine, to be torn apart by a Buk missile known to have been fired from a geographic area then in control of pro-Russian rebels. A reporter had seen the Buk missile in transit and had photographed it.
That evidence was available from day one. And a radio conversation that took place between a Russian-Ukrainian rebel leader and a Russian military officer whose transcript had the rebel leader revealing to the Russian that they had shot down the passenger jet was additional undeniable confirmation of the source of the disaster. The shredding of the lives of 298 passengers and crew of the airliner was clearly the responsibility of Vladimir Putin and the Kremlin for whom the rebel cause was their cause.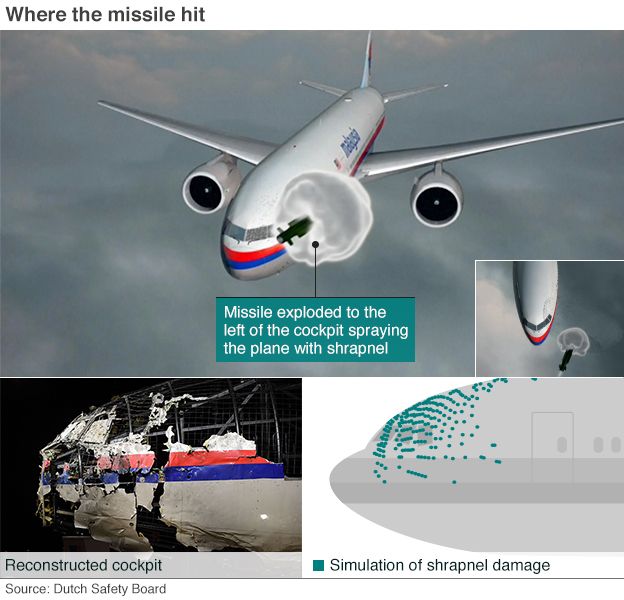 So, now that the Netherlands and Australia have finally zeroed in on holding Moscow to legal responsibility for its undeniable role in the missile attack, how will they enforce their accusation and demand for accountability? Relations between the Russian Federation and the West are already beyond strained. Mutual hostility between NATO countries and a Russia that is bellicose in a way that harks back to the bad old days of the Cold War when the Soviet Union was a world power cannot conceivably become any more bitter.
Vladimir Putin has thrown around casual and not-so-casual nuclear threats, from his address a year ago to graduating students of a military academy in Russia to his video showcasing of technologically advanced, powerful stealth missiles, nuclear submarines and doomsday weapons Mr. Putin declares places his nation in the military driver's seat, are not exactly empty of warning that he feels the West is pushing Russia around and he won't stand for it.
Russia, on the other hand, really has resorted to pushing and shoving on the international scene, in the air, on the ground, in the waters adjoining the near-abroad and the globally distant nations who continue to note actions meant to alarm Russia's adversaries and instill caution in dealing with its eruptions of provocations. Putin's foray into Syria, his support for a ruthless slaughterer of Syrian civilians, his ability not to bat an eyelash at chemical weapons targeting unarmed civilians does him no credit.
But as long as he can continue persuading the Russian population that once again, it is their proudly honourable nation against a hostile world jealous of Russia's prowess in military technology, its progress in establishing itself as a country to be reckoned with, the internal blinkers work to his advantage, while those who advocate against his rule have succumbed to lethal accidents or are arrested, charged with espionage or corruption and incarcerated, politically neutralizing challengers.
The Thursday announcement of the international investigators of evidence that the Buk missile system that shattered the Amsterdam-Kuala Lumpur flight was the responsibility of a Russia-based military unit, the 53rd anti-aircraft missile brigade in Kursk is old news in a new package. There are no shiny new revelations, so why has it taken four years for the official accusation to be aired?
At the time of the air disaster, Putin had said Russia would be fully compliant in the investigation; his dour sense of puckish humour. The shooting down of the the Boeing 777, Putin said at the time was done by Ukraine, targeting the aircraft and counting on world condemnation pointing at innocent Russia, as an elaborate smear job. Nor much has changed there; from St.Petersburg President Putin suggests the Ukrainian military might have been responsible; a replay of an old theme.
Besides which, since Russia was not invited to take part in the international investigation, how could it trust any conclusions brought to bear by an investigation undertaken by countries with a clear bias?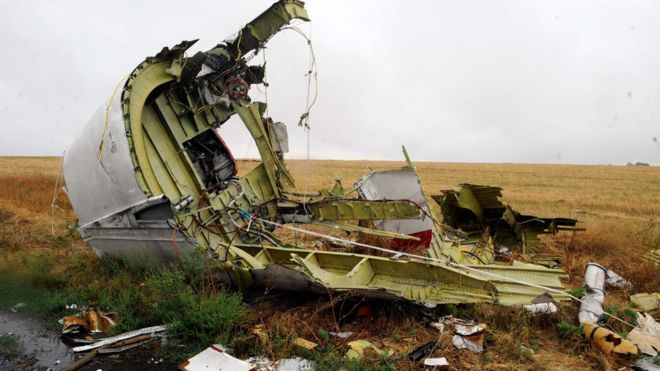 Labels: Air Disaster, Malaysia, Military, Rebels, Russia, Ukraine