Vladimir V. Putin: A Puzzle Within An Enigma
"Either this was a direct act by the Russian State against our country, or the Russian government lost control of this potentially catastrophically damaging nerve agent and allowed it to get into the hands of others."




"Should there be no credible response, we will conclude that this action amounts to an unlawful use of force by the Russian state against the United Kingdom."




"And I will come back to this House [British House of Commons] and set out the full range of measures that we will take."




"[Sergei Skripal and his daughter Yulia were targeted with a] military grade [nerve agent known as] Novichok [developed by the Russian military]."




"[The Kremlin] seems to be intent on dismantling the international rules-based order [and must be resisted]."




{This attempted murder using a weapons-grade nerve agent in a British town was not just a crime against the Skripals. It was an indiscriminate and reckless act against the United Kingdom, putting the lives of innocent civilians at risk -- and we will not tolerate such a brazen attempt to murder innocent civilians on our soil."




British Prime Minister Theresa May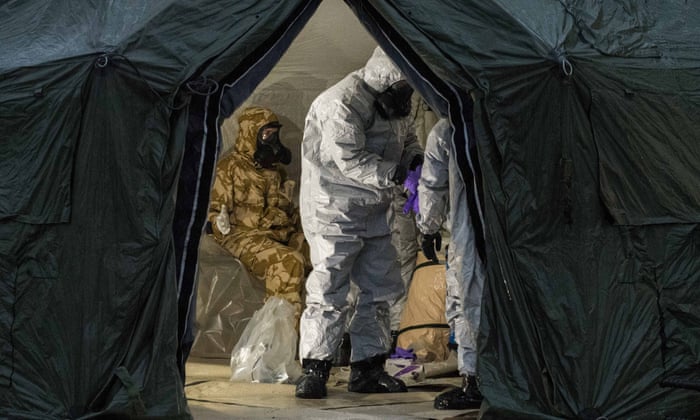 Soldiers removing a contaminated ambulance from Salisbury hospital's A&E entrance on Saturday.
Photograph: EPA
No, indeed not. Britain, according to its redoubtable prime minister who really has no wish to discourage Russian money from flooding British real estate, is prepared to take
"much more extensive measures"
than what its reaction had been in 2006 when former Russian agent Alexander Litvinenko, poisoned with polonium which killed him over an agonizingly painful two weeks in a London hospital brought to British-Russian relations and which earned expulsions and limited sanctions for Russia. This time around, Britain is really, really, really serious.
Russia, of course, is skeptical, slightly amused and somewhat aroused to sarcasm over all the fuss, with Dmitry Peskov speaking for Vladimir Putin informing reporters that this is a British problem having nothing whatever to do with Russia, the Kremlin or Mr. Putin. Mr. Skripal, after all, worked for British intelligence, was poisoned on British soil, therefore the incident
"has nothing to do with Russia, let alone the Russian leadership"
. Take that!
That Sergei Skripal was a Russian military intelligence officer is simply irrelevantly incidental. His loyalty to Russia was amply proven when he agreed to spy for MI6, amenable to their 1990s recruitment efforts. True, he was tried for high treason and viewed as a traitor to the motherland, but he paid the price of imprisonment, cut short when he was traded in an exchange with those loyal to Russia as sleeper agents in the U.S. At which time he resumed his life in Britain, hence Britain's problem; Russia had washed its hands of this man's choices.
"The Russian state is a strange construction. The FSB is not a monolithic organisation. There are elements within it like the GRU, which is a sort of rival to the FSB."




"I don't doubt it [the Skripal poisoning] had general approval from senior heads – that's the system he's [Vladimir Putin] created."




"Since 2012 Russia has been going backwards, rejecting economic reform and better courts in favour of renewed state control and repression, a fear of anything that is other. It's the revival of Stalinism and the idea that Russia has the right to dominate its neighbours."




Sir Andrew Wood, former British ambassador to Russia, associate fellow, Chatham House
"The exchange was very unusual. It was seen as an invitation for Russians to spy for foreigners because it indicated any Russian arrested for spying in Russia could be exchanged."




"They knew they were making a mistake by releasing him, but they knew they would have a chance to kill him later."




"This is a complete change of the rules of the game [targeting a family member of a traitor] and will frighten a lot of people."




"Not only do they kill their opponents but they also indicate to everybody that a crime is never going to be punished. It [the murder] might not be discovered, and if it is discovered, even if you are arrested, they'll get you out, and if you are arrested they'll publicly promote you. They are very open, very cynical."


Dr Yuri Felshtinsky, co-author with Litvenenko of Blowing up Russia
And back in Salisbury people are beginning to become accustomed to seeing hundreds of military personnel around and about. They are even, doubtless, looking past the abnormality of military people out and about fully garbed in hazmat gear, still busy investigating the most remote possibility of contamination, and removing objects both large and minuscule for laboratory testing.
There is a rumour that may disturb some people, that though they may feel well in the short term there is no telling how long the effects of the chemical contamination may rest in their systems before becoming lethally active.
The Mill pub and a Zizzi restaurant still resemble a theatrical set with tents in place where investigators work in and out of. The sight of protective-suited police may yet be unnerving to some, but their presence too has become commonplace, a visual irritation, a reminder that quiet residential Salisbury is as vulnerable to bad things happening as anywhere in the Middle East, as example, where war rages and people hope against hope they will be spared.
While the population is assured that everything is fine, just fine, nothing to be concerned about, move on, get on with your lives. And did you remember to wash or dry-clean items you were wearing when you were at the Mill pub and Zizzi a week ago and moving forward? How about your cellphone? And the jewellery you were wearing? Cleaned it all up, did you? Good, that's the thing to have been done; sorry we kind of overlooked telling you all that for days after the unfortunate event.
Yes, it's a shame that some businesses have been asked to close for the time being, but they too will return to normal, eventually. Don't, for heaven's sake, hesitate to frequent those that have remained open for business. After all, it is critical that we do not bow to terror, whether it is imposed by government agency or religious fanatics. We're Brits, after all, remember? We know how to carry on and not be unduly flustered.
"Litvinenko was a 'gun for hire' once he left Russia. There are a lot of people like him around. They can earn money acting as advisers to us."




"Skripal's attempted murder wasn't subtle. This was about terrorism, not elimination."




London-based security and risk analysis company operator in Russia