Vladimir Putin's Word as Good as His Deeds
"We don't believe that this truce will bring any benefits for the civilians inside Eastern Ghouta. Five hours is not enough to do anything."




"This truce doesn't mean that we NGOs there will have any access to bring any items inside Eastern Ghouta."




"The only access is the UN inter-agency convoys. Their access there is very limited due to the restrictions from the Syrian government."




"Only ten convoys entered Ghouta in 14 months and those convoys brought less than 10-percent of the needs."




Dr Mohamad Katoub, Turkey-based doctor, Syrian American Medical Society (SAMS)





"I went outside but only for a while."




"After half a minute of this ceasefire, shells were dropped. Even if anyone tries to leave, he will be shot by the snipers of the regime checkpoint."




Firas Abdullah, physician, Ghouta Media Center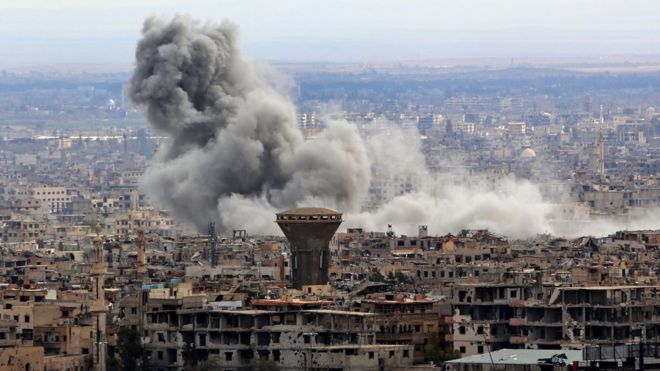 So after balking and prevaricating and demanding changes to the draft, laying out the terms of a temporary ceasefire in Syria all thirteen members of the United Nations Security Council, including permanent member Russia, signed on. There remains, it seems, a few inconvenient issues of non-agreement. Resulting in Vladimir Putin defying the ceasefire ordination he had himself signed, ordering a series of daily brief ceasefires in Eastern Ghouta in place of the 30-day truce meant to take in all of Syria.
The intensive bombing campaign that moved into its second week keeps killing hundreds of civilians and among them, children in too-large numbers for civilized onlookers to bear. But evidently not enough to persuade Mr. Putin that his alliance with Syria's regime content to butcher its own is less than worthy of a decent government. He will do no more than permit daily five-hour
"humanitarian pauses"
, from 9:00 a.m. to 2 p.m. each day.
Out of the goodness of its large, comforting heart, Russia is prepared to set up a
"humanitarian corridor"
(the word 'humanitarian' fitting large into Russia's generosity of spirit)
permitting some of the 400,000 civilians shrivelled in fear and privation within Eastern Ghouta to take the opportunity to leave the area in favour of taking refuge in regime-held neighbourhoods. Where their unending persecution will take on other manifestations of disfavour by the regime?
Despite the unanimous vote to impose a month-long nationwide ceasefire across Syria, Moscow has its own reading of the situation and the decision it signed onto. The UN demand that aid be allowed to enter besieged areas as well as medical teams enabled to evacuate the wounded appears to have slipped by Putin's intentions. Residents in Eastern Ghouta are desperately in need of an opportunity to temporarily at least exit rudimentary basement bomb shelters in search of food and supplies.
"The Russians are laughing at the world"
, one medic responded.
"They don't care about human blood and they don't care about the resolution of the UN Security Council. We don't rely much on the dead conscience of Russia"
, spat out Haitham, sheltering in a basement with his four-year-old son. Under ongoing aerial attacks and ground fighting raging between rebel forces and regime troops, the civilian population see little relief from the latest Security Council ceasefire vote.
And nor has there been any end to chlorine gas attacks, the latest leaving paramedics and civilians alike with breathing difficulties, reported the White Helmets and the Ghouta Media Center. According to the Syrian American Medical Society working with doctors in Syria, this marked the fourth episode of its type this year, with chemical weapons used in Ghouta. It was also confirmed that 24 health facilities came under attack in the last week.
"[Russia and all other Security Council members are] obliged [to do everything possible to implement the UN resolution]."




"[The Russian announcement of five-hour daily pauses in Eastern Ghouta] is not compliance, that is not implementation of the resolution passed on Saturday, but it does show that it can be implemented."




Jonathan Allen, British ambassador to the United Nations
Syrian children and adults receive treatment for a suspected chemical attack at a makeshift clinic in the rebel held village of al-Shifuniyah in the Eastern Ghouta region on the outskirts of the capital Damascus late Sunday.
Hamza Al-Ajweh/AFP/Getty Images
Labels: Civil War, Conflict, Russia, Syria, United Nations