Palestinians' Especial Skill: Violent Rioting
"This Zionist policy supported by the U.S. cannot be confronted unless we ignite a new intifada."




"Jerusalem is being kidnapped and ripped from us."




Ismail Haniyeh, leader, Hamas





"The announcement by the president is welcome, but natural."




"We have patience and believe that, in due course, all countries will recognize Jerusalem as our capital."




"Countries must act based on what's right, not have their actions dictated by the threats of terrorists and extremists."




MK Naftali Bennett, Israeli Security Cabinet
Everything seems fairly normal in the Palestinian Territories, the West Bank and Gaza, where Palestinian youth who were given a day or two off from school so they could indulge their fantasies of 'resisting' the 'occupation' which has persuaded the United States to declare its recognition of Jerusalem as Israel's capital has opened another opportunity for an intafada, another normal response of Arabs to any impudence by Israeli presumption that they have a right to exist. The first one was occasioned by the presence of Ariel Sharon venturing onto the Temple Mount, an outrage the Palestinians claimed desecrated their Noble Sanctuary.
The immediate spate of protests on Thursday as far as the authorities in Israel were concerned, represented the appetizer to what would come next, on Friday, after Muslim prayers when mosque attendance would further inflame those determined to demonstrate that they aren't prepared to sit by while upstart Israel colluded with the U.S. to defraud Arabs of their sacred patrimony. What the polite world calls protests are in fact violent criminal attacks against state authority. The pretense of Jews that their most sacred site exists where Islam-come-lately built its much later secondary places of worship is an obvious fraud.
History is a fraud. Heritage is non-existent for Jews. The reality that Israel exists where it has been re-established from antiquity when Zion was Judaism's homeland, the site where its people distinguished itself, the prophets thundered their warnings, and Monotheism introduced itself to the world and a Jewish intermediary with god was recognized as a Messiah who would lead his faithful to eternity were all co-opted by a visionary who reasoned he had the divine authority to rework the architecture of Judaism and Christianity in his own image of Allah, the completed version of the divine.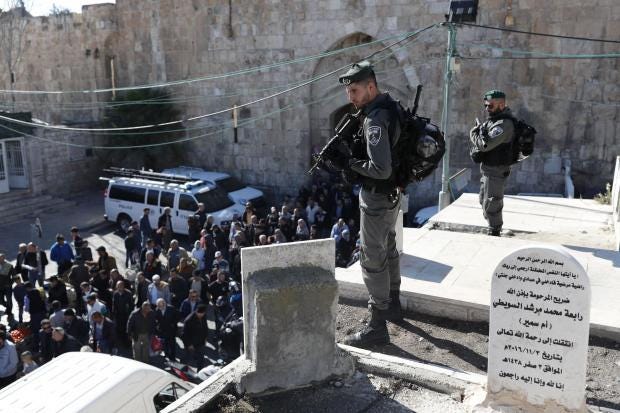 Israeli forces stand guard in Jerusalem's Old City on 8 December 2017
And, as expected, rockets have been fired from Gaza, the credit taken by a jihadist group calling themselves the Nasser Salahuddin Brigades. And since the terrorist group Hamas -- whose mandate it is to destroy Israel -- rules the Gaza Strip, they are accountable for the rocket fire. One of which was stopped by Israel's Iron Dome air defense system, the second's whereabouts not yet identified. In response, the IDF sent its jets to target a Hamas training compound and ammunition warehouse. And then the border community of Sderot was hit by a third rocket.
"Today we declare an uprising against the occupation, and there are no half-solutions. We call upon all the free people of the world to boycott America and Israel, and we call on the Arab and Islamic countries to take a serious stand and support our people."
That inflamed demand from Fathi Hammad, of the Hamas political bureau. It might seem nonsensical that a terrorist group that threatens the existence of a well-established country could make that demand, but this is a world where a nation continually under violent attack by its neighbours lacks the fundamental support any democracy can rely on normally from other democracies.
While in the United Nations, respectable countries as disparate as Britain, France, Italy, Japan (along with Germany) allied themselves with China and others on the 15-member Security Council to deplore the move by the United States under its Republican president, to recognize a nation's right to declare its own capital, an event that no other nation on earth ever had disputed by other countries. U.S. Ambassador Nikki Haley calmly asserted her nation's resistance to being "lectured" in its support for reality and the truth on the g round.
Decrying the announcement as an impediment to peace, represents an utter absurdity, the height of sanctimony in the face of ample evidence that there is no peace to salvage. That there is no will, no intention on the part of the Palestinians to arrive at a peace agreement with Israel is more than evident. They have invoked their option to reject Israel's peace offers time and again. The only agreement they will settle for is Israel's departure from the geography that history and the present places them squarely within.
Demonstrators protest against Donald Trump's recognition of Jerusalem as Israel's capital, in Amman, Jordan.
Labels: Heritage, Israel, Jerusalem, Palestinians, United States