Conquering (Diplomatically) The Middle East
"Traditional Arab allies welcome the U.S. back because they believe it is largely on their terms: a United States that is clearly anti-Iran and anti-political Islam, a United States that de-emphasizes political reform and human rights, a United States that is in business mode and a White House that seems more accessible than in the past eight years."




"There is a lot of projection and wishfulness in the Gulf view of Trump's America. There is plenty of inflated expectations, issue avoidance or deference and future disappointment in the cards."




Emile Hokayem, senior fellow, International Institute for Strategic Studies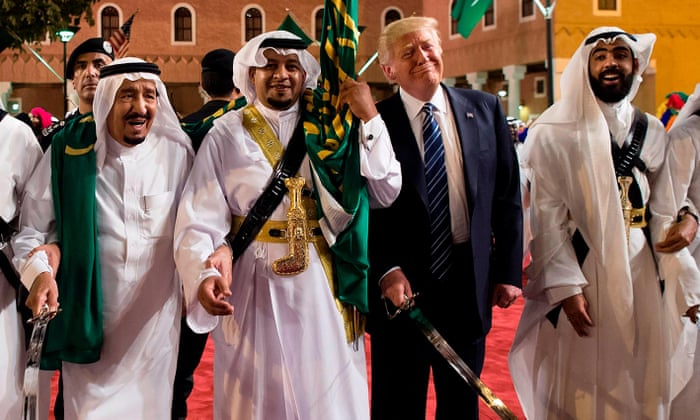 Saudi Arabia's King Salman and Donald Trump take part in a traditional sword dance, Riyadh, May 2017.
Photograph: Bandar Al-Jaloud/AFP/Getty Images
Perhaps the most obvious way in which Arab leaders are destined to be disappointed in the United States of America that has pivoted from the Obama years to the Trump administration is that this president, like the former one, is still disinterested in having his country commit to intervening in intranational, transnational and intrareligious disputes between allies and those who have fallen out of favour.
That the America they fondly remember which reliably mounted invasions of Iraq and Afghanistan and whom the Arab nations could then turn upon bitterly as interfering in Arab and Muslim affairs, has been sucked dry of that propensity. The American public has long since soured on international military missions to North Africa and the Middle East that have drained the nation's treasury and sacrificed its soldiers for far too long, for little meaningful results.
Drawing, in turn, the deadly ire of Islamic jihadists at war within their own communities and extending their morbidly vengeful victimhood in terrorist attacks far from the Middle East, happy to demonstrate to North America and to Europe that migration has benefited their capacity to move about to infiltrate national security in a reversal of what they see occurring in their home countries, and at the same time calling to jihad faithful expatriates who have never integrated into the culture of countries they immigrated to.
President Donald Trump responds to flattery, and Saudi Arabia did not disappoint, with adulation symbolic of the conquering hero brought out in the full array of blaring trumpets, booming cannons and streaking fighter jets with red, white and blue contrails. So much for the U.S.; for its new leader giant billboards with his avuncular visage festooning public squares and thus commenced diplomacy and politics of a new era in relations between the U.S. and the Middle East, with Sunni Islam once more recognized over the minority Shiite faction.
The Islamic Republic of Iran has once again been recognized as the major motivator of terrorism, overlooking that Saudi Arabia and Qatar both have dedicated themselves to the Sunni version of same, but the lines are drawn and it is the majority version once again recognized as a great friend and ally of the United States; or its reversal.
"We are closely co-ordinating our efforts in terms of how to counter Iran's extremism and its export of extremism"
, announced U.S. Secretary of State Rex Tillerson in Riyadh, standing alongside Saudi foreign minister Adel al-Jubeir, confidence restored.
Goodwill prevailed in abundance, smiles lit up the chambers where assembled heads of state of Arab countries found a renewed sense of common cause with the great arbiter of North America, like the mountain moving to Mohammad, foreseeing a new, hugely improved future. Where the Persian Gulf region is reassured that all the most costly, advanced military engineering in warplanes, helicopters and ballistic missiles American munitions manufacturers are famed for can be theirs for surrendering a substantial portion of oil wealth in exchange.
Lockheed Martin and General Electric heads are beaming with approval. While American Democratic senators are fuming that more arms in the volatile region equates with more conflict, and more deaths; how illogical can one get, to impute to such diplomatic, political overtures such devious ends? For after all, President Trump ventured out on this historical trip to 're-set' the battle against Islamist terror, in the process demonstrating he is not at all adverse to Muslims, at least not where they belong; elsewhere than in the United States.
While King Salman greeted the regal Trumps emerging from Air Force One on a red carpet, he forgot to invite them to visit Mecca with him to show off the impressively sumptuous new hotels and upscale shops crowding that Islamic jewel, the sacred seat of Islam. But the trip went superbly well, said a beaming President Trump, satisfied with the deference and the spirits of welcoming appraisal highlighting the first leg of a trip.
Onward to Jerusalem! The capital of Israel, its historical heritage city of ancient lineage as a Jewish capital. Not only has Trump left a personal note and a self-photo at the Wailing Wall in Jerusalem, he was not forbidden, as a non-Jew from doing so. The great deal-maker has sent a note to the Almighty that he will now have a front-row seat witnessing Israel and the Palestinians coming together in good fellowship and forgiveness in the creation of side-by-side friendly states.
Donald Trump on Monday became the first sitting U.S. president to visit the Western Wall, Judaism's holiest place of prayer
Labels: Israel, Peace, Saudi Arabia, Trump, United States