Moral Acuity Blindsided
"The former government was not always wrong. It's not true that we'll start from scratch from what was done [by the Conservative-led government of Canada under Prime Minister Stephen Harper]."




"Somebody will have to explain to me in what way it is helping Ukraine that Canada has not engaged Russia about the Arctic. Canada and Russia are neighbours."




"If we don't engage in Russia, we don't help Ukraine [and] we don't help Canada or Canada's interests [similarly with Iran]."




"[The Liberal government will] engage Iran with open eyes; [the Conservative position was "irrational and ideological", harming Canada's interests."




"If Canada does what my Conservative colleagues have asked us to do - be alone to keep our sanctions -- the result is that it will be barely noticed in Iran. [And] it will hurt Canadian industry, the Canadian citizens that have families in Iran, and so on and so on. What is the rationale to do that?"




Foreign Affairs Minister Stephane Dion
Foreign Affairs Minister Stephane Dion answers a question in the House of Commons.
(Photo: Adrian Wyld/CP)
This is a man who wants to reduce a complex issue to its most basic formula; to place Canada in a position favourable to its bottom line, and in so doing reducing it to the position where moral ambiguity is more suitable than moral certainty, resulting in moral bankruptcy. But that's the kind of formula that appears to appeal to the Liberal Party of Canada, which now holds the majority position in Parliament, placing an egotistical dilettante politician in the position of prime minister of the country.
As a miscast foreign minister Mr. Dion who once himself aspired to the highest office in the land and dismally failed to haul the Liberals out of the purgatory which they had placed themselves deservedly into, inconvenient little details such as having the courage of one's convictions come a distant third to snatching trade and investment opportunities at the expense of national political decency. From former Prime Minister Jean Chretien whose years in office he used to feather his nest in China, the current Prime Minister was delivered the gift of advice.
China may be a human-rights-abusing Communist regime whose ambitions threaten the Asian world's stability and whose voracious appetite to become the world's dominant trade partner, soon emerging as a world power equal to the United States with no constraints from any quarter to its all-consuming energy needs to propel its vast population into a unity of the Communist ideal with its quaint consumerist capitalist streak, and its stealth purloining of other nations' industrial secrets, but there's profit to be made in doing business with the giant.
As for Moscow's invasion of Ukraine, material and military support of ethnic Russian Ukrainian secessionists and the Russian grab of the Crimean Peninsula, with all the deaths and injury and destruction that accompanied Vladimir Putin's schemes of an expanded Russian Federation in memory of the Soviet Union, and including the sacrifice of 298 passengers and crew of Malaysian airlines Flight 17, bygones are best to be recognized as such in favour of doing business....
And then there is Tehran's absolution from scrutiny and sanctions with the completion of the nuclear agreement between Iran and the P5+1. So best to overlook that the Islamic Republic of Iran is the world's premier sponsor of terrorist groups, not averse itself to terrorizing its own population, let alone those of its neighbours, including lending its heavy hand to sacrificing Sunni Syrians in aid of the butcher of Damascus's Shiite regime. Iran's illegal testing of international ballistic missiles whose sole purpose would be to carry a nuclear warhead, is unfortunate to be sure, but trade is important.
These have become Canadian values, thanks to the Liberal government of Justin Trudeau who has chided Israel for its West Bank settlements, and penned a mournful paean to the Holocaust taking care not to mention that the genocide targeted Jews primarily and that the Holocaust is linked with the deliberate, state-planned-and-executed murder of six million European Jews; an unfortunate tragedy that the Liberal government empathizes over, having neutralized it of its victims' identity.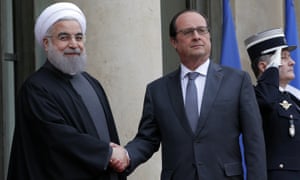 François Hollande and Hassan Rouhani before a meeting at the Élysée palace in Paris.
Photograph: Christophe Ena/AP
Now, what Mr. Dion is looking forward to is having a comfortable little tete-a-tete with the "moderate" President of Iran, Hassan Rouhani, just as Pope Francis has done, and just as France's President Francois Hollande has done at the Elysee Palace, so that he can beam with approval and satisfaction, nodding his head in agreement as Rouhani repeats what he stated in Mr. Hollande's presence:
"We must fight terrorism … We must help the Syrian people so that the Syrian people can build a sustainable future for the country. The main problem in Syria is not such and such person, the main issue is terrorism and Daesh"
, and of course, the al Quds Republican Presidential Guard corps, the Iranian proxy terrorist group Hezbollah and the Iran-sponsored Shiite militias helping to ravage the country and destroy its citizens' lives.
Labels: Canada, China, Human Rights, Iran, Principle, Russia, Trade