An Unfortunate Misunderstanding
"Jihadis in Syria operate in highly mobile units, using Toyota pickup trucks with high-calibre weapons mounted on them."




"Each of those vehicles is considered a tactical unit and represents a legitimate military target."




Maj.-Gen.Igor Konashenko, Russian Defence Ministry spokesman





"Some Russian airstrikes appear to have directly attacked civilians or civilian objects by striking residential areas with no evident military target and even medical facilities, resulting in deaths and injuries to civilians."




"Such attacks may amount to war crimes. It is crucial that suspected violations are independently and impartially investigated."




Philip Luther, director, Middle East and North Africa program, Amnesty International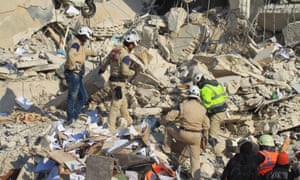 A search for survivors at a site hit in December by what activists said were Russian airstrikes in Idlib city.
Photograph: Ammar Abdullah/Reuters
"Russian air strikes in Syria have killed hundreds of civilians and caused massive destruction in residential areas, striking homes, a mosque and a busy market, as well as medical facilities, in...attacks that show evidence of violations of international humanitarian law."




Amnesty Report





"The conflict in Syria has been going on for almost five years. Around 300,000 people are estimated to have become its victims. It's strange that Amnesty International avoids a question about who committed war crimes in Syria before the appearance of a Russian air force group there."




Igor Konashenkov, spokesman, Russian Defence Ministry
In the northern Syrian town of Ariha three missiles were fired on a public market. The main street was full of residents busy with the daily selling and purchase of fruits and vegetables when suddenly carnage struck the scene and terror became the disorder of the morning. That was on November 29, when 34 civilians were killed.
Syrian opposition and rights activists claim Russian attacks are continuing to kill civilians, causing massive destruction in residential areas.
Russian officials, for their part, reject these accusations. The pattern of attacks, according to human rights groups, leads to the belief that Russian actions are deliberately ignoring international humanitarian laws of conflict, to target areas where there are no rebel militias present, but ample civilian targets instead. As though Moscow has ordered a playlist out of the Syrian regime's file.
Amnesty claims to have documented evidence that Russia has made use of cluster munitions and unguided bombs in populated residential areas, that Moscow is guilty of a "shameful failure" in acknowledging their targeting of civilians. As far as Maj.-Gen Igor Konashenko is concerned, those claims represent "cliches and fakes", claims by activists improperly checked, and certainly not proven.
Six attacks in Homs, Idlib and Aleppo provinces between September and November which caused the deaths of some 200 civilians were the particular focus of the Amnesty report. Amnesty claims to have gathered evidence through photographs and video footage validating their claims that Russia has used unguided bombs along with internationally banned cluster munitions, indiscriminately killing civilians.
This is a claim that Maj.-Gen. Konashenko outright rejects, insisting that Russian airstrikes are aimed primarily at Islamic State along with other terrorists, denying claims by the West and Syrian rebels that most Russian strikes have hit central and northern Syria, with not much of an ISIL presence. Residents in Ariha informed Amnesty no militants had been in the area.
Syrian rebel groups with the Army of Conquest won Ariha from Syrian government forces but the coalition's fighters stationed themselves outside the town where two warplanes had circled overhead and then dropped the three missiles that brought death to the open marketplace. Russian planes fly at higher altitudes and tend to fly in pairs, according to the Syrian civilians who have become familiar with their pattern.
They are familiar enough with the differences between Syrian warplanes who fly at a lower level to unleash their destructive barrel bombs, to distinguish them from Russian jets. Amateur videos of the aftermath of the market bombing in Ariha show pools of blood everywhere that bodies littered the market amongst overturned crates of fruits and vegetables.
"Russia is conducting its operation in strict conformity with principles and norms of the international law, including those sections of the international law that regulate using and bans on using one or another type of weapons."




Dmitry Peskov, spokesman for President Vladimir Putin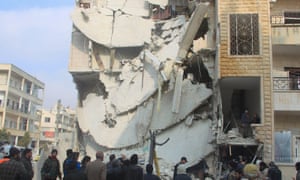 A site hit by airstrikes in Idlib city, Syria.
Photograph: Ammar Abdullah/Reuters