Societal Inequities and Despair
"[The despair of America's white population is] unclear, complex, and not explained by opioids alone."




"[Should policy makers wish to reverse the new trend leading to shorter American lifespans], they would promote education, boost support for children and families, increase wages and economic opportunity for the working class, invest in distressed communities, and strengthen health care and behavioural health systems."




Report, Steven H. Woolf, Virginia Commonwealth University and Laudan Aron, Urban Institute, Washington





"It's really sad that a baby born today will likely live less long than one born even a year ago. It's not the direction you'd expect the richest country on Earth to be going [toward]."




"Poverty rates don't capture the frustration and hopelessness people experience when they can't get ahead or can't give their kids a better life."




"[When the social fabric of a community is frayed, educational system declines, the income inequality widens], These are all factors we know are important to health."




"It's probably not a good time to make policy choices that don't invest in helping these people. A policy agenda that's focused on improving value for shareholders is not really going to bring relief to these families and communities."




Steven H. Woolf, Virginia Commonwealth University
Alex Dezanett lives in a tent pitched in a horse trailer in Beattyville. Photograph: Sean Smith for the Guardian
There has latterly emerged a new reality in the United States, with growing poverty leading to hopelessness and addictions resulting in early deaths. The suicide rate rose by 24 percent between the years 1999 to 2014. There is increasing evidence that deaths linked to alcohol abuse are on the rise among white Americans. And it is rural communities where these deleterious social impacts are increasingly being seen.
Decades of social and economic change have transformed the lives of rural white Americans, making their prospects less secure than what their parents could anticipate. Roughly 46 million Americans representing about 15 percent of the entire population lived outside metropolitan areas in 2014, and a January 2016 analysis by the Centers for Disease Control and Prevention reported that people living in rural areas are more likely to smoke cigarettes, be physically inactive, leading to obesity and suffering from high blood pressure, in comparison to their urban counterparts.
While 14.1 percent of people living in and around cities live in poverty, 18.1 percent of rural Americans do so, and rural people reported decreased access to health care, along with a lower quality of health care than their peers living in metropolitan counties. A study published in the
American Journal of Public Health
in October concluded that nine of 48 subgroups studied realized early mortality increases even while premature deaths had decreased between 1999 to 2015 among all U.S. adults.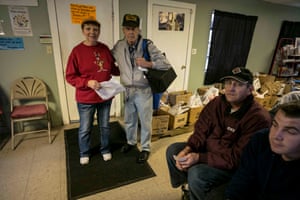 Food bank volunteer Karen Jennings, who described her life as a former addict. Photograph: Sean Smith for the Guardian
Suicide, drug overdoses and liver disease -- normally associated with alcoholism -- were shortening the lives of non-Latino whites living for the most part in rural or small or medium metropolitan counties. Even while data demonstrated steep declines in deaths resulting from HIV infection, cardiovascular disease and motor vehicle crashes among African-Americans and Latinos in urban and suburban areas. Such declines were seen to be more modest, even non-existent with whites living in any setting.
Dramatic increases in drug overdoses and suicides were present in white Americans, regardless of where they lived. The
BMJ
(
British Medical Journal
) essay written by Drs. Woof and Aron noted the 5-year run-up in drug deaths and suicides has not been reflected in Black American populations. Dr. Woolf postulates that Black Americans have developed a "resilience factor" not shared by white Americans, possibly as a result of the discrimination, structural disadvantages and health inequities Blacks have endured serving to buffer them from following their white counterparts into self-destruction.
Where once communities thrived outside metropolitan areas, the new reality is that industries have collapsed, steel mills and coal mines have been closed, timber production is no longer viable, and automation has left rural communities largely without employment, failing their economies and as a result residents' health has suffered. For the last three decades this unfolding reality has finally resulted in a lowering of American life expectancy in comparison to that of other affluent, industrialized countries.
The U.S. life expectancy figure now rates one and a half years behind what it was in the early 1980s, falling below the average for industrialized countries. Even taking the fallout from such economic collapses rurally, Dr. Woof is convinced that there are additional causes such as the weakening of the social fabric in rural communities. Unable to find comfort in the social contract of their community, residents may look instead to find solace in self-destructive behaviours.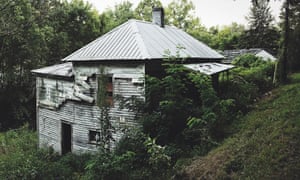 An abandoned house along Crystal Creek, Beattyville.
Photograph: David Coyle for the
Guardian
Labels: Addiction, Heatlh, Human Relations, Poverty, Suicide, United States