To Safeguard Americans: Foreigners Have no Automatic Entitlements
"[The new immigration rules] would slam the door shut on so many who have waited for months or years to be reunited with their families."




Karen Tumlin, legal director, National Immigration Law Center





"[The new criteria for the ban on immigration or refugees entering the U.S. from six Muslim countries is] extremely restrictive, arbitrary [in their exclusions and designed to] disparage and condemn Muslims."




American Civil Liberties Union
An international passenger arrives at Washington Dulles International Airport after the U.S. Supreme Court granted parts of the Trump administration's emergency request to put its travel ban into effect later in the week pending further judicial review...

REUTERS/James Lawler Duggan/File Photo
The scourge of Islamic jihad has fouled the atmosphere worldwide. Islamic fundamentalist groups from Al Shabaab to al-Qaeda, Islamic State of Iraq and the Levant, Hezbollah and Hamas, the Taliban, Islamic Jihad, Boko Haram and others of their deadly ilk who profess to love death and aspire to martyrdom in the process of executing mass bloodshed, have roiled the world of both the west and the east with the fear of terrorism.
States that promulgate jihad, promote these groups and instigate their deadly assaults are themselves jihadi entities, such as the Islamic Republic of Iran, Pakistan, Lebanon, and Turkey. Deadly assaults have taken place in Spain, Britain, the United States, Belgium, France, Indonesia, the Philippines, Canada, Kenya, Nigeria and Australia, among other nations of the world, who since the success of Osama bin Laden's planned assault on the New York World Trade Towers have had to formulate defense mechanisms.
Now, no large entertainment or celebratory event can take place without the kind of due diligence to the possibility of a terrorist attack as a result of those shocking and successful terrorist attacks that intelligence services had been unable to detect before they occurred. The situation has developed from the deadly assaults caused by foreign elements entering the nation to be assaulted to the evolution of immigrants or refugees or their descendents living in countries giving them haven, mounting such deadly attacks.
Why, in the name that is rational intelligence, would people who are faithful to Islam whose major precept is conquest gained through jihad, a precept unchanged from its formulation in the 6th Century when Mohammad set out to gain adherents through the persuasive power of the sword, not be seen as suspicious? Why would any self-respecting nation whose duty it is to its citizens to safeguard their lives, be criticized for viewing Islam with distrust and its faithful as potential Medieval-era slaughterers? The record supports it.
The Western, democratic world based on the Judeo-Christian heritage of religious devotion has come far from the origins of hatred of the other through a philosophical and cultural enlightenment. So far that it has seen fit to be tolerant beyond what experience and intelligence might logically demand of it. In the process, agreeing to agree that Islam is a religion of peace, which it clearly is not, and that to hold it and its faithful to a standard reflecting its Medieval origins is sufficient.
Now that a new President of the United States of America -- admittedly not the brightest nor even the most decent of such heads of the Republic -- has decreed, with the support of the U.S. Supreme Court to place a brief moratorium on unlinked immigration from Syria, Sudan, Somalia, Libya, Iran and Yemen -- Arab
(and an Aryan)
states where terrorists have been notoriously sourced and themselves in a state of violent flux, the liberal-minded find themselves horribly affronted.
It is the duty of a state, and those who head those states, to first and foremost maintain public order, ensure that the sovereign power of the state be assured, and provide assurances to its population that they will be safe and secure. In the face of world events that have occurred and continue to occur that provide ample evidence that Islam and freedom cannot cohabit any geography with mutual respect, it is due time that more intensive screening be carried out of putative refugees and aspirational immigrants.
That those who can give evidence that they are already in possession of legally-issued visas will be exempt, that those who can prove that they have close family relations already established in the United States, or an existing relationship with a school or business in the United States, will bypass the travel ban is more than sufficient evidence that the country carries on its tradition of inclusiveness, added to which is a long overdue caution.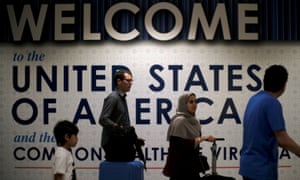 International passengers arrive at Washington Dulles airport.
Photograph: James Lawler Duggan/Reuters
Labels: Immigration, United States