Canada Concession to "Islamophobia" . . . the thin edge of an ugly wedge . . .
"Voting against this motion is simply nonsensical. No matter what the convoluted explanation is, you are voting against condemning Islamophobia and all forms of systemic racism and religious discrimination. That will stick."




Karl Belanger, political adviser, New Democratic Party, Ottawa





"It is also important to note that we already have laws that protect Canadians against discrimination based on their faith. We also have laws against inciting violence."




Andrew Scheer, contestant for Conservative leadership, Parliament





"We should reaffirm everyone's right to believe in and criticize whatever belief they want, whether it is Islam, Christianity, Judaism, Hinduism, atheism, or any other."




"[The M-103 motion to be brought before Parliamentary could be supported if] Islamophobia [were removed from the motion]."




Maxime Bernier, contestant for Conservative party leader, Parliament of Canada





"While I recognize the value of promoting respect for all religion, I intend to oppose M-103, a motion that is not well defined and clearly represents a threat to freedom of expression."




Steven Blaney, former Conservative public safety minister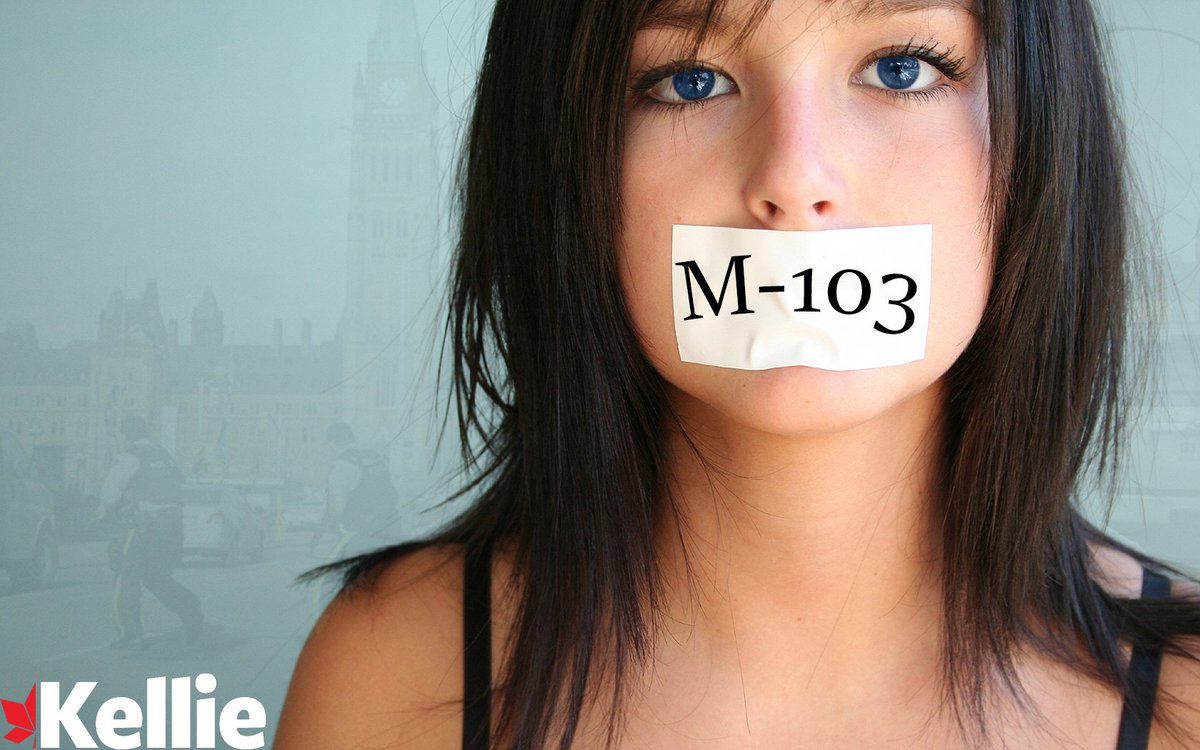 Conservative leadership contender Kellie Leitch Twitter a/c
In early December Iqra Khalid, a Liberal Member of Parliament representing Mississauga Erin Mills in Ontario, as a first-time Liberal MP presented a motion she wanted to have adopted by Parliament. M-103 is an ostensible push-back against racism and bigotry, but it speaks in particular to one religion and one only, using the word "Islamophobia", a descriptive coined by Islamic defenders in a bid to tag any statement critical of any facet of Islam as anti-Islam, racist and xenophobic.
In presenting this motion, and the reception it is enjoying with the governing Liberal party, Ms. Iqra -- taking advantage of wide public sympathy in Canada over the truly dreadful killing of six Muslim men praying in a Quebec City mosque in a fairly rare terrorist act not involving Muslim perpetrators -- will succeed in accomplishing what the 56-member Organization of Islamic Cooperation has failed to bring to the United Nations despite years of lobbying, to make criticism of Islam and its Prophet a criminal act.
Criticism of Islam has arisen as a result of an obvious crisis in Islam, that jihad has become a popular device among the faithful who have been enjoined to commit to a violent form of punishing non-Muslims for their resistance to surrendering to Islam. While claiming and complaining that Muslims have been overwhelmingly facing expressions of hatred from the non-Muslim public, in actual point of fact, it is virulent anti-Semitism that has grown, clamouring for attention, and fuelled by the growing presence of Muslims in Canada who agitate against Jews.
Tarek Fatah, one of Canada's most vigorous Muslim anti-Islamists condemns this motion and its sentiments, characterizing it as yet another step in the Islamization of Canada and one that should be resisted at all costs. He writes in the
Toronto Sun
newspaper:
"Canadian Parliament's #M103 attempt to condemn #Islamophobia will strengthen Islamists who'll target secular Muslims...."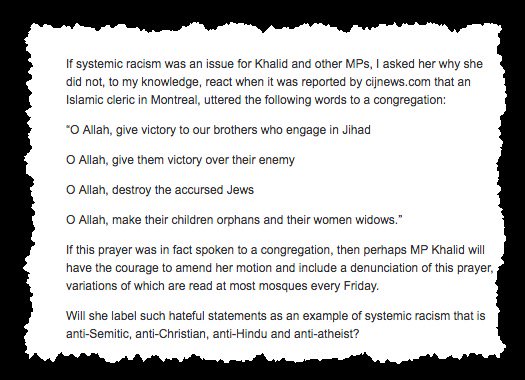 Ms. Khalid, born in Pakistan, now a Canadian citizen, distinguishes herself by her background and cultural heritage, much as another Pakistan-born Canadian immigrant did when she refused to remove her niqab to uncover her face during swearing allegiance to Canada in a citizenship ceremony, declaring it her right to do so, and that she was facing persecution because she was Muslim, not that she was defying the social mores and values of a society she had chosen to join rather than remain in Pakistan where Islamist fascism persecutes Christians.
With her motion, Ms. Khalid wants the House of Commons to join in to
"condemn Islamophobia and all forms of systemic racism and religious discrimination"
, and secondly that the House Standing Committee on Canadian Heritage be instructed to study the issue of
"eliminating systemic racism and religious discrimination including Islamophobia"
, and thirdly, that the federal government commit to collecting data on hate crimes for study purposes.
It is more than evident that the current Liberal-led "sunny ways" government of Justin Trudeau is prepared to pass the motion, supported by the NDP, while the Conservatives, vocal in their rationale for rejecting it, will stand alone in refusing to support the motion. In an interview, the interim leader of the Conservative Party of Canada, Rona Ambrose, expresses her concern that her work with women and girls in Muslim communities trying to empower them, stands a chance of being identified as "Islamophobic" in her criticism of the views of some Muslim men.
"Our members are really concerned about this as a freedom of speech issue"
, she reiterated. Giving Tarek Fatah the last word, he tweeted to the interim leader of the New Democratic Party, as a Muslim perturbed over how such a motion would impact him personally in his ongoing intention to defeat fundamentalist Islam:
"Hi @ThomasMulcair & @NDP_HQ, voting for #M103 as it stands will ensure i as a Muslim Canadian wont be able to write against these goons."
Labels: Canada, Immigration, Islam, Islamism, Political Realities