Speaking of Tangled Webs....
"We will sell and buy weapons whenever and wherever we deem it necessary. We will not wait for permission from anyone or any resolution."




Iranian President Hassan Rouhani





"The dictator [Ayatollah Ali Khamenei] has been careful all along to make sure that the deal appeared, at home and abroad, as the U.S. capitulating to Iran."




"We [United States] made it very easy for him to do that, because we conceded all our red lines and he conceded on none of his. He could depict it as a capitulation, because it was."




Michael Doran, Hudson Institut

e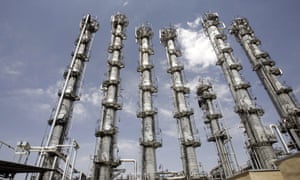 Iran's heavy water production facility at Arak.
Photograph: ARASH KHAMOUSHI/AP
The Islamic Republic of Iran won't let its plans for its nuclear future be compromised by any outside sources, irrespective of 'agreements' that are absent substance but render the appearance of having achieved a breakthrough where in fact, none exists. As a face-saving exercise and an opportunity to boast of having achieved an understanding with a regime that never had any intention of submitting to interference in its nuclear file, the 'legacy' of Barack Obama is an exercise in nothingness.
With the signing of the preliminary agreement and all sides to the intense negotiations that produced a lot of empty rhetoric and nothing of note, it wasn't the Republic that returned to Tehran with its tail between its legs. Iran, like all Middle Eastern countries has a penchant for inflating itself and for the use of extravagant language to describe its clever victories; this time the rhetoric was just that of belligerent denial and it was the Obama administration that defended itself with high praise for the level of its brilliant diplomacy.
Just over a week after the triumphant announcement of the deal completed, Qasem Soleimani, the commander of the Quds Force whose responsibility the Iranian nuclear file is, flew off to Moscow to confer with Russian President Vladimir Putin and his defence minister, Sergei Shoigu. That set the stage for an influx of Iranian and Russian military forces descending on Syria.
Moscow has provided the Syrian regime of President Bashar al-Assad with tanks and drones, and shipped prefabricated housing and mobile air traffic control systems to Syria, signalling a plan to install Russian interests permanently in Syria. Vladimir Putin has already patiently explained to a nervous West that Russia's intention is to march into Syria alongside the regime's military, Iran and Hezbollah, to destroy ISIL.
Of course, the Islamic State of Iraq and the Levant, though it is well provisioned with arms, has no air force. And President Putin did invite the West and particularly the United States, to join the unified plan to destroy the Islamic State forces and return Syria (and Iraq) to their respective governments. In the process Syria is to be regarded as an equal member of a free state and in fact reinstated with dignity.
Whose planes will the newly installed airbase and its warplanes and personnel focus on? Or will they be installed for the purpose of ensuring that the U.S.-led airstrikes don't stray from their dismally unsuccessful mission of restraining the Islamic State advance, to focus on Syria's air force that has been busy dropping bombs on its own civilian population? The intention is to save the Syrian regime from total defeat.
In the meantime, Iran's nuclear chief, Ali Akbar Salehi announced that !surprise! Iran has discovered a huge cache of uranium reserves it forgot it had. Set aside, of course, for future use. Should the occasion arise. While the Iranian military proudly revealed a new generation of surface-to-surface ballistic missiles. And Iranian leaders waxed indignant on the legitimacy of UN Security Council restrictions on weapons importation.
And then there's the issue of the International Atomic Energy's probe into the suspected nuclear-military program to produce a study meant to be completed in mid-December in lock-step with the provisions of the nuclear agreement between world powers and Iran reached in Vienna on July 14. The IAEA's director-general Yukiya Amano continues to hope he will be given the opportunity to debrief Mohsen Fakhrizadeh-Mahabadi.
He isn't the only one who would leap at the opportunity for such an interview. The man is suspected of having been responsible for the Republic's covert weaponization program, until 2003. Tehran, Mr. Amano reported, has not yet agreed to allow either Mr. Fakhrizadeh or other Iranian military officers and nuclear scientists to be of assistance to the IAEA in investigating allegations of Tehran's covert nuclear-weapons program.
Of course there's the inconvenience of bulldozers having been employed to bury all vestiges of evidence at the Parchin nuclear complex where the weaponization research of nuclear technology is suspected of having taken place. This is what becomes of 'red lines' in the sand; in the desert they have a habit of disintegrating; what "possible military dimensions" could they be alluding to?
Much complicating the IAEA's probe into said program. And the Obama administration insists on the vital importance of implementing the deal
"precisely because we have such differences with this government that they cannot be allowed to obtain a nuclear weapon"
, in the words of deputy national security adviser Ben Rhodes. So the U.S. will continue to baby the agreement along, and Iran can continue to do as it will.
Since demonstrably, the United States has more than adequately wallowed in impotence, and Iran has demonstrated its determination to achieve its long-term goal, relishing the prospect of once again being in possession of financial reserves once released from the financial constraints imposed upon it, Iran will feel free to continue its program, and who is to stop it?
The Obama administration continues to be check-mated by Vladimir Putin, amused at the ease with which he is able to manipulate events and the vacillating, uncertain, peace-mongering Barack Obama.
Labels: Iran, Nuclear Technology, Russia, Syria, United States