The Great Indian Democracy That Fails Half Its Population
"India's criminal justice system remains inaccessible and insensitive to most survivors of sexual violence. These survivors face barriers in getting their cases registered with the police, have inadequate legal support, and are forced to wait years to have their cases heard."




"According to India's National Crime Records Bureau, around 100 sexual assaults are reported to police every day. Shocking though that is, the actual number of attacks is far higher, with a government survey finding that 99.1% of sexual violence cases go unreported, often due to pressure from family members."




"Immediate, systemic change is needed to ensure expeditious trials and day-to-day hearing of cases, such as took place in the Kathua trial. Justice needs to be done and be seen to be done so that all survivors of sexual violence can place their faith in the legal system, safe in the knowledge that they will be heard and their claims treated seriously."




"The onus is now on the Indian government to move beyond token action and ensure that the criminal justice system is responsive to survivors needs and is equipped to handle the high volume of sexual violence cases that are currently pending."




"Better implementation of existing laws, the introduction of much needed procedural reforms, and clearing the large backlog of cases pending in criminal courts, are all key. So is handling sexual violence cases with greater sensitivity, a more accountable police force, and bigger budgetary allocation by the government to end gender-based violence."




"This includes giving sufficient funding to women's rights organizations that are delivering vital support services at the grassroots to women and girls."


Divya Srinivasan, South Asia Consultant, Equality Now
- Early in 2018, India was shaken by the horrific details surrounding the abduction, gang rape, and murder of an 8-year-old girl in Kathua, a district in the north Indian state of Jammu and Kashmir.
One of the most populous nations on Earth, with its diverse population, languages, religious devotion, highly intelligent people achieving recognition in the arts, sciences and technology, along with those in the nation mired in extreme poverty, shut out of advantages and suffering under a still-resonant caste system though it is now illegal, India has its problems. The fundamentalist orthodox among the majority Hindu population and the extremists among the huge albeit minority Muslim population along with simmering Sikh separatist agitation keeps the government on its toes.
Beset with so many difficult headaches there is one yet more, and it victimizes fully half of the Indian population; its girls and women, susceptible to sexual violence, rape, murder and a combination of atrocities that beggar description. In India, more than in most other countries, the lives of girls and women are fraught with the danger of extreme violence, in a culture that refuses to surrender its view of women as expendable objects to be viciously exploited and discarded.
Indian women no longer keep their heads down hoping to avoid notice leading to harassment and attacks. They now publicly campaign for protection from predators. Although the Indian government has made some changes to its laws favouring a more stringent application of justice for women and punishment for their tormentors the prevailing attitude by police and security officials goes into fallback mode of shrugging and ignoring the situation. This is just what happened time and again in the state of West Bengal in the case of a resident who terrorized his neighbours.
The son of a village council leader with the Trinamool Congress party, Mafizul Haz, accused of violent crimes among which rape and bullying stand out, terrorized his community with complete impunity. He remained protected in the coddling aura of his father's political influence as the younger son of Ainul Haq, a council leader -- where in rural India the council system frequently replaces the authority of police, courts and jailers all at the same time.
And although there were countless accusations launched and registered against the man in the Tufanganj police station, no remedial action was ever taken; he has never been held to account for, nor held to be responsible for his vicious behaviour and psychopathic actions harming others. Which led the villagers to inaugurate their own form of action to punish the criminal living among them. Although the man probably deserved to be lynched that would without doubt have brought the wrath of the village council to snap to attention on the villagers themselves not the perpetrator of their problems.
Fed up finally with the lack of attention to their pleas for intervention by authorities, the residents of Balabhut in the district of Cooch Behar gathered at night at the predator's property to quietly and swiftly dig a deep trench surrounding his house, effectively marooning him from the village and its victimized population. Placing him in a position where, when he became aware of the situation that he was under siege, caused him to unwillingly plead with those taking revenge, to provide him with food and water.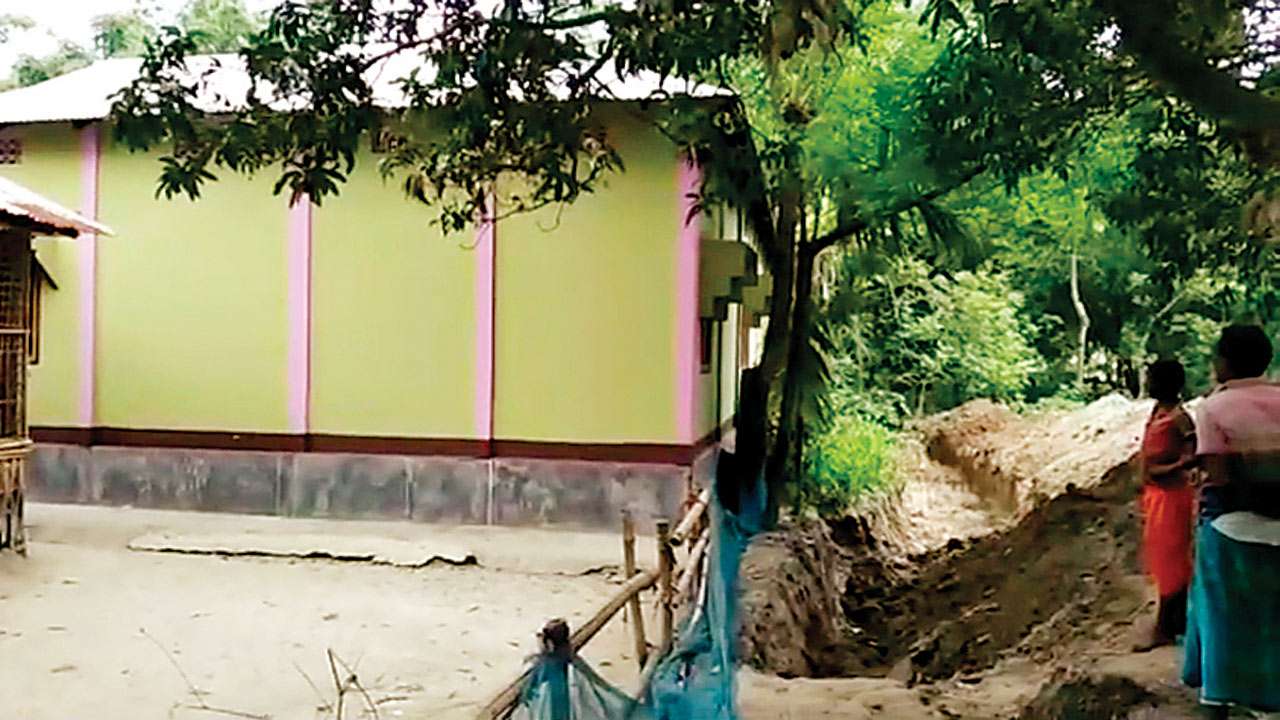 Villagers dug a five-feet deep gully around the home of Ainul Haq's son
Labels: Female Subjugation, Inaction, India, Murders, Predators, Rape, Violence