Terrorism? Allahu Akbar!
"He then took their weapons. He used the weapons on the officers, who died."




"Liege police intervened. He came out firing at police, wounding a number of them, notably in the legs."




"He was shot dead."




Liege prosecutors' spokesman Philippe Dulieu





"At the moment there is very little consistent we can say about that [questions whether the attacker had been radicalized while in prison]."




"In any case, he is not a clear-cut case, on the contrary. He certainly was not someone who could clearly be qualified as radicalized."




"Otherwise he would have been known as such by all services."




Justice Minister Keon Geens, Belgium
Oops, he would have been known as a radicalized Islamist-inspired threat to police and national intelligence; right! In an atmosphere where a man known to be a violent criminal imprisoned for a variety of crimes, exposed to a culture of religious extremism in prisons stuffed with Islamists recruiting for their brand of vicious terrorism, and who was heard by witnesses to his deadly attack to have shouted
"Allahu Akbar!"
as he lunged toward his victims to stab them and secure their arms to shoot them dead.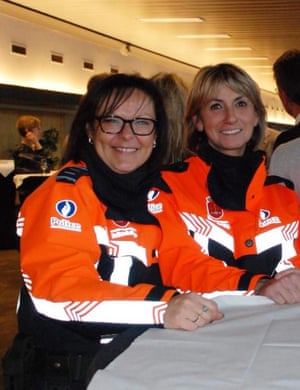 Soraya Belkacemi (left) and Lucile Garcia were shot dead in the attack in Liège.
Photograph: AFP/Getty Images
All these circumstances standing out in bold relief, yet the authorities were hesitant-to-unwilling to characterize all the combined circumstances of the stark event of psychopathic atrocity, a "terrorist" attack. So as not to inflame emotions from among the citizenry, both Belgian non-Muslims and Muslims alike, on either end of the passion spectrum.
"The goal of the attacker was to target the police"
, explained Police Chief Christian Beaupre who identified two murdered police officers, aged 45 and 53, both female. Another four police officers were wounded, one seriously, suffering a severed femoral artery. As for the "suspect", born in 1982, he had a criminal record for theft, assault and drug offences. And he was on a two-day leave from prison. A repeat offender, imprisoned since 2003; his release date in two years' time.
He had used premeditated stealth to creep up behind the two women police officers. Taking them completely by surprise, he stabbed them, took possession of their service weapons, using them to shoot the two officers dead. A 22-year-old man seated in a parked car was also shot dead outside a nearby high school. Two women were then taken hostage by the murderer, inside the school.
According to Belgian Prime Minister Michel the man identified as Benjamin Herman, a Belgian national, was mentioned in state security reports on radicalization:
"...In notes that did not primarily target him, but others or other situations..."
So much for no connection to forewarn officials that this man represented the potential to act out his violent tendencies, and this time for a cause he could identify with.
And finally -- yet again -- a senior official at the office of the federal prosecutor allowed as how
"there are indications it could be a terror attack"
. And just incidentally and for good measure,
"He also committed a murder the night before [the attack]"
, added Interior Minister Jan Jambon, when he attacked a fellow prison inmate with a hammer, bashing his brains; perhaps someone who challenged his assertion that
"God is Greatest"
?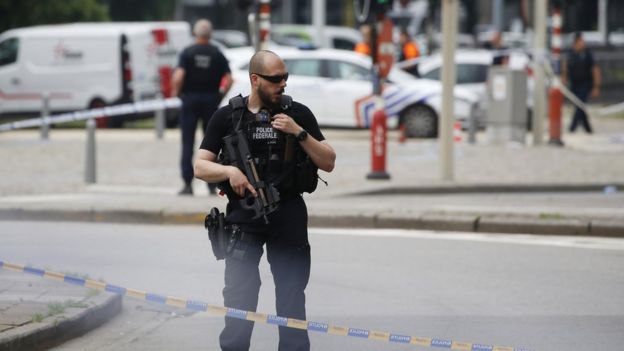 Labels: Belgium, Immigration, Islamists, Terrorism