The Vacillation of Caution from an Incautious Man
"A number of very powerful states are directly involved in the conflict in Syria and yet they have completely failed to halt this ominous regression towards a chemical weapons free-for-all."




"And the world's response? Empty words, feeble condemnations and a Security Council paralyzed by the use of the veto."




Zeid Ra'ad Al Hussein, High Commissioner for Human Rights, United Nations





"The attack on the T-4 airbase [by Israeli jets] was conducted to raise the morale of terrorists so that they continue the task of the destruction of Syria entrusted to them. Now everything is being done to delay the ultimate route of terrorists and distract attention from the US defeat in Eastern Ghouta."




"The US statement that it did not attack Syria should be understood in the sense that [the Americans] do not want to come into direct confrontation with Russia."




Syrian Brigadier General Muhammed Mulhe, Sputnik News





"Everybody's gonna pay a price. [Putin] will. Everybody will. ... We have a lot of options militarily, and we'll be letting you know pretty soon, probably after the fact."




"Russia vows to shoot down any and all missiles fired at Syria. Get ready Russia, because they will be coming, nice and new and 'smart!'."




"You shouldn't be partners with a Gas Killing Animal who kills his people and enjoys it!"




U.S. President Donald J. Trump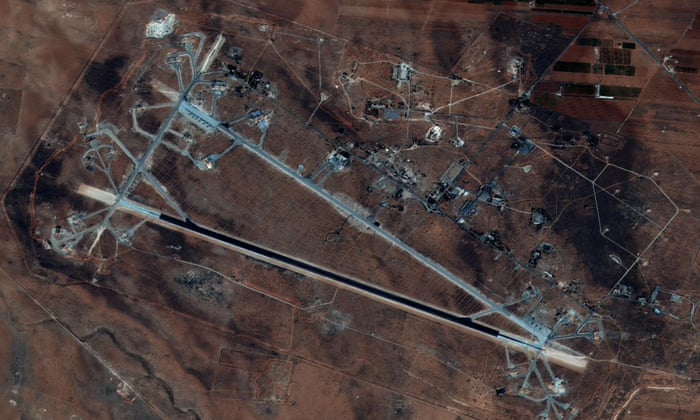 The Shayrat airfield in Syria.
Photograph: US Department of Defense/AFP/Getty Images
Russia and the Syrian regime of Bashar al-Assad point the finger of blame at Syrian Sunni rebels for the barrel-bombs that carried noxious chemical gas and released them on Saturday over Douma, leaving five hundred Syrian civilians, among them many children, in physical distress. Of that number most will recover, while 42, possibly many more died of their inhalation of poison gas. The barrel bombs had been dropped at two locations, blocks apart.
The suffering and the symptoms were identified by emergency personnel as unmistakable signs of poison gas suffocation. Dropped from helicopters there can be no mystery who was responsible. The regime points its crooked finger at the "terrorist" rebels as having been responsible, manufacturing chemical weapons and using it themselves, despite none having access to planes or helicopters.
The World Health Organization, the Syria Violations Documentation Centre, the Union of Medical Care and Relief Organizations and other agencies have identified a clear picture of what happened on Saturday in Douma. Under the kindly supervision of Vladimir Putin, the Syrian regime felt free to once again target its civilians with chemical weapons.
The response from the White House was immediate and harsh; the Syrian regime will pay dearly for once again killing its citizens. The plight of children being treated for the effects of the chemical poison was widely circulated in videos and photographs. Trump made particular mention of the suffering of the children as intolerable and requiring a punishing response.
Days passed, and Trump did what he does best, fiddled and tweeted, threatening and scolding. Britain and France came on board, both convinced of Assad's barbaric treatment of his people, resolved to support the U.S. in its punishing intentions. More scolding, more threats from Trump's busy little thumbs. And then Israeli jets struck a Syrian air base with a double message; one of self-defence, another humanitarian.
In that strike seven Iranian al-Quds force personnel died alongside their Syrian counterparts. Israeli intelligence likely informed an 'all-clear', that there were no Russians on the air base at that juncture. Israel had consulted with the U.S. over its planned strike but evidently not with Russia. And the fur flew. The issue of the United States military striking a Syrian base once again as it did a year ago for the very same reason appears to be on permanent hold.
Why make the effort when a collegial nation under severe existential stress of its own will take the gamble? Trump and President Emmanuel Macron of France talk a good line of acting swiftly to punish Syria for the latest chemical attack. News that British Prime Minister Theresa May ordered submarines within missile range of Syria in preparedness had everyone on edge. Syria took steps to remove its jets from the target base, just as Russian warships were ordered moved out of range.
Sturm und drang. Nothing to see here. Move on, folks. The all-clear gifts Assad with the assurance he can keep right on with the sarin and chlorine attacks, because the outrage that follows is hollow with no intended back-up action to deliver an unequivocal message that the world is fed up with a barbaric regime slaughtering its people through death by a thousand uninterrupted barrel bombs.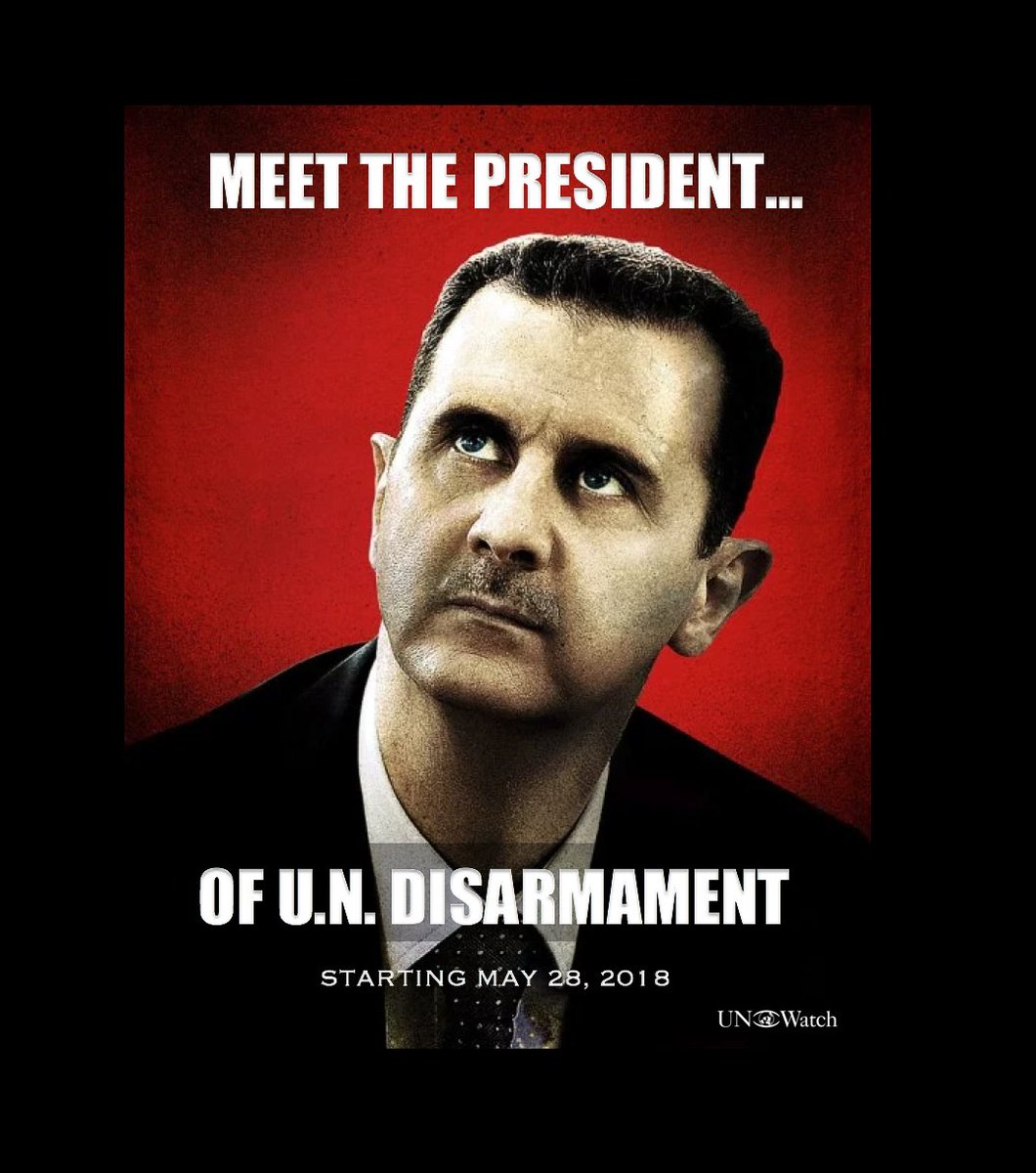 We are all civilized, after all, and Syria is preparing to take on its assigned position as chair of the United Nations disarmament forum on chemical & nuclear weapons. So much for international morals and the integrity of the United Nations.
Getty Images
Labels: Britain, Chemical Weapons, Conflict, France, Rebels, Russia, Syria, United Nations, United States