Spurning The New Normal
"Here in Britain, as in some other Western countries, we now live in a swirl of public doctrine, expressed in words such as 'inclusion', 'diversity', and 'tolerance'. "




These are commingled into something called 'British values'."




"For too long, groups who hate our country, its history and culture, have been allowed to grab the microphone. The aim of 'British values' is to wrest it back from the maniacs and start talking about what binds us together."




"On top of this [civics] get piled the doctrines enshrined in our 'Equality Act', preventing discrimination on grounds of race, religion, sexual orientation and so on."




"Age-old force of circumstance has ensured that Jews have developed the most careful ways of living peacefully in host countries that do not share their faith. If pupils emerge from Yesodey Hatorah and start trying to bomb London, I will eat my kippah [if I had one]."




Charles Moore, The Daily Telegraph
Ofsted rating: My child is taught well at this school
"Our core values and ethos ... discourage the use of online communication and Internet use wherever possible."




"This site therefore holds only statutory and other basic information about the school."




"Yesodey Hatorah Girls School is a three form entry, Charedi orthodox Jewish maintained Voluntary Aided girls secondary school located in Stamford Hill, in the London Borough of Hackney. We serve the Jewish communities of Stamford Hill and its wider area. On this site you will find key information about the School."




Yesodey Hatorah girls' school website, Stamford Hill, north London
Yesodey Hatorah Senior Girls' School
(Screen capture: Google Maps)
"This policy [of redacting textbooks] has nothing to do homophobia or misogyny, but is to protect our girls from sexualisation in line with our parents' wishes and religious beliefs."




Yesodey Hatorah spokesperson





"In the past, Ofsted has said schools that take this approach, if they are ignoring different sexual orientations and the beliefs of groups … [then they] are not meeting their obligation under the Equality Act … You cannot teach kids to be tolerant to people who are different if you are ignorant of those people."




"It is simply not acceptable for a state-funded school to take such a censorious, homophobic and misogynistic approach to 'education'."




Jay Harman, education campaigns manager, Humanists UK
Now who is intolerant? A religious-based curriculum that seeks to shelter girls from sexualization, preferring to teach them standard educational curricula stands to lose their public funding, but more important to the school and the Jewish community, their sense of comfort in acceptance by the larger community. Britain's Equality Act is meant, among other things, to protect religious devotion and belief, but in this instance is being shunted aside in the presumably greater interest of promoting
sexual orientation. Clearly a greater-values-priority has been established here.
Britain has long viewed the idea that one of the primary purposes of religion is in promoting and providing education, or to be more precise, long-established religions have their own particular views of what constitutes a sound, formative education for young minds. The kind of education that pays due attention to the fundamentals of exposing children to the basics of science, mathematics, history but also including culture, heritage, and the values represented by that religion.
An understanding that Britain accepts and supports by respecting those religious institutions and offering public funding to help in their operation rather than insisting on purely secular educational institutes since the greater interests and values in liberty and educational quality alongside respect for religion would be deleteriously impacted.
But while that may be the traditional view, Britain's Office for Standards in Education
(Ofsted)
, the inspectorate for British schools, has focused on other matters, such as sex education and teaching about, and promoting tolerance for other-gendered segments within society. A laudable enough goal, but one that should be placed in perspective. Charles Moore touched upon, but failed to elaborate that it is within the fundamentalist Muslim population of Britain that suspicion, hatred and violence has arisen.
Where the rule of law, the basics of democracy, freedom of speech are not quite given the respect they should be accorded in a pluralist society.The Yesodey Hatorah school
(translation: "the Laws which are the Foundation of the Torah")
, operated by the orthodox Haredic Jewish community, has always received a "good" rating by the inspectorate based on results for math and English placing it respectively in the top 2 and ten percent nationwide.
It does not, furthermore, have any problems with gang violence, drugs and teen pregnancy. But the inspectorate appears more interested that the pupils are not taught about sex. The school's library was raided where it was discovered some books with sex passages have been blacked out, and nor are the girls taught anything about homosexuality. The school has been placed on warning that it may be punished through withdrawal of state funding.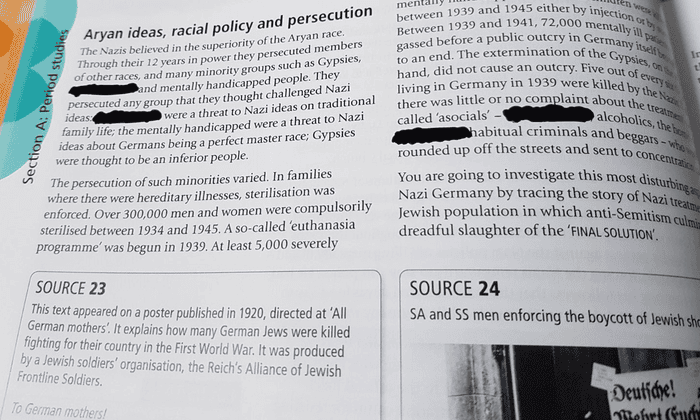 References to 'homosexuals' censored from a section of a textbook about Nazi policies. The word 'prostitute' has also been redacted.
Photograph: PR
Should that occur on the basis of the inspectorate's findings it would serve quite nicely to isolate that community that considers itself to have been accepted by the wider culture. There are some 38 Jewish Orthodox schools operating with the assistance of public funds in Britain among thousands of state-supported church schools. Is the Jewish interpretation of when children should be subjected to learning about sex and homosexuality to set them apart as educational pariahs in Britain?
Among a people who pride themselves on their capacity to live in peace with others? People whom history has taught to comport themselves with care lest they offend others. A people cognizant that host countries view their faith with suspicion. An ethnic, social, cultural and religious identity that has never posed a threat to others, but whom others have conventionally viewed as threats to world order, even while within that same country a much larger religious demographic has proven itself a simmering, volatile threat to world order.
Labels: Britain, Censure, Education, Homosexuality, Orthodox Judaism, Sexuality