The "Risk-Taking, Edge-Walking Putin Regime"
"...The theory most popular in the British media is that it was Russian spies who poisoned the former military intelligence colonel and his daughter, Yulia. This would surprise no one. That Russian intelligence is back in the business of executing traitors has been known since the case of Alexander Litvinenko, poisoned with polonium in 2006. If the Skripal situation is part of this practice, two things are striking about it because they would suggest Russia has blown up unwritten spy game rules from which it has repeatedly benefited: first, that Skripal had been "off the board" after being tried, convicted and traded to the U.K. and, second, that his daughter had apparently been targeted along with him."


Leonid Bershidsky, Bloomberg View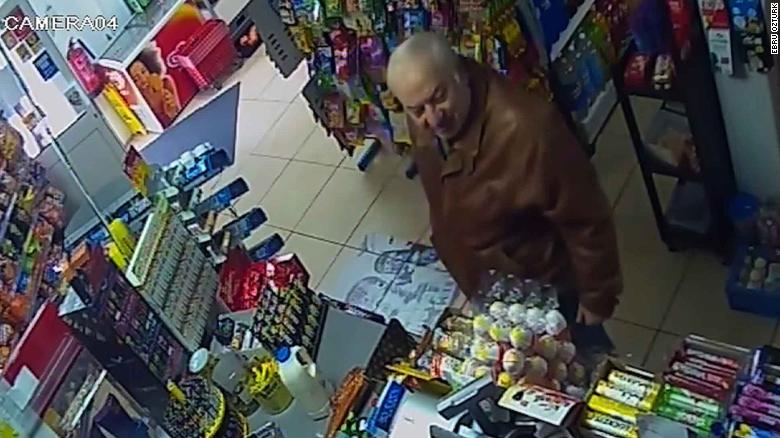 Skripal, seen in a screengrab from convenience store
Bargain Stop's CCTV footage
"If this does turn out to be in any way the result of hostile activity by another government, or directed, led, by another government, then the people of this country can be absolutely sure that the U.K. will respond robustly."




Boris Johnson, United Kingdom Foreign Secretary
First reports in the wake of the discovery by police of two very ill people sitting on a park bench and taken directly to hospital where they are in critical condition, suspected targets of a nerve agent attack meant to kill them, was that several first responders among the police were also hospitalized briefly with breathing problems attributable to the noxious substance that was used in an effort to kill the man, Sergei Skripal, 66, identified as a former Russian intelligence agent who had spied for MI6, and his daughter Yulia, 33.
One of the police officers took a turn for the worse, was readmitted to hospital and was said to be in critical condition but evidently holding his own. Now it appears that the number of people affected by the noxious substance used in the attack on the two Russians living in Britain has expanded the pool of those suffering ill effects, beyond 20, excluding Sergei and Yulia Skripal. More mysterious, or perhaps more correctly identified as sinister revelations; that Sergei Skripal's wife and son had both died under questionable circumstances.
As Leonid Bershidsky, the founding editor of Russian business daily
Vedomosti
and an opinion website has put it, there has long existed a mutual agreement among nations' intelligence agencies that retribution against traitors agreeing to work for an enemy state was off limits once their status had been revealed and they had served a court-ordered sentence upon being found guilty of espionage. Also off limits were any members of their families. Things appear, under Vladimir Putin, to be changing rather dramatically.
Russia appears now to be delivering a different message about those who have abandoned loyalty to Russia by becoming spies for other countries against Russian interests. There will no longer be a gentleman's diplomatic agreement to rely on, that bygones will be bygones. Betray Russia and you will pay the ultimate price in deadly retribution. There is nowhere that a traitor can find haven and safety. You will be forced to look over your shoulder until such time as you no longer can, when the work of delivering your punishment has been completed.
As for nations outraged, as the U.K. is now, that the Kremlin would have the nerve to send assassins to kill their agents who dishonour Russia, perhaps they'd better get used to it. It's not as though there is anything particularly new about the situation. Since Vladimir Putin has come to power there have been a number of mysterious deaths of Russians living in Britain, the most obvious and controversial one having been the agonizingly slow death due to polonium poisoning of Alexander Litvinenko -- but there have been others, less publicized, an embarrassment to the U.K.
"It is awful. It is absolutely shocking. If the British authorities had taken my husband's case more seriously when it happened then maybe this would not have taken place. I didn't want this to happen again on British soil and now it has"
, charged Marina Litvinenko, widow of Alexander Litvinenko who paid for his dissident position with his life in 2006. Bearing in mind Vladimir Putin's recent on-stage dramatic performance scorning the West for not heeding Russia as a serious contender resurging as a world superpower.
Proudly displaying the most recent advanced technological weapons powerful enough to escape detection while prowling the international skies, capable of dropping nuclear bombs on unwary nations failing to suspect that a renascent Russia is angry enough and capable enough to awaken them from their peaceful slumber in the placid assurance that their defensive weapons can meet any challenges from Russia in the skies, in the oceans, and successfully deflect them, Putin sought to dispel that sense of complacency.
"No, nobody really wanted to talk to us about the core of the problem, and nobody wanted to listen to us. You will listen to us now," -- Vladimir V. Putin
"The reasons for Britain's reticence -- include fear of retaliation, police incompetence, and a desire to preserve the billions of pounds of Russian money that pour into British banks and properties each year. As a result, Russia is making what one source called increasingly 'bold moves' in the U.K. without fear of reprisals"
, claims
BuzzFeed.
Realistically then, Britain's justified outrage will not match its response for the simple reason that its response, short of declaring war on another nuclear-armed state is downright suicidal, so the U.K. is constrained in its anguished fury. Or, as Mr. Bershidsky puts it:
"If the evidence points to an attack from Russia, it's also difficult to imagine a fully symmetrical retaliation that would deter the Kremlin from further lawless behaviour -- or, indeed, a retaliation that doesn't increase the danger that comes from a risk-taking, edge-walking Putin regime."
Labels: Assassination, Britain, Crisis Management, MI-6, Nuclear Weapons, Russia, Spies, Threats