Royal House-Cleaning
"The investigations, led by the Attorney General, were conducted in full accordance to Saudi laws."




"All those under investigation had full access to legal counsel in addition to medical care to address pre-existing, chronic conditions."




Government of Saudi Arabia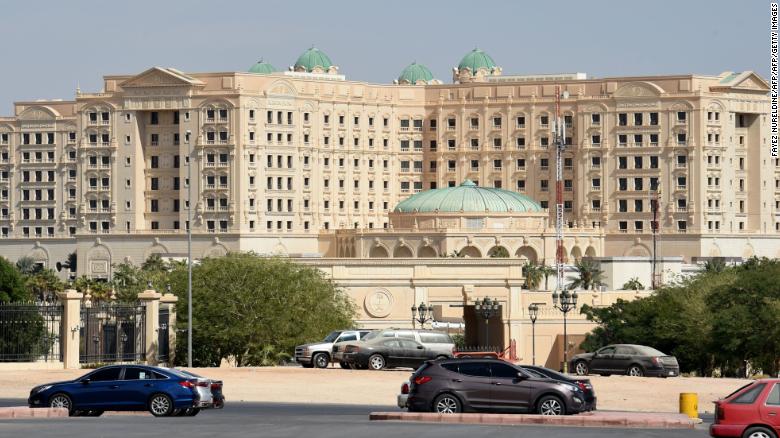 Riyadh Ritz-Carlton, Saudi Arabia
Crown Prince Mohammed has been one very busy man, deciding that Saudi Arabia would lead a military mission to Yemen to destroy the Houthi uprising against the legally constituted government which had sent its president into exile; in this way prosecuting its proxy war for influence, authority and power in the majority-Sunni Islam Middle East against its Shiite rival the Islamic Republic of Iran which it accuses of supporting terrorism, among other disturbing issues.
Iran, which has manoeuvred itself into a place of power virtually annexing Syria, Iraq, Lebanon and Yemen to its power base does indeed support terrorism. On the other hand, Saudi Arabia,through its oil-financed largess in building religious academies (madrassas) and mosques all over Europe and North Africa which became breeding grounds for extremist, volatile Islamist militias like al-Qaeda and Islamic State, cannot be held to be innocent of those same charges.
However, it is the nuclear and international ballistic missile aspirations of Iran that concerns the world order and which has brought Saudi Arabia closer to the West and to its hitherto nemesis Israel, to balance its fears over Iranian plans to eclipse Saudi Arabia from its position of preeminence now motivating the Kingdom. Under these stresses, it hardly seems credible that the Crown Prince would turn his attention to his royal relatives and wealthy Saudi businessmen, claiming they have looted the Saudi treasury, lately in a depleted position resulting from plummeting oil prices and excess capacity.
As though the Middle East is not sufficiently roiled by tribal and interreligious strife, there is the added conflict of a family feud of inheritance where Prince Mohammed insists King Abdullah's children return billions they swept into their personal accounts on the death of King Abdullah.
Credit

Giuseppe Cacace/Agence France-Presse — Getty Images
To that end, 200 wealthy Saudis, among them eleven Saudi Princes were taken into custody back in November, installed in the Riyadh Ritz-Carlton as guests of the government. The princes had staged a palace sit-in before the mass arrest to protest a royal order that
"halted payments by the state to members of the royal family to cover their electricity and water utility bills"
, according to Sheikh Saud Al Mojeb. As well, they insisted on compensation for the 2016 state execution of a cousin convicted of murder. Informed these were unlawful demands, the princes refused to leave.
Since fhen most of arrested have been released to what amounts to house arrest. But not before some were subject to coercion and physical abuse, according to witnesses. Early in their imprisonment, 17 of the detainees had been hospitalized after being physically abused, one of whom died at a later date while in custody. Desperate to leave their Ritz custody, the detainees were forced to surrender a ransom, signing over to the government control of real estate and company shares, with no legal process involved.
"Even the house I am in, I am not sure it is still mine"
, one former detainee said.
"We signed away everything."
The man has sunk into a depressive state while watching the collapse of his business, while he has been forced to wear a tracking device. This, at the hands of the modernizing Crown Prince who has promised that Saudi Arabia is prepared for foreign investment, and welcomes it, even while it plans to open once-forbidden entertainment opportunities in the country to encourage that foreign investment.
Steadfastly insisting it has no plans to publicly release details of any charges brought against anyone, either while in custody or following their release, or to pronounce any of the detained either guilty or innocent of whatever charges were brought against them, the government cites privacy laws.
"At the start of the crackdown they promised transparency, but they did not deliver it"
, explained former American ambassador to Saudi Arabia, Robert Jordan who served under President George W. Bush
As for the Saudi who died in custody, he was a high-ranking military officer. He had been treated in hospital for severe wounds somehow attained while at the Ritz-Carlton, and then returned to custody at the hotel, where he later died. Ostensibly of natural causes. Even while one individual who saw his corpse described that Major General Ali al-Qahtani's neck appeared unnaturally twisted, as though broken, his body bruised and badly distended. Two others, including a doctor briefed on the body's condition added there were burn marks, evidently from electric shocks.
The Saudi Binladen Group, the fabulously wealthy construction giant founded by Osama bin Laden's father has been taken into the management control of government. Still detained is its chairman, Bakr Binladen. All the members of the family, once gloriously rich, must now accustom themselves to the fact that they have lost much of their private wealth.
"No one can talk about what happened in the Ritz. In the end, they all have to live in Saudi Arabia"
, cautioned a former detainee's associate.
Labels: Prince Mohammed bin Salman, Saudi Arabia, Saudi Royalty