Answerable To No One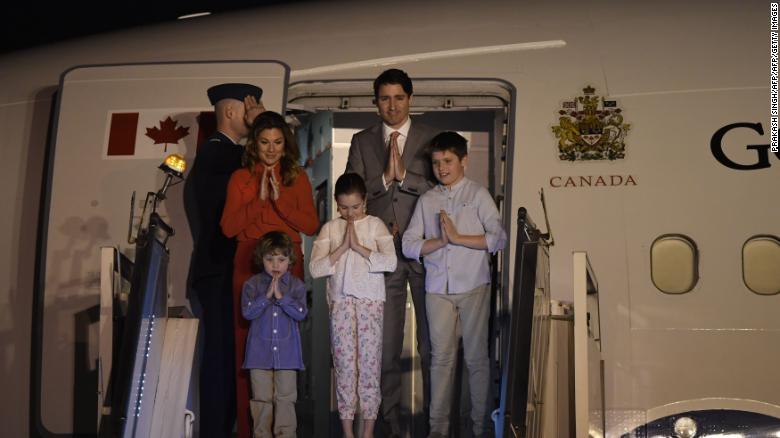 Prime Minister Justin Trudeau, along with his wife and three children, arrive in New Delhi on February 17
"Let me categorically state that the government of India, including the security agencies, had nothing to do with the presence of Jaspal Atwal at the event hosted by the Canadian high commissioner in Mumbai or the invitation issued to him for the Canadian high commissioner's reception in New Delhi."




"Any suggestion to the contrary is baseless and unacceptable."




Raveesh Kumar, spokesman, India's external affairs ministry website





"[His Liberal government respects and appreciates the work done by professional, non-partisan public servants], particularly those in the national security and information areas."




"When they make recommendations or when they make statements to Canadians or to this government, we on this side of the House choose to believe them," he told the Commons."




"On that [Conservative] side of the House, who knows?"




Prime Minister Justin Trudeau





"There has never been a government, Liberal or Conservative, who has used a national security official to clean up an embarrassing mess that was self-inflicted by this prime minister."




"Is the prime minister actually saying that (Sarai) has taken sole responsibility for a scheme concocted by the Indian government? ... How can they both be true?"




Federal Conservative Leader Andrew Scheer






"Who was responsible for taking the picture with his wife? Who was responsible for taking the picture with [Liberal Infrastructure Minister Amarjeet] Sohi?"




"Who was responsible for sending out that invitation? Are you telling me that the government of India was? No."




Conservative MP Deepak Obhrai, former parliamentary secretary, minister of foreign affairs
"I helped him [the shot and injured visiting Indian Cabinet minister Sidhu] and his wife into the ambulance. It's a day I'll never forget."




"The victims of terrorism, they have names, they have faces and they have families. To the prime minister, why would he ever meet with Jaspal Atwal?"




Alberta MP Jim Eglinski, former RCMP officer





"Atwal is well-known to all the Canadian politicians here in Surrey and for anyone to put him on a list ... it didn't make sense to me."




"It was obviously a colossal mistake. And now Mr. Trudeau and Daniel Jean have compounded those allegations."




Ujjal Dosanjh, former federal Cabinet minister, former Premier, British Columbia
Had the previous Conservative-led government of Prime Minister Stephen Harper engendered so many outraged reactions to any foreign trip by his personal clumsy, ill-informed, arrogant and unctuous performance bringing deep shame and embarrassment to Canada, he would have returned from his trip to find himself completely and irrevocably distrusted and rejected by the electorate. For some unfathomable reason known only to true feeble-brained lefties Justin Trudeau's capers are forgivable.
In his day, Prime Minister Harper was often accused of manipulating Parliament to reflect his ideas of how it should operate, but he never, ever had the unmitigated gall to refuse to respond to a direct question in the House of Commons during that rough-and-tumble daily exercise of the legislative branch querying the executive branch for responsive reasonable debate on any issue pertaining to government.
Justin Trudeau has done the opposite, upturning not only tradition but expectations of responsibility and transparency. Both of which he campaigned on, as issues he would deal with honestly and to the advantage both of Parliament and the country at large.
To a direct question referring to his trade-mission-cum-family-holiday in India of eight days' duration during which he and his family disported themselves in awkward dress-up fashioned on Bollywood excesses and failed to give reasonable attention to trade discussion opportunities that other countries took full advantage of, his administration under his close direction took the awesomely stupid step of inviting a convicted felon charged with attempted murder of an Indian cabinet minister.
This former member of the violent separatist Sikh Khalistani movement was invited by the Canadian High Commission to two official affairs, in Mumbai and New Delhi. One of which he attended, before the second, when Canadian news media got wind of the affair and questioned the rationale behind insulting a host and betraying its trust, was cancelled. But not before photos had been taken of Jaspal Atwal -- who should have been persona non grata, but as an active Liberal supporter was not -- with Sophie Gregoire-Trudeau.
This, after assuring both Indian Prime Minister Narendra Modi and the Punjab chief minister that Canada, and he, Justin Trudeau personally, would never lend their support to any terrorist group. A statement that should have rung clear and true as a bell in view of Indo-Canadian Sikh separatists having plotted and carried through to dreadful completion a plot to blow up an Air India flight in transit, killing all 329 people aboard. Then the aftermath of the Canadian justice system failing to find those accused of the plot guilty and convicted of terrorism.
Now that the Conservatives would like to see that Trudeau's national security adviser, a 35-year veteran civil servant who has stated unequivocally that the intelligence services of the Government of India had set out specifically to accomplish an agenda to embarrass the prime minister resulting in the invitation tendered to Jaspal Atwal -- despite his criminal conviction of attempted murder, despite his having attempted to murder Ujjal Dosanjh, a vociferous critic of Khalistanis, later a premier of British Columbia -- the Liberals with their Parliamentary majority are blocking that testimony.
Unabashedly and unashamedly Liberal to the core, answerable to no one, not Parliament, not the press, not the people of Canada, Prime Minister Justin Trudeau believes he is beyond reproach in anything and everything he does. From taking freebie vacations with people of vast wealth while declaring himself the protector of the Canadian middle class, to paying out millions to Canadian Muslims charged with terrorism offences, to keeping suspect company with those charged with criminal offences, he is responsible to no agency, responsive only to his own.
His former vocation as a drama coach in a private school in British Columbia reflected his love of play-acting, and he has never divested himself of his juvenile outlook on having his good looks and family name carry him through his trajectory in life from benefiting handsomely from speaking engagements, charging hefty fees even when speaking before charitable groups as a Member of Parliament, to the charades he plays sympathetic to the plight of Muslim refugees fleeing Muslim-on-Muslim carnage, opening his arms wide in greeting, posing for those ubiquitous photo-ops.
"[The allegations] are more outlandish than a combined episode of 'Veep' and 'House of Cards' could bear."




"That the Prime Minister is exploiting a national security official to deflect attention from serious concerns about his affiliations with Khalistani extremists is incomprehensible."




"It would be understandable for New Delhi to treat Ottawa with suspicion. Significant effort is now required to build confidence at both senior political and national security level."




Shuvaloy Majumdar, Munk Senior Fellow, MacDonald-Laurier Institute, Ottawa





"It's obviously done damage to Indo-Canada relations. Now that [Trudeau's] done it, he's drawn a denial from the government of India and it has put him in a sticky situation on a personal level with the government of India."




"The business and economic side of the relationship goes on as normal. There isn't much strategic context to our relationship. Essentially Canada is not such an important country for India right now … and in Canada lots of voters of Indian origin matter particularly to Trudeau."




Shekhar Gupta, senior Indian journalist and commentator
Labels: Canada, Incompetence, India, Justin Trudeau, Khalistan