Verifiable Rumours: Israeli Warplanes Over Sinai
"[A covert counterterrorism alliance between Israel and Egypt represents a] big deal, [yet explicable given that counterterrorism relationships have become] a little bit insulated from the ups and downs [of the area's tumultuous politics]."




"The public perception of those two countries and how they relate is not in sync with how they work together privately on counterterrorism."




Identity-protected former U.S. official



LTC (R) Peter Lerner

‏

Verified account

@LTCPeterLerner


LTC (R) Peter Lerner Retweeted New York Times World
This story is gaining steam in #Israel. While not confirming the report, my thoughts on the subject. With IS as a mutual enemy of Egypt and Israel, if you have added airpower value, why not help your neighbors out? Makes sense.
Israeli Sikorsky CH-53K helicopter
(AFP)
In October of last year two rockets were fired from Egypt's Sinai inside Israel, striking an area on the border of both the Sinai Peninsula and the Gaza Strip. Islamic State took credit for those rockets, claiming they were retaliation against Israel for the aid it was giving to Egyptian forces. According to ISIL "Jewish" aircraft were seen to be involved while Islamic State was clashing with Egyptian forces. The rockets were payback. On the other hand, it is also true that Islamic State has a presence in Gaza itself.
There was a clear connection to a number of Egyptian checkpoints close to the border between Egypt and Gaza targeted by Islamic State; in those coordinated attacks late last year, dozens of Egyptian soldiers were injured, and six killed. These actions took place around the town of Sheikh Zweid, the Islamic State militants equipped with heavy machine guns and mortars, leading Egypt to call in Apache helicopter gunships to repel the attacks.
Just coincidentally, Sheikh Zweid, a northern Sinai town, was seized by Islamic State (Willayat Sinai) using it as a base from which to launch countless deadly attacks on Egyptian soldiers, police and Coptic Christian churches. The first realization that Islamic State had made a base for itself in the Sinai Peninsula was when it managed to place a bomb in the luggage compartment of a Russian airliner in 2015, when 224 Russian tourists died in the succeeding explosive blast.
Egypt has struggled for years to control an explosion of terrorist groups within the Sinai, many of them Bedouin Salafists, along with groups associated with the Muslim Brotherhood, and Hamas as well. Directly following the removal of the Muslim Brotherhood's elected Mohamed Morsi as president of Egypt by his Army chief of staff, Abdel-Fattah el-Sissi, unrest and violence in the Sinai spiralled to a vicious height.
All of which has led to the presence of unmarked Israeli warplanes and helicopters flying over the Sinai with the full knowledge and acceptance of President el-Sissi prepared to take help wherever he can get it, in the never-ending efforts to contain terrorist attacks in Egypt. These helicopters and warplanes carrying out dozens of covert attacks against ISIL and other groups involved in terrorism in recent years reflect a mutual effort to mute the overwhelming growth of deadly jihad-led assaults.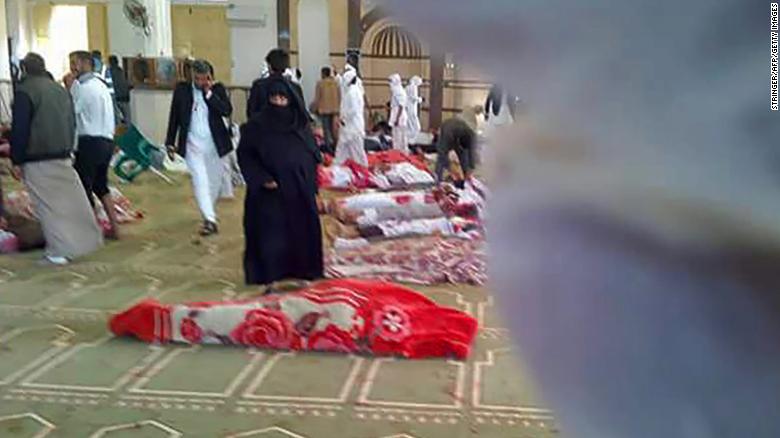 Bodies lie on the floor of al Rawdah mosque in the northern Sinai after a gun and bomb attack
CNN
A group of approximately 40 ISIL attackers stormed the al-Rawdah mosque in the Sinai in November, killing over 400 Muslim Sufi -- the mystic branch of Islam -- worshippers. Islamic State is considered to have over a thousand members in the Sinai Peninsula. Its brazen coordinated attacks all bear the classic hallmarks of Islamic State's love of mounting atrocities against those it considers untrue to pure Islamic ideals and any whom they consider to be enemies of Islam -- encompassing a great swath of humanity outside their own group's stringent fundamentalism.
Mutual concerns in the Sunni Muslim Arab world of growing terrorism targeting their own government agencies and populations, along with the growing dread of the Islamic Republic of Iran's mission of Shiite Aryan Persian conquest has considerably softened the antagonistic belligerence usually complicating Israel-Arab relations. At least on the defensive front, coping with attacks and threats emanating from jihadi groups and the Iranian Shiite triangle.
Israel Defence Minister Moshe Yaalon had stated that there were confidential meetings between Israeli officials and their counterparts from the gulf in "closed rooms" uniting the two solitudes against a common enemy known to be Iran. Saudi Arabia, the leader of the Sunni Arab nations whose stance toward Israel has always been stiffly menacing, now finds itself viewing the Jewish State as an aid in countering Islamic extremism.
Israeli security officials are no longer circumspect in concealing ongoing relations with their regional security counterparts, since their mutual concerns have aligned with those of the Persian Gulf states. The counterterrorism strikes by Israel in northern Sinai were revealed by American news sources, then picked up by Israeli papers. Official Israeli comments on any purported alliances have been hard to come by with respect to confirming Israeli military operations within Egypt's borders.
Labels: Conflict, Egypt, Gaza, Islamic State, Israel, Security, Sinai