Syria's War on "Terrorists"
"We call on the United Nations and Arab Muslim countries to come see what the Syrian regime is doing in our towns and homes. The Syrian regime claims to kill terrorists -- are those terrorists?"




"They are killing innocent people, women and children, in cold blood. They are not killing Nusra Front fighters or ISIS or any other militant group, but they are killing civilians."




Unnamed elderly Syrian man, Ghouta





"What have we done to deserve this?"




"Take your fight to the battlefield. We've had enough."




Syrian man, Eastern Ghouta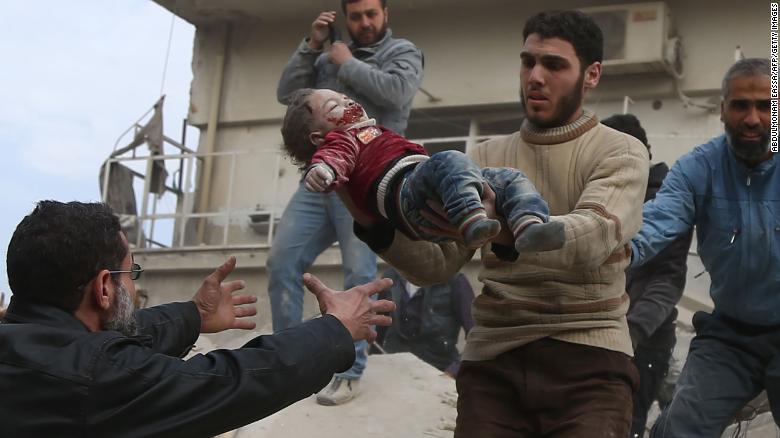 A man hands over a child to his father after being rescued from the ruins of a building in Eastern Ghouta on Tuesday
CNN
"[Regime forces targeted] areas from which the shells were launched in Eastern Ghouta, inflicting heavy losses upon the armed groups' ranks and destroying a number of their mortar launchers."


Syrian regime's SANA news agency
Forces of both Russia and Syria continue to launch waves of airstrikes over eastern Damascus, killing civilians and their children. Russian warplanes, just like the Syrian regime's appear to take special efforts to target residential buildings and hospitals in town after town in northwestern Idlib province. That targeting in particular seems an obvious gift from Moscow after opposition militants succeeded in shooting down a Russian Su-25 fighter jet over the weekend.
Eastern Ghouta outside Damascus has become a killing field of civilians by the regime and its enabler, with little hesitation, despite awareness their targets include children. Russia's brutal aerial campaign against the armed opposition to Syria's Bashar al-Assad has been particularly punishing. Without that intervention dating from 2015 in the Syrian civil war, the tide of war had been going against the Syrian regime, despite its using all means at its disposal to address the insurgency.
Assad's war on the "terrorist" Syrian Sunnis disputing his minority Alawite reign of terror, has represented a textbook lesson on how a 'legitimate' regime in the Middle East is capable of matching the atrocities meted out by a horrific Islamist jihadi mission like the Islamic State of Iraq and the Levant. From its plan to starve out dissident civilian populations, to barrel bombing civilian enclaves, to the use of chemical weapons targeting civilians while they sleep. Anything ISIL could perpetrate on its perceived enemies, Assad could go one better.
According to the Syrian Observatory for Human Rights, based in Britain, no fewer than ten towns in the Eastern Ghouta region were bombed on Tuesday alone. At least two of those towns, pointed out the Ghouta Media Center, were struck by ground-to-ground missiles.
"Another bloody day for civilians"
in Eastern Ghouta, declared the Syrian Civil Defence search-and-rescue group, the White Helmets.
With hospitals continuing to be bombed, understandably, medical help for the wounded is necessarily basic. The outcome of the unmerciful and ongoing bombing campaign is that local clinics are makeshift and barely equipped. Seven years of unremitting violence has left the eastern suburbs of Syria's capital the rare stronghold left for the anti-Assad contingent. Civilians still living in the neighbourhoods are sitting targets for Syrian army shells and missiles, purportedly aiming at the rebel fighters controlling the neighbourhoods.
These are neighbourhoods under brutally violent siege with ongoing, intensive attacks. In the past 24 hours alone, according to The Syrian Observatory for Human Rights, 35 airstrikes have hit the area.
Apart from those attacks, experts are in the process of investigating reports of new chlorine bomb attacks in two Syrian towns, one in Eastern Ghouta, the other in Idlib targeting civilians, according to the UN commission of enquiry on Syria.
Allegations of chemical weapons use are a matter of "grave concern", stated the Organization for the Prohibition of Chemical Weapons. "Grave concern" is automatically and terminally registered ad nauseum by the United Nations, as well; its stock response to all these violations of the most basic tenets of human rights and internationally recognized prohibitions of targeting civilians during periods of conflict.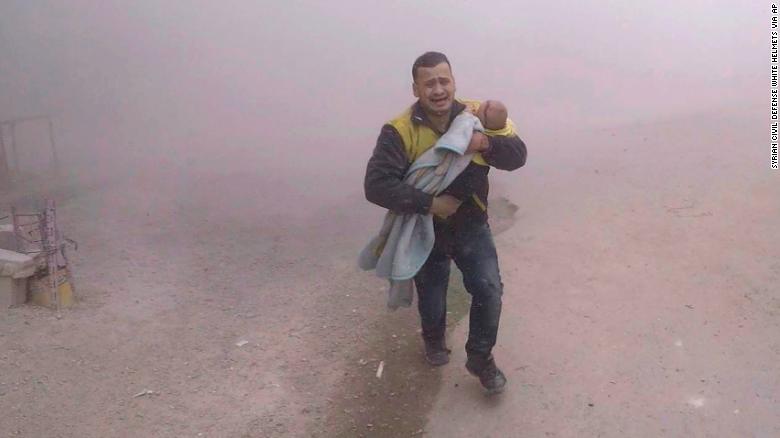 A photo provided by the Syrian Civil Defense group shows what it says is one of its paramedics fleeing with his wounded son from the scene of an airstrike near Damascus on Tuesday.
CNN
There are approximately 400,000 people living in Eastern Ghouta. The government siege has succeeded in preventing any aid from any source whatever from reaching these embattled and embittered people who can be forgiven for believing that the world has forsaken them while their own government and one of the member-nations of the UN Security Council continually bombs their children.
"They are calling for at least [a] one-month humanitarian pause starting immediately throughout Syria given the very critical humanitarian needs, and the inability to provide the aid that we do have."

UN spokesman Jens Laerke

"Since the early morning we have had so many airstrikes and shells and missiles on the towns of eastern Ghouta."

"So many women and children were killed…yesterday there was 33 martyrs too."

"A member of the civilian defence died when he was saving people under the rubble in Arbeen."

Eastern Ghouta resident Nour Adam
A wounded girl waits to receive medical treatment at a hospital after war planes belonging to the Assad regime carried out airstrikes over Kfar Batna suburb of Eastern Ghouta near Damascus.
Khaled Akasha/Anadolu Agency/Getty Images
Labels: Civil War, Conflict, Humanitarian Crisis, Russia, Syria