Repatriating ISIL Jihadis
"You need the political will to tackle these issues, but there is a fear factor that is preventing the development of any rational debate or discussion."




"But by hoping that the issue just disappears by leaving them in this remote corner of north-east Syria, is just short-sighted and is not going to make the problem go away. The longer it takes and years go by, the harder it will be ... I just think it's countries not owning up to their responsibilities."




"These children are victims. They have not committed any crimes and they need support and protection. What I find amazing is the absence of responsibility for these children."




"Some could be entitled to foreign nationality and probably have grandparents or uncles and aunts who would care for them."




"These are super-young children and somehow you see very little sympathy for them. That's the main issue I've seen."




Nadim Houry, director, Human Rights Watch terrorism/counterterrorism program





"If any country wanted to get their citizens back home they are welcome."




Sinam Mohamed, international representative, Kurdish northern Syria





"Children who are in local custody can, depending on their parents' preference, either stay with them while their parents get tried locally, or be repatriated to France, where they will be cared for by social services."




"They are usually very young, but they can have been radicalized and need to be watched. The challenge for us is to turn them into citizens again."




Florence Parly, French Defence Minister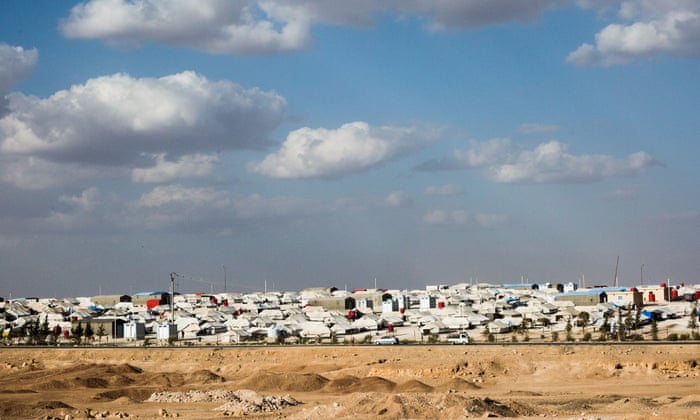 In a corner of a teeming refugee camp, 40 miles north of Raqqa, a small group of women and children are kept alone. They mill together at the back of a blue building; blond and brown haired children darting in between blankets that their mothers have hung as doors across small, dank rooms. Others in the Ain Issa camp call them "the Daeshis", meaning Islamic State families.
The Guardian
The countries in Europe and North America whose citizens were determined and eager to leave for foreign parts to join the Islamic State of Iraq and the Levant terrorist jihadi groups in Syria and Iraq are understandably loath to scoop these religio-deranged people up and return them 'home' to be dealt with by the justice system on their own territory. Most civilized countries have no previous experience with how they might best deal with the reality that some of their citizens made a conscious choice to join a terrorist group and to take part in their activities.
Repatriating these people presents a dilemma. Are they to be tried as terrorists having taken part in rituals and conflicts inimical to the standards of conduct recognized as lawful and humane behaviour in enlightened societies? Are they to undergo 're-education' protocols in an effort to turn their minds into a direction that would have them realize the folly and criminality of their past? Does their punishment include incarceration in a general prison system where those who adhere to the violent religio-fascism they practised abroad stand a good chance of corrupting other inmates?
They are responsible for supporting a terrorist network that deliberately targeted the vulnerable and the innocent, minority ethnic and religious groups, killing and enslaving, raping and torturing other human beings of all ages, from the elderly to mere infants. So it might seem a little precious to their victims that the children of those conscienceless destroyers of other peoples' lives are to be considered victims requiring salvation. Some of these children have been indoctrinated into the same deadly ideology as their parents.
If, on the other hand, relatives can be found who are innocent of such criminal acts and are willing to take on the responsibility of raising the young children born of ISIL jihadis, the recognition should also be made that to accomplish a 'rescue' of these children, separation from their mothers is also a requirement. Would Western societies set aside their squeamishness at separating those mothers from their offspring? The women who travelled from their home countries to join ISIL and marry themselves to their fighters are themselves hugely implicated in their atrocities by association.
The suspected ISIL relatives are held in a camp on the outskirts of Mosul
[Balint Szlanko/AP]
Young women being held in temporary camps in northern Syria operated by Kurdish administrations after surrendering to Kurdish forces which led to the liberation of Raqqa and other towns and cities held by ISIL as well as in Iraqi camps close to Mosul after its liberation. Their children may very well be considered psychological collateral damage, but the mothers are responsible for their own plight, let alone that of their children. Some 800 registered "ISIS families" are held in those camps, representing women from 40 countries, detained at four Kurdish-operated camps.
Most women have more than one child born within the ISIL 'caliphate' in the past three years. Some women arrived in Syria and Iraq with their European-born children. And there they are installed now, along with thousands of captured and surrendered ISIL fighters. These women find themselves in a trap of their own devising, where they now live in squalid conditions but nothing like the conditions that Yazidi women and girls experienced, repeatedly raped and forced to undergo inhumane indignities to the human soul.
The Kurds, while involved in prosecuting the ISIL fighters, have little interest in doing so with the women. But nor are Western interests from whence the women emanated expressing much interest, with rare exceptions, in having these women with their children extradited to their home territory. The Kurdish administration would, in fact, welcome any overtures from these women's countries of origin, happy to surrender them so their own nations can take whatever steps they deem appropriate in light of the women's culpability.
Canada has stated its willingness to repatriate its citizens, while France feels such decisions must be made on a case-by-case basis. One of its own, a 33-year-old French citizen converted to Islam, played a key propagandist role for Islamic State. She has emphatically requested a pardon and the opportunity to return to France where she would certainly face charges of terrorism, a woman who was personally sanctioned by the U.S. and United Nations for her role as a ISIL recruiter.
Labels: Iraq, ISIL women/children, Islamic State, Kurds, Syria