Justin Trudeau's Fixation With Tyranny
"The cause championed by the brave protesters in Iran's streets is just. They are calling for an end to a theocracy that has produced nothing for Iranians except economic stagnation, repression, mass executions, and gender and religious apartheid."




"Does Canada's feminist prime minister wish to be on the side of a government that treats women as second-class citizens? Can he pay lip service to diversity and inclusion on the one hand, and keep silent in the face of a government that treats its Baha'i religious community as non-persons?"




"In short, in the clash between a theocratic regime that murders its citizens (and Canadian citizens, as it did in 2003 with Zahra Kazemi) and young protesters calling for democracy, which side does Trudeau wish to be on?"




Kaveh Shahrooz, Toronto lawyer, former senior policy adviser to Global Affairs
Former Prime Minister Stephen Harper took the measure of the Islamic Republic of Iran and found it wanting. That conclusion wasn't a difficult one to arrive at. The Republic was well known for its creation, support and arming of terrorist group Lebanese Hezbollah, alongside its support of Hamas. And nor was it unknown that the theocratic Khomeinist regime had tasked its proxy terrorist militia with mounting international attacks of a deadly nature against Jews. Under former president Mahmoud Ahmadinejad Israel was repeatedly threatened with extinction, even in the hallowed halls of the United Nations general assembly.
Aside from the fact that Mr. Harper was a staunch supporter of Israel's right to exist, he knew that Iranian agents had infiltrated Canada for its usual nefarious purposes, threatening those Iranian-Canadians who failed to support the regime, and mounting regime-positive propaganda meant to coerce and impress the gullible. This was before Iran had dispatched its Republican Guard Corps and Hezbollah to Syria to give aid to Syrian President Bashar al-Assad's vengeance-massacre of his protesting Sunni-majority Syrian population.
The Right Honourable Stephen Harper took steps to inform Iran that its embassy could no longer operate in Canada, while withdrawing Canadian diplomats and closing the Canadian mission in Tehran, refusing to give legitimacy to a regime infamous for its human rights abuses at home and abroad. When Justin Trudeau campaigned for his Liberal Party during the last general election one of the promises he made was the re-establishment of full diplomatic relations with Iran. Iranian Canadians are of two groups; those who despise the regime headed by Supreme Leader Ayatollah Ali Khamenei, and those who support the regime.
One of Iran's enthusiastic supporters was elected to Parliament, Richmond Hill MP Majid Jowhari, representing the Iranian Canadian Congress friendly to the regime. Justin Trudeau appears prepared against all moral odds to continue to cement relations between Canada and Iran; meetings with regime representatives to solidify just that situation into reality have been ongoing, irrespective of the daily mass protests taking place in up to 80 cities in Iran over the past several weeks during which 3,700 Iranians have been arrested, 21 Iranians have been killed, and three died mysteriously in prison.
Justin Trudeau wants the votes of those Iran-regime supporters.
The multi-billion dollar handover to the regime resulting from the nuclear-deal sanctions relief meant to reinvigorate an economy stressed by hard sanctions over its nuclear program has enabled Iran to spread its largess to Syria, Yemeni Houthis, Hamas and Hezbollah. The Iranian middle class and the indigent poor barely scraping along saw nothing trickle down to aid them in their desperate survival mode. It was this situation, knowing the regime's focus on acquiring advanced ballistic missiles, supporting terrorist groups, and ignoring the plight of indigenous Iranians that brought the country to rebellion.
Brave protesters overcoming fears and standing up to regime's security forces.
Iranfocus.com
Despite Iran's brutal crackdown on dissent, its program of capital punishment, of torture and imprisonment, its forays into terrorism, its corruption and enrichment of the ruling Ayatollahs and the elite of the Islamic Republican Guard Corps, the Trudeau government remains intent on re-establishing full diplomatic ties with the regime, including
"economical, environmental, social, cultural, research and innovation"
issues in the words of MP Majid Jowhari, to fully reverse the breaking of those diplomatic ties dating from former Prime Minister Stephen Harper's 2012 break. Ottawa being prepared to address
"sensitive issues such as human rights, in a non-obtrusive way"
.
So, Iran continues to oppress its people with its rabid Islamism, subjects women to degrading oppression, persecutes religious minorities and pro-democracy activists, imprisons journalists and vast numbers of political prisoners, but Canada is preparing to collaborate with the country in business, think tanks and public policy institutions, universities and student exchange initiatives. To achieve all of this Canada would first have to amend the State Immunity Act, lifting Iran's designation as a state sponsor of terrorism.
And then the Khomeinists can resume their engagement in Canada where Iranian Canadians were persuaded to
"resist being melted into the dominant Canadian culture"
, to focus on the opportunity to
"occupy high-level key positions"
in Canada to be enabled to serve
"the motherland"
, as described by the former Iranian embassy's cultural officer, Hamid Mohammadi.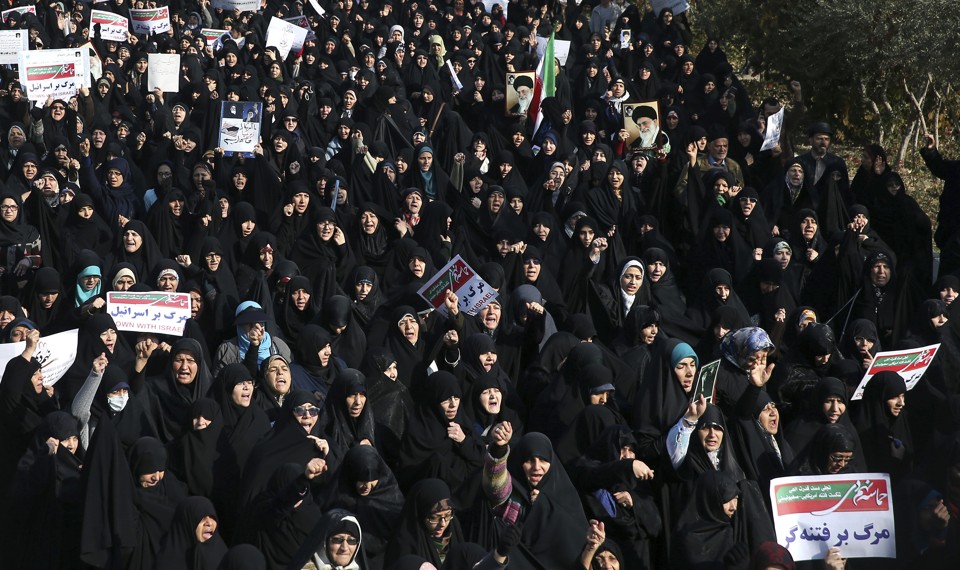 Ghostly wraiths in black: Counter protests in support of the Islamic Republic of Iran
The Atlantic
Labels: Canada, Embassy, Human Rights, Iran, Nuclear Agreement, Nuclear Arms, Protests, Sanctions, Violence