Supremely Credentialled
"Guess who's coming to Canada? It's none other than the prima donna of the world Islamist movement, the grandson of the founder of the Muslim Brotherhood, Tariq Ramadan."

"Ramadan, who was barred from entering the U.S. until Secretary of State Hillary Clinton launched her "appease the Islamists" diplomatic initiative, will be speaking in Edmonton this weekend as a guest of local mosques (and, believe it or not, CTV is a sponsor). Later, he flies to Montreal where the Muslim Brotherhood-inspired Muslim Association of Canada will host him."

"Ramadan is a charming guy, but behind his smile lies a man committed to the goals of the worldwide Islamic jihad as laid out by his mentor, Sheik Qaradawi, and his father, the Trotsky of world Islamism, Said Ramadan."

"While the rest of us will join the labour movement in parades or relish the last days of summer around family and friends, the Islamists will congregate in Edmonton and Montreal to receive guidance from Tariq Ramadan. Just last year, he told an American Muslim audience their job in the North America was to colonize the continent: 'We (Muslims) should all be careful not to be colonized by something which is coming from this consumerist society … It should be us, with our understanding of Islam, our principles, colonizing positively the United States of America'."

"If that weren't enough, Ramadan hinted that his presence in America and that of Muslims was not accidental, but the result of divine intervention. He said, 'By the way, we are not here by accident'."

In Edmonton, the group hosting Ramadan is a freshly minted organization that goes by the name "'Proud Muslims', Their claim the event is 'non-religious' is highly suspect as its main backers are 'all the mosques of Edmonton and Islamic Relief Canada'. Islamic Relief is the same organization that sponsored the radical Indian preacher Zakir Naik to speak in Toronto in 2010. However, Naik was barred from entering Canada after news reports quoted him praising Osama bin Laden: 'If (bin Laden) is fighting the enemies of Islam, I am for him … If he is terrorizing the terrorists, if he is terrorizing America the terrorist, the biggest terrorist, every Muslim should be a terrorist'."

"His hosts (sic) in Montreal, the Muslim Association of Canada (MAC), is unashamedly pro-Muslim Brotherhood and vows to work towards a 'Revolution in Islamic Work in Canada'. MAC makes no secret that it 'adopts and strives to implement Islam, as embodied in the Qur'an, and the teachings of the Prophet … and as understood in its contemporary context by the late Imam, Hassan Albanna, the founder of the Muslim Brotherhood'."

"While in Montreal, Ramadan intends to draw a parallel between the 'Arab spring' that led the Muslim Brotherhood to power in many Arab countries and the 'Maple spring' in Quebec, which refers to the students protesting tuition fees."

"It's a dishonest attempt by Montreal Islamists to ride on the bandwagon of a popular secular student movement and appropriate it for their own agenda."

"We can't blame Ramadan for using our Labour Day weekend to propagate the Muslim Brotherhood credo of 'destroying the West from within'. The blame lies with those who invite him to Canada. These Islamists must be held accountable, but they aren't because Canada's liberal intelligentsia will have nothing of that sort."

"It tries to bully us into silence, warning that any opposition to Islamism is nothing short of right-wing racism. However, this lifetime leftist will not be silenced by Islamists or their allies."

Tarek Fatah, (Toronto Sun – August 28, 2012)
"It was something in my heart. I had a lot of difficulty with this for years, and I could not forget what happened to me that night with him, and so I decided."

"I just thought at that moment to free myself, free my words, and that did me some good. It relieved me a bit."

"But the name, I did not think it would cause such a noise."

"I took a long time to open my eyes, to understand that they [Islamist fundamentalists] indoctrinated us. It is important to say to all women that they should speak out, that they should not be scared, that they are not inferior beings to men, that they are equal to men, that they should fight to be respected and that you do not have to wear a veil to be a good Muslim."

Henda Ayari, French citizen, North African heritage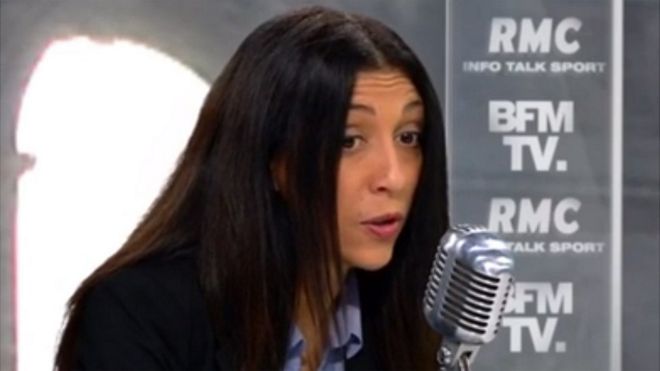 This woman who decided that she too would unburden herself of a wound seared into her psyche when a man she wholly trusted, believed to be incorruptible, spoke the truth of the sacredness of Islam and fostered in her confidence, overturned her trust in a violent act of forced sex that the world knows as rape, revealed her experience. Islam does place women on a lower, much lower rung than men. To prove she was raped she would have to produce, in a Sharia court, the testimony of three men as witnesses to her rape. A woman's testimony has no bearing in fact. If there are no witnesses it is obvious that she herself bears false witness and is herself guilty.
On Facebook she decided to post two photographs, one of herself in a full black Islamic veil, and another wearing a tight jacket and Tee-shirt, hair free to blow in the wind, and with it a denunciation of Salafist Islam, acknowledging its incitement of violent jihad among young French Muslims, let alone the lowly place of women in the hierarchy of Islamist recognition. At 40 years of age she had the experience behind her of having lived with an Islamist when she was herself part of the fundamentalist movement.
Ten years of marriage and three children gave her ample experience to weigh what her life had become and what it had become was a dreary existence that led her to break away from the circumstance she now names as the straitjacket of radical Islam. Seeing the #MeToo campaign unfold in startling revelations baring the secrets and the shame of celebrity figures, professionals, respected men in all fields of public endeavour, she identified the man who had raped her five years earlier. Her October 2015 coming-out has garnered her respect and condemnation in equal measure.
Tariq Ramadan whom -- one of several women claiming he had been their rapist -- she identified as the man who violently raped her in a Paris hotel room in 2012; the Swiss-born Muslim intellectual known for teaching contemporary Islamic studies at Oxford University, familiar to viewers of television news programs where he waxes convincingly eloquent on Islam and the West, got his own outing. Concurrently to posting her confession on Facebook, Ms. Ayari filed a police complaint on the assault in Rouen, France, where she lives.
Accusing Ramadan of rape, sexual assault, willful violence, harassment and intimidation, she is no longer in his favour. He has responded by dismissing the allegations as unfounded, clearly in league with his enemies anxious to slander his good name. And he is taking steps to counter-sue for defamation. For her part, she sat down to write
"I Chose to Be Free: A Survivor of Salafism in France"
, a book exposing the mental and physical subjugation she suffered within the Salafi community, knowing that other women were in the very same situation.
In the book, she had described a sexual assault without identifying her assailant. Even so, the result was threats and condemnation, with her own family disowning her. Her parents will not speak with her, her 18-year old son supports his father, her former husband, and she copes with torrents of online abuse. Her Tunisian ex-husband expected her to live a life of utter seclusion. And to appreciate that as her husband he had the right to be physically abusive. Leading her to leave, with her three children.
Coping with this upheaval in her personal life that left her stranded and without emotional support, she suffered a nervous breakdown, losing custody of her children for a two-year period. When she began following Tariq Ramadan's teaching she found him an understanding guide, a trusted mentor.
Labels: Female Subjugation, Human Relations, Islam, Salafists