Russia/Ukraine Manoeuvring
"The Russians will have less likely opportunities to attack with such weapons in our possession."




"These weapons will be used as a deterrent, not used for attack. This is about protection and defence."




"This is a mandatory element to de-escalate the situation. We would like to see a political and diplomatic solution, but a strong deterrent from our friends in Canada and the United Stats will add an additional argument to stop the violence."




Ukraine Prime Minister Volodymyr Groysman





"There are no signs at the moment that Moscow would be ready to pull back from Donbass or leave Crimea."




"In fact, there is more and more evidence for its preparations for an offensive war of continental proportions."




"Under the guise of strategic command exercises, we are not ruling out the creation of a new assault group of Russian troops to strike Ukrainian territory."




"Some 2,000 transporters with soldiers and equipment have approached and are approaching our borders. There is no guarantee that after the end of these manoeuvres all this will return to Russia."




Ukrainian President Petro Poroshenko, September 2017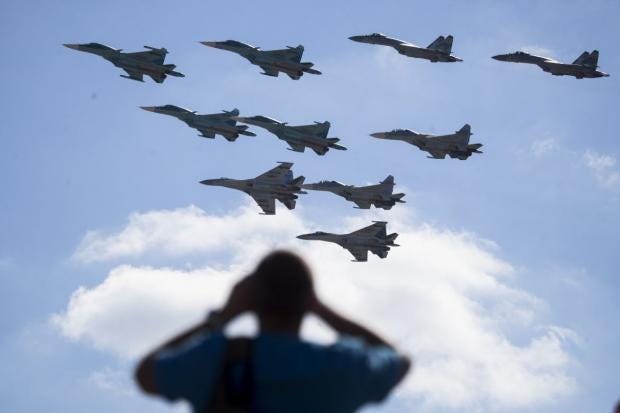 Pictured: Russian military jets flying over Moscow. The Kremlin says the drills will not have more than 13,000 troops taking part
Ukraine is still awaiting the promised weapons to enable it to counter the technologically advanced weaponry used by both the Donbass ethnic-Russian Ukrainian rebels and the Russian troops stationed within Ukraine still effecting ongoing hostilities aimed at the Ukrainian military. The previous administration in Washington sat on Ukraine's requests and the current one doesn't appear to be any more eager to provide the embattled nation with defensive arms.
The new American appointee as special envoy to Ukraine, Kurt Volker, does recognize Russia's military presence and support of the Russian-speaking Ukraine rebels as war and issued signals that weapons may yet be forthcoming since is his opinion that the Trump administration is "seriously considering" rendering them, while support for increased American assistance was signalled in Kyiv a few weeks earlier by U.S. Secretary of Defence James Mattis.
Ukraine has been appealing as well to Canada which has been firm in its support of Ukraine as evidenced when former Prime Minister Stephen Harper spoke to President Vladimir Putin after the illegal seizure of the Crimean Peninsula to reestablish its Black Sea fleet there, curtly informing him that he had to 'get out' of Ukraine. Canada is preparing to chair the G7 in 2018, making the request from Ukraine particularly pointed.
Ukraine has been embattled by its former USSR inheritors for the past three years during which tens of thousands of lives were lost, along with fully nine percent of its geography. Russia's gains have not come without its own stresses and penalties, placing it in bad odour in the West, disinviting it from the G8, labouring under painful economic sanctions, and leaving it with a reputation for boorish violence and illegitimacy, leading from its invasion.
Ukraine's east has been occupied since April 2014 in the Kremlin invasion resulting from Russia's anger when the greater Ukrainian population ousted the corrupt Viktor Yanukovych, allied with Moscow as their choice for president of Ukraine. Ukrainians of Russian background viewed Yanukovych as their own, and their anger over his removal and Kyiv's distancing from Russia with a view to moving closer to the West led to the violent insurrection both countries are now mired in.
Five thousand Russian troops and hundreds of Russian tanks remain within the boundaries of Russia's neighbour to back the Russian militants who have continually ignored Europe-brokered truce agreements. Nightly, small arms fire, machine guns, rocket-propelled grenades and allied ordnance are launched, killing 65 Ukrainian soldiers monthly on average, wounding another 200 in the process. It is an effective stand-off; neither Ukraine, defending its people and its geography, nor Russia, spuriously defending its ethnic minorities in Ukraine, prepared to stand back.
But matters may be proceeding toward some face-saving by Moscow, tired of being regarded by the West as a brutal occupier and suffering the fall-out of economic and personnel sanctions, hoping to retain its advantage with Crimea and parts of the east of Ukraine, convincing the ethnic Russian Ukrainians to stand down and finally accept Ukraine's offer of partial autonomy.
Labels: Conflict, Defense, Invasion, Rebels, Russia, Ukraine