Kill Or Cosset?
"After the humiliating defeat of ISIS in Syria and Iraq, thousands of European jihadists are set to return home; Western governments seem eager to roll out the red-carpet for them as if they were heroes, rather than turncoats. The UK has launched a program for homecoming jihadists to help them find jobs and live a "normal" life; Sweden plans to give ISIS fighters housing, employment, education and financial support, reports Gatestone's Khadija Khan."


Nina Rosenwald, President, Gatestone Institute



"It's clunky [parallel investigations carried out by Canada's federal police and intelligence agencies, CSIS and the RCMP] and it makes me worry about our nimbleness were we confronted with a fast-moving, competent adversary."




"Clearly we struggle in bringing intelligence agencies to bear in supplying evidence."




"Such specialized expertise [employing specialized terrorism prosecutors] was an Air India inquiry recommendation."




Craig Forcese, professor, national security law, University of Ottawa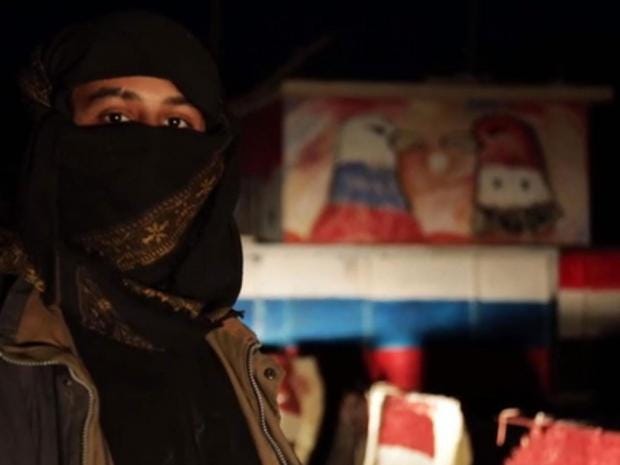 An Isis militant appearing in a propaganda video at a Russian base in the Syrian city of Palmyra on 13 December
Canada's Liberal government is smarting under the accusation by Parliament's official opposition public safety critics that the governing Liberals are weak on national security. The snarling response from the public safety Minister Ralph Goodale was that
"Anyone that needs to be under surveillance is indeed under surveillance"
. Under, he emphasizes
"very careful investigation"
. On the other hand, this is not where the Liberal government's heart is, it doesn't quite reflect its 'sunny ways' nor the trusting naivete of Prime Minister Justin Trudeau.
Lead a committed Islamist jihadist, irrespective of the experience he's had abroad as a fighting member of al-Qaeda or Islamic State, Boko Haram, Al Shabaab or the Taliban to a reasonable debate over the peaceful nature of 'true' Islam, or expose them to the gentrifying civility of regarding others worshipping a religion other than Islam as equals in a pluralistic society best suited to reflect concerns with equality and human rights, and they will without doubt acquiesce in the warm request to surrender violence and become pacified.
This is the purpose of the new Canada Centre for Community Engagement and Prevention of Violence, in lock-step with the efforts at anti-radicalization of the Council of Canadian Imams. Who, presumably, are not the same imams who are preaching radicalization and jihad as an imperative in Islam for the faithful to engage in. As the combined forces of NATO, the United States, Russia and unfortunately, Iran, Hezbollah and Turkey supporting the limp efforts of the Iraqi and Syrian military sidelining temporarily their own sectarian-imposed violence have succeeded in shoving Islamic State out of its caliphate, European jihadi returnees have become a problem.
These Islamist heroes of Deobandist persuasion worshipping the Islam of the medieval era's conquesting brigades having tempered their steely resolve to destruction and slaughter in the fields of failed conquest in the east turn now to the option they feel entitled to as citizens of European and North American democracies. Where the social welfare systems and the kindly disposition of a different kind of justice system geared to Western sensibilities await their return with fond understanding of waywardness seeking forgiveness.
Despite Norway's forgiving attitude toward murderous malefactors it is a study by Thomas Hegghammer, a Norwegian academic that posits the recidivism rate of terrorists at one in nine, that those who do return to the countries that have given them and their families haven from conflict, poverty and oppression from their Muslim governments, having experienced the glories of jihad on return, represent more effective operators in terror than those who practise jihad in situ without having had the practise abroad.
Syrian government soldiers captured by the Islamic State. The battles in Iraq and Syria are wars of annihilation where quarter is rarely given and where most prisoners of war are eventually killed. ISIS has also been vocal about genocidal intentions toward Shiite Muslims and Alawites.
The Middle East Quarterly
Deradicalization is the way the Government of Canada insists it must go, because it is, after all, the Liberal government. Not for them the practise of some countries like the French who ally themselves with their former colonies' militaries to hunt down and kill their own jihadi citizens.
"Canada does not engage in death squads
", huffed Minister Goodale righteously. While a former CSIS strategic analyst, Phil Gursky, states the working assumption for security agencies is
"once a terrorist, always a terrorist"
. But those are just the experts, not the lawmakers.
Canada has options, other options than to hunt down and kill Canadians in Syria or Iraq, or Nigeria or Afghanistan, who have been misled to believe that Islam requires that they be killer-martyrs in support of Islamic domination of a unbelieving world. Criminal prosecution is open; a way to prove to these jihadis who have spurned Canadian values of democracy and civil equality there is punishment for psychopathy. So far two individuals have been charged over the years with leaving Canada to take part in a terrorist group, with three others charged in absentia.
The U.S., U.K., Australia, and even Norway have a much higher prosecution rate. The Public Prosecution Service of Canada will not proceed in the absence of a reasonable prospect of conviction. And that is hugely dependent on the quality of the evidence given them by Canada's security agencies. Craig Forcese points out that in the U.K. police and intelligence services work in tandem, while CSIS and the RCMP prefer to indulge in parallel investigations. And nor does Canada have the services as the U.K. does of specialized terrorism prosecution solicitors in the Crown Prosecution Service.
Above all, the current government in Canada is concerned that its Canadian Security Intelligence Service is in full compliance with the Charter of Rights. That comes first, not prosecuting those who break Canadian law in leaving the country to join a terrorist group. The thing of it is, there is a concern in this government that no agency of the government attempt to override the rights of any Canadian citizens, jihadis or not, under the Charter of Rights and Freedoms.
Labels: Europe, Iraq, Islamic State, Jihadis, Middle East, North America, Return, Syria