Christians, The Endangered Middle East Minority
"They also have encountered discrimination and persecution by other refugees in United Nations camps in the region and, thus, eschew them."




"The Christians who escape ISIS depend on the Church and other private charities for their survival."




"What's going on in the Middle East, I wouldn't have though possible a short time ago, but now here we are. It's here, and it's undeniable."




"The fact that the United States is bringing aid is not going to stop the persecution."




"The greatest hope, I suppose, is that we drive ISIS out of control, the caliphate collapses, and we see a return to a Western mindset, let's say, where people of different faiths are welcome to thrive alongside one another, which is how so many of these nations were a decade or two ago."




"If we get back to that, I think everybody would be happy. But as it is now, it's a very difficult and sad case."




Professor Ronald J. Ryshlak, University of Mississippi School of Law





"[Christian minorities] today find themselves subjected to barbaric acts of violence: They are evicted from their homes and native lands, sold as slaves, killed, beheaded, crucified, or burned alive, under the shameful and complicit silence of many."




"Today, we are dismayed to see how in the Middle East and elsewhere in the world many of our brothers and sisters are persecuted, tortured, and killed for their faith in Jesus."




"This, too, needs to be denounced: In this third World War, waged piecemeal, which we are now experiencing, a form of genocide - I insist on the word -- is taking place, and it must end."




Pope Francis, 2014, European Parliament





"The U.N.'s lead agency for aiding refugees, the Office of the High Commissioner for Refugees, marginalizes Christians and others targeted by ISIS for eradication in two critical programs; refugee housing in the region and Syrian refugee-settlement abroad."




Nina Shea, Hudson Institute





"We will no longer rely on the United Nations alone to assist persecuted Christians and minorities in the wake of genocide and the atrocities of terrorist groups. The United States will work hand-in-hand from this day forward with faith-based groups and private organizations to help those who are persecuted for their faith."




"Yet the United Nations has too often failed to help the most vulnerable communities, especially religious minorities. The result has been that countless people continue to suffer and struggle needlessly."




U.S. Vice-President Mike Pence, Defense of Christians summit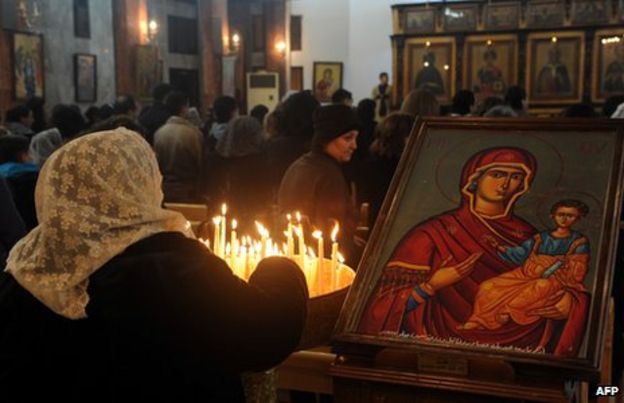 No word specifically from any of these empathetic sources of the cause of the viral threat to Christians within the Middle East. Though there are references to the traditions within Muslim-majority countries of exacting
jizya
, a head tax from minority religions to enable them to live unmolested among Muslims under Islam as inferior and subject to the forbearance that their financing of 'protection' awards them.
When it was Jews who were being cleansed from the geographies that they had lived within for millennia little notice was taken, though historically Jews have been the prophetic 'canaries' in the minefield of racism, tribalism and religious bigotry.
The rather limp and untowardly unrealistic nostalgia of which Mr. Rychlak speaks, of a time before the onset of Salafist Islamism aggressively rooting out the presence of religions sullying Islam's sacred command of the Middle East is not likely to re-bloom. At the best of times, before the severely punishing aspect of Islam was resurrected from its glory days of conquest, others were permitted to live among Muslims on tolerance only by accepting their inferior status.
When Vice-President Pence spoke of his disappointment with the response of the United Nations to the plight of Christians in Islamic lands, the point he made was that the $1-billion earmarked to go to the aid of Syriac and Coptic Christians was directed through the United Nations, and it appears that no substantive aid ever reached the target communities it was meant for.
As for Pope Francis, he is busy sprinkling the fairy-dust of Catholic goodwill throughout the world, barely focusing on the plight of his own flock in a more meaningful, forceful way.
He visits Myanmar to speak reprovingly of the Buddhist hostility to the Rohingya minority being targeted by the Burmese military in Aung San Suu Kyi's government, when it should be the Dalai Llama visiting his religious constituents to impress upon them the benevolent goodness of mercy and the qualities of sufferance, while the Pope should be expressing his condolences to Egypt most certainly, but also recommending that Al Azhar university seriously contemplate the quality of instruction it endows its imams with as they set out into the world at large.
Accusations of religious genocide do not appear out of nowhere. In the last decade Iraqi and Syrian Christians, ancient communities established there long before the concept of Islam was ever a construct in Mohammad's febrile mind have been forcefully diminished to the vanishing point. Iraq's 1.4 million Christian population is now reduced to an estimated quarter-million, and fast shrinking; those remaining live as refugees in internally displaced camps.
As for the two million Syrian Christians once traditionally inhabiting that country, between one and 1.5 million exist now as refugees in Jordan, Lebanon and Turkey, countries where Christians enjoy no resettlement rights, and when they live in those camps they face persecution as well there, from among the Muslim refugees gathered there through the necessity of survival against the odds of persecution not from their sectarian regime, but the ravages of Islamic State, and other jihadi groups.
When Western countries were taken up with responding to the humanitarian needs of displaced Sunni Syrians whom the Alawite regime of Syrian President Bashar al-Assad was slaughtering, an emphasis might have been placed on rescuing minority religious, women and children and tribal groups along with Christians, but nothing of that kind occurred. In the United States when eleven thousand Syrian refugees were resettled in 2016, only 56 Christians were among them. And the same thing happened with Syrians resettled in Canada.
Vice-President Pence himself alluded to this, that in Iraq
"the majority of Christians and Yazidis remain in shelters, (while] the United Nations too often denies their funding requests. We stand with those who suffer for their faith, because that's what Americans have always done, because the common bond of our humanity demands a strong response."
He might try to discuss that with his President.
"There is a trend, a very narrowing scope, a narrowing perspective going through the Middle East that only certain people have a right to exist and we need in conscience to address that."




Bishop Angaelos, General Bishop of the Coptic Church in the United Kingdom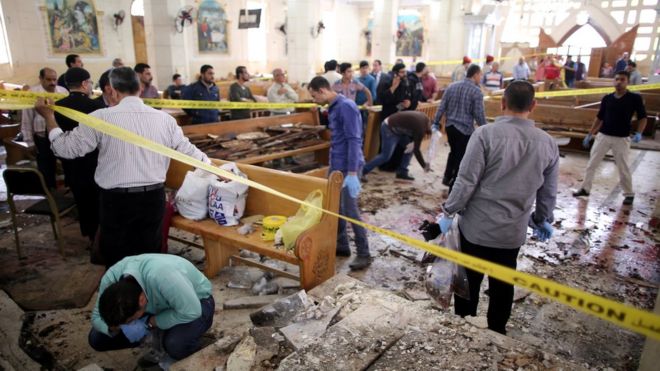 The first blast hit St George's Coptic church in the northern city of Tanta. Witnesses said the explosion was next to the church's altar.
BBC News
Labels: Christians, Discrimination, Middle East, Refugees, Threats, Violence