The Utility and Futility of North Korean Sanctions
"[China and Russia understand their combined effort] works better than individual action."




"Both oppose North Korea to become a full-fledged nuclear state, and both think parallel action from the U.S. is needed to affect any change in the situation."




Wang Xinsheng, history professor, Peking University





"The stiffer sanctions won't change anything in the near-term."




"The new embargoes are incrementally tougher, but diplomacy meant they had to be compromised to an extent that they are very unlikely to change minds in Pyongyang."




Stuart Culverhouse, head, macro and fixed income research, investment bank Exotix Capital.





"If South Korea, Japan, or both could have the U.S. deploy tactical nuclear weapons, that'll put pressure on Kim to come to dialogue."




"When competition to have better weapons escalates, it's always the poorer one who gives up."




Lee Ho-ryung, chief, North Korean studies, Korea Institute for Defense Analyses





"[The U.S. should look to engage diplomatically to find a level of security that North Korea and its neighbors will be happy with]."




"We did it against powers that have thousands of nuclear weapons. We certainly should be able to do this against a power that has less than two dozen."




George Lopez, (former member) UN Security Council panel of experts for sanctions on North Korea





"The Korean Peninsula nuclear issue is related to regional peace and stability."




"Breaking the deadlock requires all relevant parties to show their sincerity."




Lu Kang, spokesman, Chinese foreign ministry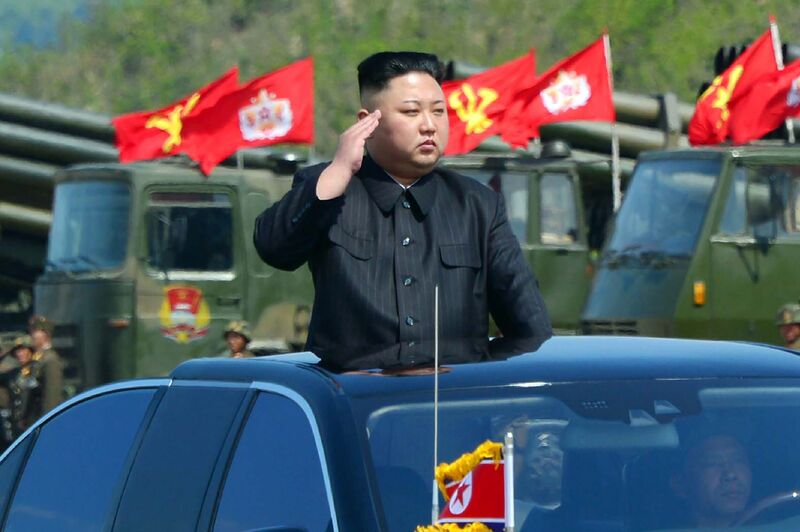 In early September China undertook a ban of imports of coal from North Korea, along with iron and lead ore and seafood. That undertaking must have come as a bit of a shock to North Korea which has had good reason to believe that its sponsor China, would never accede to American demands that China act in concert with other nations to bring the North's nuclear and missile programs to closure. If so, that creeping realization of insecurity appears to have done nothing whatever to curb Kim Jong Un's ambitions.
More recently, China has placed North Korean businesses on notice that they can no longer count on doing business in China. A move meant to cut foreign revenue for the North, in recognition of United Nations' sanctions over missile and nuclear programs that have shaken the world in the ongoing bold actions of flaunting their growing technical improvements before an incredulous international audience.
As North Korea's major trading partner, Beijing has been prevailed upon to act in concert with its UN Security Council partners in opposing the ongoing trajectory of Kim's ambitions. Now that the current Chinese administration has been frustrated at its inability to curb Kim from his determination to succeed which the previous Chinese administration had urged upon the North, encouraging it and providing funding and technical support, it is a Frankenstein prepared to turn upon its maker.
Now that North Korea's business ventures with Chinese partners become a lost opportunity reflecting the September 11 approval of the UN Security Council's latest sanctions, financial support for the North, and its badly-needed foreign revenue are threatening to place it in an even deeper grip of poverty where the communist dictatorship of the North has diverted support for imported foods and medicines to nuclear brinkmanship.
The Chinese leadership may feel aggravated by Kim's aggressive determination and his petulant penchant for ignoring Beijing's cautionary urgings at this point, but they remain focused on diplomacy, courting the United States in the renewal of diplomatic exchanges with the North, for fear military action would bring an abrupt halt to the Kim regime and with it the breakdown of North Korea. A collapse whose plight will fall directly toward Beijing to rescue; worse the fear of unification and no daylight between China's security and American influence.
Complaining that China bears the brunt of the pain relayed by the cost of enforcing sanctions, hurting Chinese businesses in that vast nation's northeast, no one it appears, dare remind China that in this as in other things, it is merely its chickens coming home to roost in having incited the Kim regime to deplore and threaten the U.S. and its regional interests. Beijing has nursed Pyongyang's paranoia against the U.S. to raging proportions, where it is now difficult to rein in.
Its past crude investment in grooming North Korea to remain a constant thorn in the American side of security and restraint in the proliferation of nuclear weaponry, threatening the Korean peninsula and American interests, now has it cutting refined petroleum products to the North, but not crude oil representing the major percentage of Chinese energy supplies to the North; managing cleverly to half-penalties for whole insubordination.
Labels: China, Diplomacy, North Korea, Nuclear Weapons, Sanctions, Threats, UN Security Council, United States