An Uncertain Germany, An Enfeebled Government
"This is a great night. We did it. We are in parliament."




We will change this country. We will hunt Merkel, and reclaim our country and our people."





Alexander Gauland, chancellor candidate, Alternative for Germany party [AfD]





"Today we must be open that there is internal dissent within the AfD,"




"We must not be silent about this. The community needs to know that we have controversial debates."




Frauke Petry AfD chairwoman





"We lost the election. We are the bulwark of democracy."




"Mrs. Merkel fought a scandalous campaign. She ducked away from debate, and prevented any contrast between the democratic left and the democratic right. This systematic refusal of political debate created a vacuum that the AfD was able to fill. I believe Mrs. Merkel bears a great responsibility for this."




Martin Schulz, Social Democrats party [SPD]





"It was a bad night for Schulz and the Socialists, but also for Mrs Merkel and the Christian Democrats. She still heads the largest party, but she enters these coalition negotiations with a weakened hand."




Christian Odendahl, Centre for European Reform, Berlin
"Forming a three-party government is going to be very difficult."




"The Greens and the FDP will feel emboldened by the result and given their traditional animosity it's in no way certain that the three parties will be able to strike a coalition agreement."




Dan Hough, professor of politics, University of Sussex
Angela Merkel addresses supporters in Berlin Sunday night
CNN
Chancellor Merkel fought an uphill battle, but her popularity with the German voting public remained strong, as a tough leader who took Germany through years of EU destabilization as a result of its faltering economy and financial failures of some of its members. She took the lead in communicating with and standing against Russian President Vladimir Putin when the EU censured Russia for its seizure of the Crimea and support of ethnic Russian Ukrainians revolting in eastern Ukraine.
She has been the equal of any world leader and has indeed surpassed most with the steadfastness of her vision of the new Germany and its place in the world order of democratic nations. Her stumble came when she responded, as the daughter of a Lutheran minister who had lived under Communist rule and before that had experienced Nazi fascism, which led her to open Germany's borders to a million refugees and economic migrants from the Middle East and North Africa.
The flood of foreigners into a Germany, united and prosperous, willing according to the government and able, to share with outsiders what made the country a beacon of freedom and stability, was first welcomed by the German population -- which had already absorbed about four million Muslims through immigration -- and then second thoughts intruded as many of the newcomers were unattached young men, unruly and with a penchant for unlawful behaviour trending toward violence. Her popularity plummeted, but saw resurrection with the election call.
Those who remained disaffected responded to the siren call of nationalism, wanting to ensure that their beloved Germany would not fall victim to Islamization, its heritage and culture strained beyond endurance by the massive foreign influx. The party that arose in response to their alarmed discomfiture in the presence of so many strangers whose customs, values and religion ensured that integration would be problematical, attracted those who resented their presence.
Now, the Alternative for Germany's chairwoman, an energetic and determined young woman struggling to make certain that her party did not descend to the fascistic past in the presence among its leaders of those promoting pride in Nazi Germany's wartime military, has decided to leave the party, to sit in the Bundestag, but not with her party, until and unless it sheds its shift hard right and re-centers itself. Her failure to remove a regional AfD leader who had disparaged a Holocaust memorial spurred her to action.
Mrs. Merkel is prepared to make the sacrifices she sees ahead as her diminished party attempts to form a government with one or two of the also-rans. Her Social Democrats partners in the past government have refused to rejoin the CDU in its "Grand Coalition". "Her "biggest challenge", she stated, was to win back those who decided to back the nationalist challengers on their anti-immigration, nationalist party.
"We have a mandate to form a government. And no one can form a government against us"
, she assured her supporters.
"Until now, I had hoped this wasn't going to happen"
, said a neurology student, who had voted for the Christian Democrats.
"But we are here and the extreme right is back"
, she mourned, among the hundreds of protesters, mostly young people in their 20s, who gathered in Berlin once initial results were announced, outside the AfD headquarters.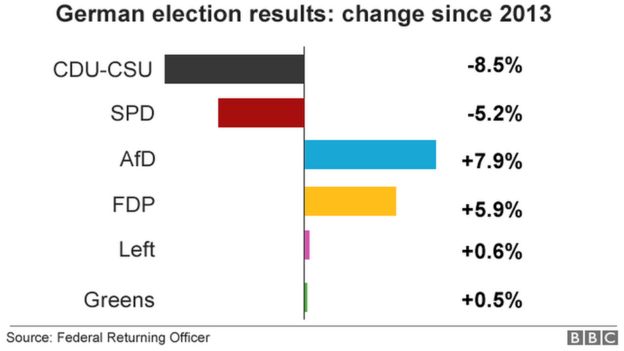 .
Labels: Election, Fascism, Germany, Immigration, Islam, Repercussions