Islamic State Terrorists on Trial, Nineveh Court
"I kept the four girls in an abandoned house. Each night I would have sex with a different one. Sometimes they seemed scared, but they never said no. They were all virgins when I got them and more beautiful than you can imagine."




"I shot them [Yazidi men and boys in a Sinjar primary school] there in the school hall. I think I killed ten or twelve of them, including some children."




"They [the four Yazidi women] were part of my salary, I received 60,000 [$64] dinars a month and the women as a bonus. I gave them [when he was finished with the women] to another fighter in return for $200 each."




"I was brainwashed. I thought the Yazidis were infidels, like Jews. That they were lower than Muslims and that what we were doing to them was OK. The leaders injected me with drugs, which made me act that way. I'm as sorry as there are numbers of hairs on my head."




Mohammed Ahmed, 40, Islamic State fighter
Iraqi Christian militia fighters drive a pickup truck in Qaraqosh (also known as Hamdaniya), transporting four prisoners, allegedly members of the Islamic State group.
This poor man who was unable to muster free agency of his own because he was forced to become drug-dependent to enable him to carry out his duties to the Islamic State of Iraq and the Levant, has told his sad and sordid tale to Judge Arif, holding court, interviewing captured ISIL terrorists, in Qaraqosh, a small Christian town outside Mosul, to which, since its liberation from ISIL, Christians have been returning to their traditional home after fleeing for their lives with the entry of Islamic State.
It is more than abundantly clear why the man on trial claiming to regret what he had done, does so. It was fine while Islamic State held the initiative and he followed instructions leading to the slaughter of Yazidi men and boys, retaining women and girls as sex slaves, to be raped, bartered, and sold into slavery. The run of violent conquest enjoyed by Islamic State and its 'fighters' must have been intoxicating to men of this ilk; little wonder he now has regrets, that he has been taken prisoner and that he will be held as guilty, his confession signing his penalty.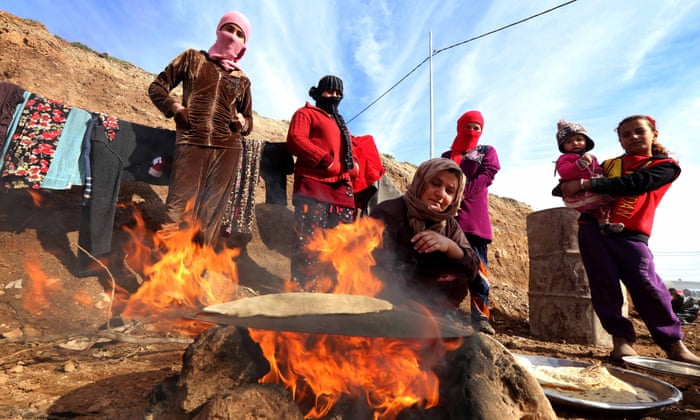 Isis fighters were carrying out a pre-planned mass abduction for the purpose of institutionalised rape. Initially they were looking for unmarried women and girls over eight.
Reuters
He is obviously among the fortunate ones whose capture did not mean immediate death, or death following exquisite torture when former victims found their opportunity for vengeance. Death, destruction, hatred and revenge, based on virulent tribal and clan animosities inherited from generation to generation, augmented by the certainty that those practising a variation of the religion that fanatics believe theirs only has currency, is a hallmark of Islam and the Middle East in particular, though South Asia and North Africa run close behind.
"Many of us have shot them on sight. We see Daesh fighters going free after we hand them over to Intelligence and there is no justice in the courts. Sometimes you have to take the law into your own hands"
, offered a soldier with the Iraqi military's US-trained 16th Division. Another of the presiding judges among the dozen sitting in Nineveh court, where among the dozen 40 to 50 cases similar to that of Mohammed Ahmed are heard daily, said that some of those being held as ISIL suspects reflect mistaken identities, while others yet are accused falsely by neighbours and those holding grudges.
In all, said Judge Hashim, five thousand people held to be ISIL fighters were held in prisons transformed out of empty houses in and around Mosul. He had personally signed arrest warrants the week before for an additional 6,500 suspected ISIL members. The fortunate ones make it into the court which happens to be the sole such facility in northern Iraq equipped to try such cases. Two to three detainees die daily resulting from poor prison conditions. Reports abound of soldiers executing prisoners to dump their corpses into the Tigris river.
The proof is there in abundance, with bodies washing up regularly along the banks of the Biblical-era Tigris. When Judge Arif finishes hearing Ahmed's case, he will pass it along to an adjacent court to the attention of a more senior judge who will commit to sentencing the man. His prospects are life in prison; alternatively, beheading. The barbarism on display in Islamic State sleek public relations videos of beheadings, crucifixions, garroting, immolation, victims drowning in cages, blown up with explosives strapped to their bodies, has its counterpart in Iraqi justice.
"He says he's sorry and regrets what he did, but apparently not enough to hand himself in. We had to find and arrest him. We have a lot of evidence against him and several witnesses; it won't be hard to convict."




"We found a lot of ISIL paperwork in Mosul, which makes our job a lot easier. They weren't a ragtag militia, they were incredibly organized, like an army, and documented everything."




Judge Arif, Nineveh court, Qaraqosh, Iraq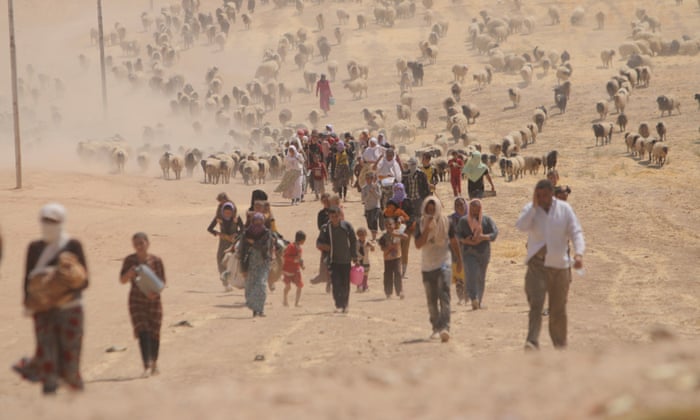 Displaced Yazidis from Sinjar fleeing Isis walk towards the Syrian border, August 2014.
Photograph: Rodi Said/Reuters
Mohammed Ahmed spoke volumes of the activities of his Uthman Brigade. Describing how he and others rounded up Yazidi men and boys in a Sinjar region primary school in 2014, to kill them. The girls and women, though, were useful as sex slaves and his commander, an ISIL emir, ordered Ahmed to select from among the women and girls those he found prettiest to be taken back to Mosul to be sold into slavery and to be used by senior members to be raped. He was himself given four from age 22 to 30 for his personal disposal.
The ISIL suspects taken into custody to stand trial by the thousands were kept blindfolded, hands tied behind their backs, and kneeling on the floor, facing the wall. Sounds familiar doesn't it? Like the ordeal that the British envoy Terry Waite -- commissioned on behalf of the Archbishop of Canterbury to try to mediate between Hezbollah and the Western captives taken by that Lebanese Shiite terrorist group -- suffered when he was himself taken captive. Inhumane treatment is a specialty of Arab Muslims.
As for the judicial proceedings taking place in Qaraqosh, it is not the government that is determined to bring ISIL terrorists to justice by funding the proceedings to enable them to proceed.
"Everything in this courtroom I bought myself with my own money, this desk, this fridge, the air conditioning, nothing comes from Baghdad. If we don't pay for it, no one else will"
, acknowledged Judge Hashim.
An altar of a damaged church in Qaragosh, Iraq where the numbers of Christians in Iraq have fallen from 1.5 million to a few hundred thousand since 2003
Labels: Christians, Iraq, Islamic State, Justice, Terrorism, Yazidis