Culture of Male Entitlement in Australia: Hypermasculinity
"Rather than being happy to make a compromise because so many women were feeling unsafe, they'd rather just keep having a good time. I was very disheartened."




"We all know women who have been raped. What ends up usually happening to the perpetrator is they [university administrators] just either do nothing or move them to another college."




"It reminds me of the way the Catholic Church moved the [sex-abusing] priests along."




Emily Jones, student, Australian National University





"The treatment of women as sex objects first [is a wider problem than just what occurs on university campuses]."




"I think there are significant issues that come from living within that bubble [insularity of lack of experience in treating women as equals]."




Harry Licence, 20, media and communications student





"The university is reviewing all of its policies and procedures to see if we can further enhance their transparency and fairness."




Richard Baker, pro vice-chancellor, Australian National University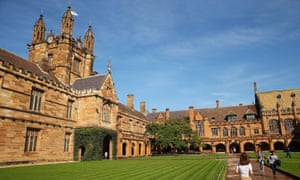 The Connecting the Dots report by the End Rape on Campus Australia organisation examined the frequency of sexual harassment and assault among university students.
Photograph: Brendon Thorne/Getty Images
"They're tougher on plagiarism"
, Katie Thorburn, 22, student government co-women's officer at Sydney University observed. The Safer Communities Working Group at Sydney University dealt with sexual assault by setting up an advisory group comprised of students and university representatives, to help deal with the problem of sex assaults on campuses.
"It was much more them telling us what they were doing rather than us contributing to decisions being made"
, objected 23-year-old Anna Hush, part of the group last year.
Female students have been anything but silent over the sexual abuse they have traditionally and continue to suffer from male students on university campuses. In the experience of Emily Jones, a student at Australian National University, bringing attention to the situation does not remotely come close to convincing administrators and male students that the commonplace nature of sexual assaults represent criminal activity.
She personally confronted a group of men, asking them to put a stop to the barroom tradition of encircling women, with men lowering their trousers and singing when the Australian song "Eagle Rock" is played. For her efforts she was ostracized and condemned through the news media for the sin of supporting the "fun police". Fun for whom? Australia can celebrate some of the highest rates of reported sexual assaults worldwide.
Over the past year on-campus assaults, ritualized misogyny and nasty retaliation have raised a national awareness over gender, power and responsibility. A report by the advocacy group End Rape on Campus Australia distributed in January stressed that universities fail to support the victims of harassment and sexual assault. In some instances according to the report, university administrators made an effort to give cover to sexual assaults.
But as scandal after scandal is revealed, larger numbers of women are coming forward to speak up. Their numbers are well matched by an outraged response reflecting Australia's hypermasculine culture, regarded by many as representing a core element of Australian identity. And while officials at Australian University stress they are addressing the issue, many of their students counter that assertion with the fact that complaints commonly see no response from the university.
Activists now demand that the university set up a hotline to offer help from a trauma professional. They also cite the need for sexual consent training, and the institution of a clear system to adjudicate such complaints of sexual assault. Ms. Jones in Canberra is still suffering a backlash from her complaints. Her dorm residents blast "Eagle Rock" through the halls. Contact with some of her friends has been cut off as they ignore her in the dining hall.
The End Rape on Campus report stressed that of 575 complaints of sexual harassment and sexual assault made to Australian universities throughout the last five years, only six expulsions resulted.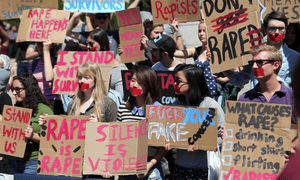 End Rape on Campus Australia is calling on universities to provide more training for counsellors, as well as student representatives, staff and others who commonly receive disclosures of sexual assault. Photograph: Chain Camera Pictures
Labels: Academia, Australia, Controversy, Human Rights, Rape Culture