Assessing Europe's Terrorism Vulnerability
"In 2016, a total of 142 failed, foiled and completed attacks were reported by eight EU Member States. More than half (76) of them were reported by the United Kingdom. France reported 23 attacks, Italy 17, Spain 10, Greece 6, Germany 5, Belgium 4 and the Netherlands 1 attack. 142 victims died in terrorist attacks, and 379 were injured in the EU. Although there was a large number of terrorist attacks not connected with jihadism, the latter accounts for the most serious forms of terrorist activity as nearly all reported fatalities and most of the casualties were the result of jihadist terrorist attacks. Explosives were used in 40% of the attacks and women and young adults, and even children, are playing increasingly operational roles in committing terrorist activities independently in the EU. Most arrests were related to jihadist terrorism, for which the number rose for the third consecutive year. Also, the European Counter Terrorism Centre at Europol supported 127 counter terrorism investigations in 2016, which shows a clear indication of the growing range of jihadist activity."
10th Edition, EU Terrorism Situation and Trend Report (TE-SAT)
Some of the findings reported in the TE-SAT 2017:
Arrests: 1002 persons were arrested for terrorist offences in 2016. Most arrests were related to jihadist terrorism, for which the number rose for the third consecutive year: 395 in 2014, 687 in 2015 and 718 in 2016.
Victims: Of the 142 victims that died in terrorist attacks, 135 people were killed in jihadist terrorist attacks.
Age of terrorists: Almost one-third of the total number of arrestees (291 of 1002) were 25 years old or younger.
Explosives: Explosives were used in 40% of the attacks. Even though terrorists use a wide range of readily available weapons, explosive devices continue to be used in terrorist attacks, due to their high impact and symbolic power.
Technical trend: Regarding the potential use of alternative and more sophisticated improvised explosive devices (IEDs), the current trend in using weaponised unmanned aerial vehicles (UAVs), commonly known as a drone, in the Syria/Iraq conflict zone might also inspire other jihadist supporters and increase the use of this kind of tactic.
Terrorism financing: 40% of terrorist plots in Europe are believed to be at least partly financed through crime, especially drug dealing, theft, robberies, the sale of counterfeit goods, loan fraud, and burglaries.
Women and children: Women have increasingly assumed more operational roles in jihadist terrorism activities, as have minors and young adults. One in four (26%) of the arrestees in 2016 were women, a significant increase compared to 2015 (18%). In addition, the United Kingdom reported an increase in the number of women, families and minors engaging in the conflict in Syria/Iraq, and the Netherlands reported that more 40 children (age 0-12 years) have travelled to Syria and Iraq.
Ethno-nationalist and separatist terrorism: 99 foiled, failed and completed attacks carried out were labelled as ethno-nationalist and separatist terrorism. Dissident Republican groups in Northern Ireland were involved in 76 attacks.
Left-wing and anarchist terrorism: The numbers of attacks of left-wing and anarchist terrorists increased in 2016 compared to 2015. 27 attacks were carried out and EU Member State authorities arrested 31 people. Italy, Greece and Spain were the only EU Member States to experience left-wing and anarchist terrorist attacks.
Online propaganda: The quantity of Islamic State propaganda decreased in 2016 due to lower production rates and the containment of dissemination. After a peak in mid-2015, the number of new videos produced by the Islamic State slowly decreased. In the second half of 2016, the frequency of new releases dropped even further. As the volume of Islamic State propaganda diminished, al-Qaeda and its affiliates attempted to take advantage of the situation and increased their efforts to reach new audiences.
Social networks: Jihadist groups have demonstrated a sophisticated understanding of how social networks operate and have launched well-organised, concerted social media campaigns to recruit followers and to promote or glorify acts of terrorism and violent extremism. The success in restricting terrorist activity online shows the impact of collaborative efforts between law enforcement, such as Europol's Internet Referral Unit (IRU) and the private sector.
The world has been warned. Yet again. Is anyone listening? Is it considered sufficiently irrelevant in the greater interests of not appearing to be xenophobic to view the dangers inherent in infusing Western democratic nations with an ever-rising contingent of haven-seekers and refugees fleeing conditions of war and privation, bringing with them a way of life, a culture and a tradition based on a religion that suffuses every aspect of their lives in thrall to the concept that it is incumbent on all the faithful to exert themselves in an exercise of jihad?
Jihad of various types, of course, not necessarily violent, but violence if it is seen to be necessary. From the quiescent Muslims who satisfy their obligations to Islam by faithfully praying five times daily, and speaking of their religion of peace to charm and conciliate suspicion, people who would never dream of doing physical harm to others, to the restlessly resentful Muslims for whom incitement to terrorism in the name of Islam and the honour of martyrdom, for whom jihad is a living force. Not to mention the influence of demographic numbers themselves leading to demands for Sharia.
Now Europol gives warning that Europe may be increasingly treated to events making use of explosives reflecting their deadly use in Syria and Iraq when returning fighters and aspirational jihadis whose plans to travel abroad to fight were deflected by alert European intelligence authorities are expected to present ever-larger threats to the nations that have harboured them, given them citizenship and trust that citizens respect an obligation to reciprocate.
Without wishing to acknowledge that a social compact does not rate quite the commanding influence that a religion which controls each and every aspect of daily life, political, social, faithful, musters in the minds of its followers. Europole now gives fair warning that Islamic 'extremists' determined to mount more frequent attacks within Europe arise from younger age groups and that larger numbers of those dedicated to violent jihad represent the delicate sex, with women and girls enthusiastic to gain equality in this arena despite a religious culture that keeps them subservient to males.
Needless to say, much of what is being reported is already well known and acknowledged by various European intelligence agencies. They have been busy, as they should be, attempting to infiltrate the very groups that have infiltrated their own societies at every level, private and public. Their purpose obvious enough; to disrupt and apprehend violent terrorist action. And to that end they make arrests, lay charges and hope to incarcerate the guilty before the crime has been committed.
All the while scrupulously adhering to law and order in an unequal contest between the lawful and the contemptuous law-breakers who acknowledge no laws but those that Islam presents, for its are sacred and those that mere humans mount to protect themselves from the psychopaths around them are mere impediments on the ascent of universal Islam. Europole's latest report speaks of a doubling of jihadi-action arrests year-over-year. With those arrested coming increasingly from a younger cohort.
The West is so conflicted over how to handle the growing influence of militant Islam eager to slaughter that it has never paused to contemplate the efficacy of restraining aspirational jihadis from travelling abroad to join Islamic State in their medieval butchering spree, that keeping them 'safely' at home in Europe will most certainly result in the cadres of jihadis forced to remain in Europe simply turning their sights on Europe itself, vulnerable to the religion-depraved massacres that do service to Islam.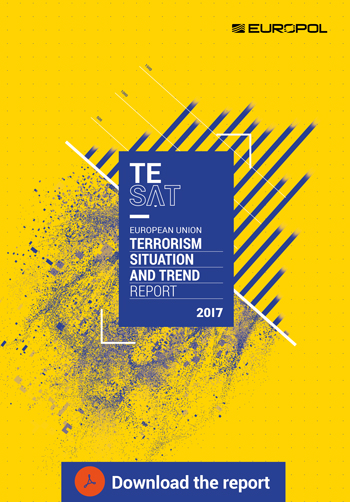 Labels: Europe, Immigration, Islam, Jihad, Migrants, Refugees, Terrorism