African Tribal Violence
"The briefing [between the Canadian diplomat and South Sudan's foreign minister in 2011] was repeatedly interrupted just because of the noise from the gunfire. Tank rounds going off. And the minister was saying, 'Do not worry. Everything is perfectly normal."




"Those 20,000 people at the airport? It's always busy at Christmas. We wish them happy holidays."




"We'd park our vehicle [at the airport in Juba]. To be honest, it was a bit like a football tailgate party. The [foreign] embassies would park their vehicles and put their flag up. The Canadians [South Sudanese with Canadian passports] would come to us."




"I was constantly negotiating with the friendly countries -- do you have any seats on aircraft? Or they would come to us and say: 'We've got some Canadians [Sudanese-Canadians]. Can you check their documents?"




"Within two days you had 20,000 camped out at the UN compound at the airport and another 20,000 in town who didn't dare come out to the fence. And there was a 6:00 p.m. curfew. At six, the military would start shooting."




"Some [Nuers] we had to literally hold their hands to get them out of the airport. We'd be taking them out by the arm and the soldiers would come and I'd have to push them away and say, 'No, no, no. Diplomatic. Diplomatic'."




Nicholas Coghlan, (retired) Canadian diplomat with the Canadian Embassy in South Sudan
South Sudan, after a long conflict with the government of Sudan, an Arab, Muslim hierarchy governing black Sudanese Christians and animists, as well as Black Muslim farming communities all of whom felt marginalized and ill-treated by Khartoum, became the newest nation in the world in 2011, after a referendum in the south resulted in Sudan finally agreeing to respect a breakaway portion of their geography in the creation of South Sudan.
For awhile competing political and ethnic and religious interests were set aside as the impoverished nation attempted to pull itself together. The rivalries that had been tamped down as the various interests cooperated in their greater struggle against the government in Khartoum didn't last long, however, and the majority Dinkas in South Sudan began to attack the minority Nuer people; their shared government fell apart. By 2013 the country was roiled by civil war.
Foreign embassies became frantically involved in trying to rescue South Sudanese refugees who had sought haven and achieved citizenship in the West, and then returned to South Sudan with the intention of helping the new nation become an independent, sovereign success. But things turned ugly and even their own ethnic group, the minority Nuer, rejected those that had left while the country was in its original turmoil:
"They were told, 'Where were you? I was in the bush for 2 years while you were living the high life in Canada'."
explained former diplomat Coghlan.
That was then; four years later nothing has been resolved, the ethnic conflict continues. About 1.8 million South Sudanese have fled the fighting in their new nation for haven abroad. Almost a million ended up in Uganda, with large numbers also finding haven in Sudan, Ethiopia, Kenya and the Democratic Republic of Congo, even though inner conflict and poverty strikes there as elsewhere in Africa. Aside from those leaving South Sudan, an additional two million forced from their homes remain within, living in camps, fending as best they can.
"We are managing but there is a severe shortage of funding. We are only getting about 15 percent of the funding we require. That is a serious gap that may drive us beyond the breaking point."




"This could force the government [of Uganda] to examine its generosity at some point."




"That [the $20 million of the $400-million required to operate refugee camps in Uganda for South Sudanese refugees] is a drop in the ocean. There are refugees suffering in a poor country that has given everything that it can. And the world is walking away from us."




Robert Baryamwesiga, commandant [mayor], Bidi Bidi, Uganda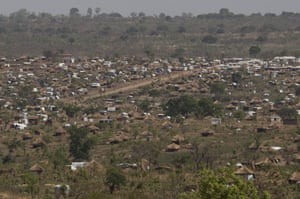 The Bidi Bidi refugee camp in Uganda is home to about 274,000 people, making it the largest camp in the world.
Photograph: Dan Kitwood/Getty Images
The Ugandan town of Bidi Bidi grew last August from a tiny enclave to become a refuge to 272,000 South Sudanese fleeing violence, starvation and death in their country. It has the distinction of representing the world's largest refugee camp. Masses of refugees registered with Ugandan authorities form long lineups daily for food, water and vaccinations. They have become the forgotten refugees; the world's attention focused on Syria and Iraq, with over a million refugees and migrants showing up in Europe.
As for China, with its deep interests in African investment and focus on furthering its presence there to gain influence and supply its own industries with food and minerals derived from African natural resources, its interests seem to stop short at the exploitation stage and feeding its own economy, not the refugee dregs of a desperately poor country. South Sudan and its violent upheaval has become a local event of disinterest to the global community fixated on the Middle East.
Famine stalks South Sudan. Partially because of a catastrophic drought. But then people were too frightened to plant, let alone harvest crops. And the issue of international aid with humanitarian shipments of food meant to stave off large-scale starvation has created a deadlock of another dimension when the competing sides often refuse to allow food aid through.
"They arrive, not having had food and water for weeks. That is what is mobilizing people to leave South Sudan"
, explains Elyas Mohammed, co-ordinator for the United Nations in Bidi Bidi for whom the focus is on the provision of food, water and shelter. Uganda requires at least $400-million for the operation of its network of refugee camps, but of that total, an insufficient $60-million was pledged, and merely $20 million received.
As Uganda struggles with its dedication to humanitarian aid offered to desperate refugees, though the country itself has experienced more than its share of conflict and desperation and is now yet another desperately poor African nation, it braces itself for a further influx of South Sudanese, with an anticipated additional 400,000 refugees expected to flood over the border in this year's remaining months.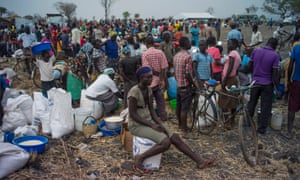 Refugees gather at a settlement in Palorinya, northern Uganda. In March, 2,800 people arrived in Uganda every day from South Sudan.
Photograph: Dan Kitwood/Getty Images
Labels: Civil War, Conflict, Drought, Refugees, South Sudan, Starvation, Uganda, Violence