Working for the UN; Life is Cheap
"I couldn't hear her voice [on released cellphone]."




"I just heard lots of men talking in the background, not just a few but many, a group of men talking."




Elizabeth Catalan, Swedish-Chilean, sister of Zaida Catalan





"What we hope for now is an independent international criminal investigation."




"We can't depend on the Congolese government to do it."




John Sharp, American citizen, father of Michael Sharp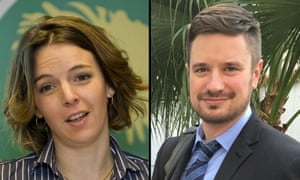 Zaida Catalan and Michael Sharp were kidnapped with their interpreter Betu Tshintela on 12 March. The bodies of all three were found two weeks later.
Photograph: TT News Agency/AFP/Getty Images and Human Rights Watch
"Our colleagues in the DRC [Democratic Republic of Congo] have seen the video and we are utterly horrified at what appears to be the killing of Michael Sharp and Zaida Catalán."




UN human rights spokeswoman Ravina Shamdasani





"Our police and soldiers are accused of being implicated in the assassination of the two UN experts. That is not the case. "




"The images speak for themselves. It is not our soldiers that we see in the video executing the two UN workers but the terrorists of the Kamuina Nsapu militia."




Government spokesman Lambert Mende
People are inspired to become cogs in the wheel of human rights justice. And the United Nations appears only too pleased to take on these people eager to do their part to make the world a better place by holding corrupt governments accountable and hoping to be able to protect vulnerable civilians through their actions and the revelations they alert the world to. People like American Michael Sharp and Swedish-Chilean Zaida Catalan, both contract investigators in their mid-30s, neither of whom had received adequate training.
They travelled with interpreter Betu Tshintela, driver Isaac Kabuayi and two motorbike drivers into a remote area of Democratic Republic of Congo on March 12, close to a remote village south of Kananga to investigate violence and human rights violations attributed to the Congolese army and local militias. They were determined to find who was responsible for a massacre in the DRC. And Zaida Catalan was one determined person
"Exciting development. I can maybe nail this bastard. Damn!"
, she wrote in her diary.
Which was not quite what happened. A cellphone video was made available through the auspices of the Congolese government and shared with authorities at the United Nations. It showed the two UN investigators barefoot among a circle of armed men; the two forced onto the ground with Mr. Sharp arguing. Shots are fired and Mr. Sharp is the first to be hit. A screaming Ms. Catalan attempts to run away, and she is then twice shot. At some point she is beheaded. When their bodies are finally discovered in a shallow grave she is headless.
They have become two more UN-dedicated figures working for humanitarian reasons and losing their lives because they were untrained, unprepared and in the wrong place at the right time, investigating local corrupt authorities who had no wish to be investigated. Two months after their deaths the United Nations put together a panel to investigate why two of their investigators were placed in such a compromised situation, and paid the ultimate price for it in their innocent zeal.
As for the Security Council, it seemed content to leave the investigation of the deaths in the capable hands of the very nation where corruption and violence has swallowed billions in a failed UN plan to usher in stability. Ms. Catalan and Mr. Sharp were focusing on the role of the Congolese government in the chaos and deaths she was investigating. Debate has arisen once again over the responsibility of the United Nations to protect people it hires for the investigation of wrongdoing; people they have a moral obligation to prepare for the job they're undertaking.
The two investigators were part of a panel of six experts whom the Security Council authorized to investigate rapes, massacres and the exploitation of vast natural resources in the Congo. In pursuit of answers to the questions consuming them, they travelled to places considered no-go zones for United Nations employees. Little training was given the independent contractors as investigators, and nor did they have health insurance, or guidance on best practices in operating in such hostile environments.
According to the Congolese government, their release of the video had a distinct purpose; to prove that it was militia fighters, not its soldiers, who were responsible for the murders. Ms. Catalan had been scrutinizing a government official for his possible role in inciting violence last year in the Congolese region of Kasai. Clement Kanku, minister of development, more latterly dismissed, held close connections with the area militia fighters and Ms. Catalan was in possession of a recorded conversation linking Mr. Kanku to mayhem in the region.
The fact that she had this evidence against him was known to Mr. Kanku. When it became known that something horrible had happened to the two investigators it took four days for the United Nations to deploy its forces from other areas of the country to begin a search.
Labels: Congo, Corruption, Murder, United Nations, Violence