Innuendo as 21st-Century Warfare
"That was the talk of the town. NATO in the Disinformation Age."




"The mere fact that [Canada's Minister of Defence Harjit Sajjan] wore a turban was exploited. That will happen again."




"Some things which appear in the Internet community are blatantly racist. [Like whether NATO] will be serving halal [in military dining halls and canteens, and why Latvia's Air Baltic] stopped serving pork and switched to beef and chicken".




Col.Ilmars Lejins, commander, Latvian army brigade





"[The Soviet Union always had] weaponized information, but in some ways technological developments have changed the structure."




"The information weapon is becoming sharper. We are up for a much more intense environment and at the moment we are quite far behind."




"[This type of propaganda] cuts down critical thinking and makes [viewers] vulnerable to the messaging that news programs tell them. Russia is very good at this."




Janis Sarts, director, NATO Strategic Communications Center of Excellence, Riga, Latvia
Money Sharma/AFP/Getty Images

Canada's
Defence Minister Harjit Singh Sajjan in New Delhi on April 18, 2017.
It's not as though this newer, more insidious and hugely successful disinformation campaign to lead target audiences into believing another version of the 'truth' imposed upon them through a stealth campaign of propaganda comes as a huge surprise. The campaign, its depth and breadth and its ultimate purpose were all encompassed in the descriptive
"cyber-warfare"
which Russia's General Valery Gerasimov spoke of in an essay he published four years ago.
The Gerasimov Doctrine represents a mixture of conventional military criteria allied with covert influence, electronic warfare and operations tweaking psychology to
"open[s] wide asymmetrical possibilities for reducing the fighting potential of the enemy"
, in the general's very generous public notification which perhaps did not appear at first sufficiently convincing to those in the intelligence community of nations that would be impacted.
All countries, of course, engage in propaganda meant to put their enemies off scent, but not all countries streamline it and polish it quite so successfully in penetrating through to their target audience. False stories that have little basis in fact have been circulating through Russian operatives in the Baltics. Mostly, to demoralize and to cast suspicion with a view to placing between allies who are antagonists of Russia, a wedge of non-cooperation.
Broadcasting directly into the three Baltic states where NATO has deployed member-states' troops to deflect Russia from any conceivable plans to foment disruption, let alone invade, the audience of ethnic Russians living there as minorities are meant to be influenced as well, to drive a wedge between the ethnic Russian population who are also Baltic citizens and their governments, much as was done in Ukraine, and still continues there, destabilizing the country as payback for its Western lean.
Mikhail Svetlov/Getty images
Kremlin's spokesperson Dmitry Peskov (left) and the President of Russia Vladimir Putin.
A Lithuanian court ordered the closing of the Latvia-registered Baltijas Meduja Alliance, streaming Russian-language programming over the Internet last month in an effort to put a halt to the propaganda meant to influence ethnic Russians in Lithuania. The Kremlin's purpose, according to Donald Jensen, a fellow with the Centre for European Policy Analysis in Washington, was
"to create an information fog."
One of its aims was to convince its audience that
"everyone lies"

.
And according to Martins Kaprans, of CEPA who studies Russian media, what the Baltic States, NATO and its member-nations deploying in Eastern Europe face is
"an archipelago of pro-Kremlin websites"
meant to depict the alliance as radicalized
"warmongers"
.
Vesti.lv
, a news site, reported that 3,000 alliance tanks were being deployed to the Baltics, a number vastly exceeding the reality of 100 tanks. One of the lead reports in
Vesti
spoke of
"the fight against Russian propaganda"
as
"absurd"
.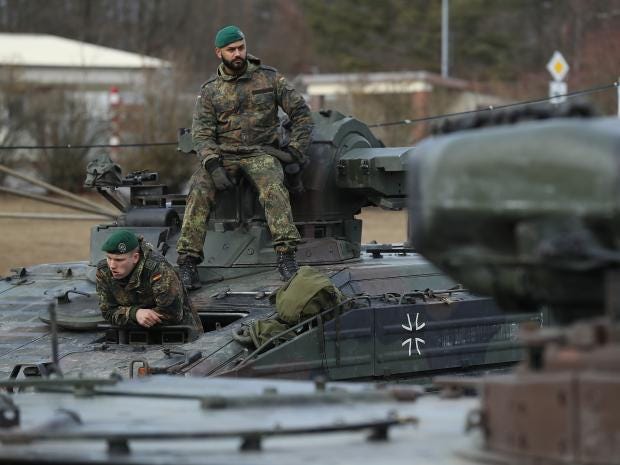 Soldiers of the Bundeswehr, the German armed forces, prepare to drive Marder light tanks onto a train for transport to Lithuania
Labels: Baltics, Conflict, NATO, Propaganda, Russia