"I Have Done Nothing Wrong"
"Since there was suspicion of sexual relationship, the police sent the girl to forensic medical for virginity test."




Fraidoon Obaidi, chief, Kabul Police Criminal Investigation Department





"The virginity test has been banned. However, it's a long-lasting practice used wrongly by law enforcement authorities, especially police."




"However wrong, it is going to take some time to entirely be stopped and removed. But we are determined to change the practice."




Office of Afghan President Ashraf Ghani





"The circumstances of virginity test are never humane."




"In conducting virginity tests, no one asks for the consent of the victim or the suspect -- 99 percent of the virginity tests are conducted by force and without consideration of its legality."




Soraya Sobhrang, commissioner, Afghanistan Independent Human Rights Commission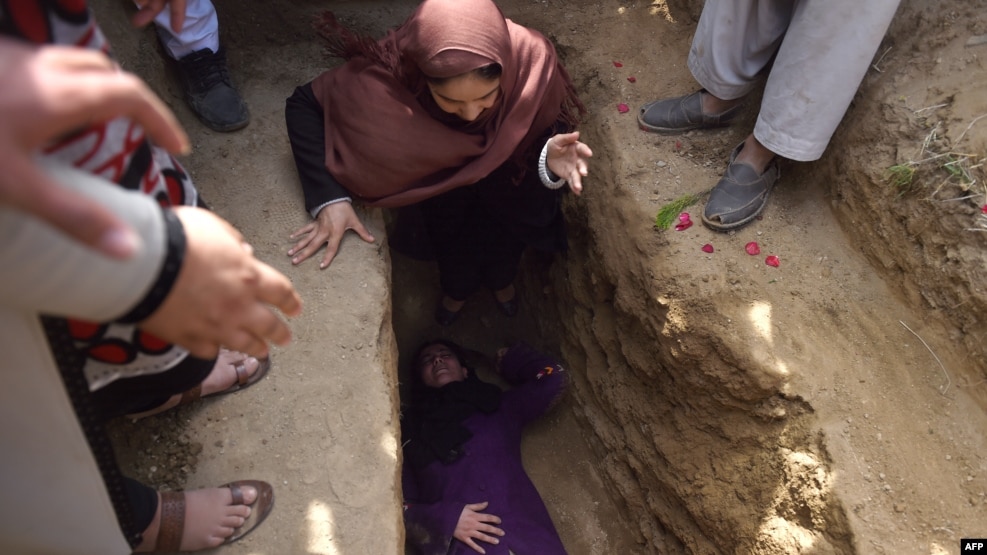 Violence against women remains a major issue in Afghanistan. File photo of Afghan civil society activist women weep and lie on the grave of Farkhunda, 27 after she was lynched by an angry mob in central Kabul on March 22.
A human rights abuse and indignity of the highest order, virginity tests are conducted in a small chamber at Kabul's forensic center. The room has much in common in appearance with a storage space. The government's deputy director of forensic medicine, Khalil Ahmad Pashtoonyar, hastens to give his assurance that women are never forced to undergo the examination. Should a woman refuse, his facility simply returns the appropriate file to the police with the notation that the subject failed to give consent.
Entirely overlooking the very fact that in this fundamentalist society extreme public pressure and social expectations weigh heavily on a family's honour and the end result is that a woman has little option but to submit to the test. The social devastation of censure and isolation that can result from a refusal to accept the pressure and submit to authorities' demands that the public morality be respected ensures that few women have the courage to defend themselves against such an intimate intrusion.
Rights groups have repeatedly warned against the lack of basic rights for women in Afghanistan
[AP]
Yet, even if the test is conducted as social mores demand, and the woman is found to be without the moral blemish of a disturbed hymen, the very fact that she has been submitted to such a test is indication enough of her presumed moral failure in this backward society. A 17-year-old girl and a young man she had been linked with were sitting in a vehicle when a mob descended on them, setting fire to the car. The two young people managed to escape. When police arrived on the scene it was not the lynching-prone mob that interested them.
Instead they arrested the teenage girl. She was ordered by police to undergo the standard virginity test at the forensic medical centre. The completed test verified that her hymen was intact; nonetheless, she was held for 40 days at the detention center meant to hold children under suspicion. And the public shame of the accusation against her by the ravening mob compelled her father to send his daughter out of Kabul, to be with family in a different province.
"I have done nothing wrong"
, she wrote to her father.
Afghanistan's president had acceded to the demands of rights activists that forensic virginity tests be officially abolished. Regardless, the examinations remain forced by officials upon women and girls who in many instances have been raped or who have suffered some manner of sexual abuse. In other words, they are held responsible for the violent attacks rapists subject them to, guilty for being women inciting men -- by virtue of the fact that they are women -- to attack them.
Labels: Afghanistan, Female Subjugation, Sexual Assault