Putin's Omelette
"The Russians are rushing to create a fait accompli on the ground before Trump gets to the White House."




Bassma Kodmani, leader, High Negotiations Council, Syria





"For twenty years, people basically ignored Russia on the Middle East."




"The Russian role in the region now will certainly increase."




Robert Ford, (former) U.S. ambassador to Syria
"Moscow believes it now has the opportunity and time to make critical gains in Syria. Russian airstrikes in Idlib and Homs provinces as well as the Syrian army offensive in Aleppo seem to be building in this line of reasoning. At the same time, this shouldn't contradict other Russian moves — with an overall decrease in anti-American rhetoric, more attacks on the Islamic State and Jabhat Fatah al-Sham, and prospects for the deterrent built by the Russians in Syria to be a potential bargaining chip with the new [U.S.] administration."




"At the same time, the military offensives are set to bring more rebel groups to direct talks with the Russian military. According to the Bulletin of the Russian Centre for Reconciliation of Opposing Sides in the Syrian Arab Republic on Nov. 19, within the previous 24 hours 'truce agreements were signed with representatives of three inhabited areas of Hama province and two in Latakia province.' Thus, the total number of inhabited areas whose leaders had signed the so-called reconciliation agreements now amounts to 956, while the number of cease-fire application forms signed with leaders of armed groups has reached 69. Finally, another track Moscow is pursuing is consultations with Iran and Turkey on strategic aspects of Syrian statehood, such as the country's integrity. Both Tehran and Ankara favor the idea of a united Syria — though each for their own interests and with specific visions for it. Nevertheless, it is important for Russia to find itself on the same page with the regional stakeholders on the critical issues before the situation in Syria is transformed into a postwar diplomatic mode."


Maxim A. Suchkov, editor, Al-Monitor's Russia-Mideast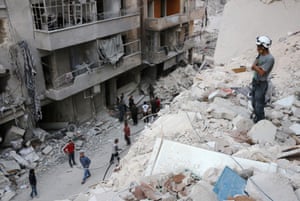 A member of the Syrian civil defence volunteers, known as the White Helmets, stands on the rubble of destroyed buildings during a rescue operation following an airstrike on the rebel-held neighbourhood of Bustan al-Basha
Photograph: Thaer Mohammed/AFP/Getty Images
US President Barack Obama talks with Russian President Vladimir Putin at the APEC Economic Leaders' Meeting, Lima, Peru, Nov. 20, 2016.
(photo by REUTERS/Kevin Lamarque)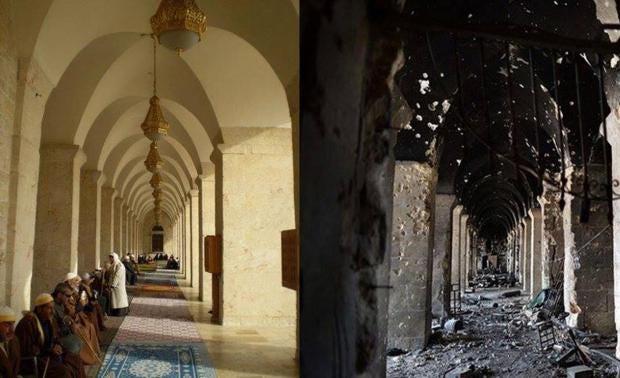 Like day and night, the Umayyad Mosque of Aleppo, built between the 8th and 13th centuries, is one of many historic sites left in charred ruins after heavy fighting
The rebels' cause may be hopefully, naively just, and the regime represent a callously indifferent tyranny but it has its friends at court in Tehran in the Islamic Republic of Iran and in Moscow, helping both to fulfill their own regional aspirations. That Vladimir Putin has not hesitated to make common cause with Iran is a more than adequate glimpse into the black heart of another dictator whom the West politely names an autocratic ruler. To complete the symbiotic trifecta, there is Ankara cultivating Moscow and Tehran.
Vladimir Putin takes his natural place as the towering figure leading the Syrian regime out of the rancid witches' brew it has made of its country. Discarding the simmering black pot of sectarian blight, the Russian strongman is busy preparing his own version of a banquet, an omelette that will feed the concatenation of interests, while breaking a substantial number of eggs to hasten the process; Syria is just the first course.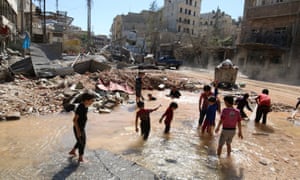 Children play with water from a burst waterpipe at a site hit by an airstrike in Aleppo's rebel-controlled al-Mashad neighbourhood
Photograph: Abdalrhman Ismail/Reuters
Labels: Conflict, Iran, Rebels, Russia, Shiite, Sunni, Syria, Turkey, U.S.