Clowning Around Aleppo
"We can't keep up. We're having to choose who we find and who we don't."




Ibrahim Abu Laith, White Helmets civil defence group volunteer, Aleppo





"Where we used to bury one man, we lay down entire families now."




"We dig and we dig. It never ends."




Abo Jaafar, east Aleppo coroner





"For the sake of humanity, we call on, we plead with the parties and those with influence to do everything in their power to protect civilians and enable access to the besieged part of eastern Aleppo before it becomes one giant graveyard."




Stephen O'Brien, head, UN humanitarian body





"He would act out skits for the children to break the walls between them."




"All of us in this field [child care] are exhausted, and we have to find strength to provide psychological support and continue with our work."




Samar Hijazi, Space for Hope, east Aleppo
(ZEIN AL-RIFAI/AFP/Getty Images)
"My brother Anas Al Basha who was the reason why besieged children smiled ... killed today in Aleppo due to the Russian-Assad shelling."




"[Anas] lived to make children laugh and happy in the darkest most dangerous place. Anas who refused to leave Aleppo and decided to stay there to continue his work as a volunteer, to help the civilians and give gifts for the children in the streets, to bring hope for them."




Mahmoud al-Basha, Facebook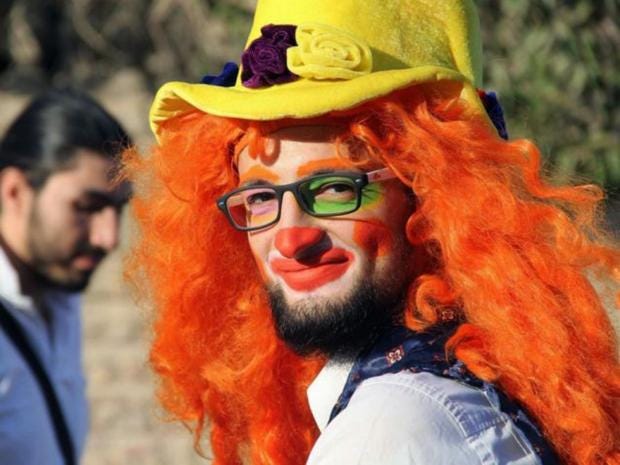 Anas al-Basha was killed in an air strike on the besieged city. He was 24 and newly married
When Anas al-Basha's family left Aleppo to preserve their lives and their sanity, he decided to remain behind. He had a mission as a member of a local civil society group, and as a social worker. To give hope to children for another life beyond what they have known for five years, when the assaults against their community by their president would come to a halt and some kind of normalcy might ensue. The kind of normalcy that might ensue would never return to them their dead parents. These are children whose mother, or father, or both were killed by the regime.
A more dire situation for a child cannot be imagined and the loathing and fear of death must haunt their sleeping hours and their waking days. Anas al-Basha sought to give them hope, with his clown humour to make them laugh, to think about better times and to remember how much they were loved. He died in a missile strike in eastern Aleppo, yet another body count notched up to the Syrian regime and their Russian ally for whom bombing schools and hospitals simply represent normalcy.
Oh, and yes of course, bombing funeral processions and cemeteries, those too. Making it now too dangerous to bury the dead in broad daylight. It is now a night-time activity to swiftly conduct the funeral rites, when warplanes don't tend to circle above, nor ground troops venture into eastern Aleppo's rebel held districts. Eastern Aleppo continues to be pounded and the rebels set off their rockets even as their enclaves steadily shrink.
Lebanese Hezbollah, Iraqi and Iranian Shiite militias are all aligned in the deadly game of retribution against Syrian Sunnis, alongside the Alawite regime and the sectarian-oblivious Russians. New districts keep falling to the military offensive, causing massive displacement which the UN estimates at over 31,000 as having fled, mostly to Kurdish areas, preferring to shield themselves from further violations of human rights should they flee to the government side of the city.
Russia has now lost two of its warplanes, but not as a result of the rebel defence, since they are not equipped to match the armaments of the regime and its co-fighting supporters, but to technical-mechanical deficiencies on the Russian aircraft carrier stationed in the Mediterranean. In eastern Aleppo the graveyards are full and shallow graves have been spreading in public parks.
Among them the grave of a 24-year-old social worker who dressed as a clown to entertain children, to take their minds away from their dreadful losses, their fear and pain, their miserable existence, orphaned by the president of their nation.
Al-Basha was a center director at Space for Hope, one of the many important but unheralded local initiatives that has operated against the odds to provide the services of civil society in Syria's war-torn opposition areas. (Ahmad al-Khatib/AP)
Labels: Assad, Child Welfare, Conflict, Russia, Syria