The Method to Their Madness
"We fear we are just at the beginning." These villages are 35 to 40 kilometres outside Mosul. The closer you get to the city, the worse it could get."
"We've had reports ISIL are moving people, and we don't know where, but with their history of barbarism, you fear it's somewhere with strategic value for them."
Rupert Colville, United Nations human rights organization
"ISIL's depraved, cowardly strategy is to try to use the presence of civilian hostages to render certain points, areas or military forces immune from military action, essentially using tens of thousands of men, women and children as human shields."
"In the face of these flagrant violations of international humanitarian law by ISIL, it is even more crucial that government forces and their allies ensure scrupulous respect for these laws."
"Captured (Isis) fighters and those perceived to have supported them must be held in accordance with international law."
UN spokeswoman Ravina Shamdasani
"Daesh detains families or sometimes just young people as they withdraw from an area. My brother was in the village of al-Hood and is one of those that they have taken. We do not know what has become of him."
"When the army attacks any village, civilians are caught in crossfire. We have to decide whether to go to the army side or stay where Daesh is. Daesh considers anyone who leaves the land of caliphate as 'apostate' so they force people to go with them as they withdraw towards Mosul."
Jassim, 36, a farmer from
Qayyarah
"Congestion is increasing in the city, since the military operation began, hundreds of families from villages around Mosul began to come to the city and they are housed in schools and empty government buildings."
"They live under difficult conditions and we are helping them as much as we can by giving them food, water, blankets and other needs. They are scared."
Issa, a teacher in his 30s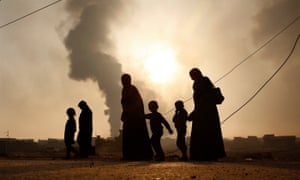 A family walks away from the front line in Mosul, Iraq
Photograph: Carolyn Cole/LA Times via Getty Images
It is thought that about eight thousand families have been force-marched by Islamic State jihadis into Mosul from outlying villages. Their purpose is obvious enough; to ensure there are sufficient numbers of ordinary Iraqis in all parts of the city so that artillery or aerial bombardments are withheld for fear of inadvertently killing innocents. This tactic is not unique to Islamic State of course, it is one practised by all terrorist militias for whom human life is of negligible value, balanced against their agenda.
Iraqi families trapped in the general vicinity of Mosul are also being shepherded to other places besides Mosul. The town of Hamam al-Ali, once had a population of about 23,000 residents, but since becoming a stronghold for Islamic State, the town's population has been increased to 60,000 and it is not hard to imagine how strained resources are to manage a tripling of the population. The U.S.-led air coalition has been trying to bomb the vehicles sometimes used to transfer villagers, when they are empty of passengers.
The people helpless to defend themselves from being forcefully displaced, arrive to find place for themselves in abandoned buildings, ending up living in dire straits with their human necessities for survival in short supply. A young disabled girl, along with five other people who were unable to keep up with a group forcibly marched from their village, were shot dead by ISIL terrorists just south of Mosul. Their deaths known to everyone, the bodies left in plain sight to ensure that fear motivates others to cooperate.
Internally displaced persons clear a checkpoint in Qayara, some 50 kilometers south of Mosul, Iraq, Wednesday, Oct. 26, 2016. Islamic State militants have been going door to door in farming communities south of Mosul, ordering people at gunpoint to follow them north into the city and apparently using them as human shields as they retreat from Iraqi forces. Witnesses to the forced evacuation describe scenes of chaos as hundreds of people were driven north across the Ninevah plains and into the heavily-fortified city, where the extremists are believed to be preparing for a climactic showdown. (AP

Photo

/Marko Drobnjakovic)
While in the same village, ISIL was reported to have tied six civilians to a vehicle by their hands to be dragged about, an honour accorded them in view of the fact they were relations of a tribal leader known to be fighting with Iraqi government forces. This is yet another specialty common to Hamas, in Gaza. Another 70 bodies shot through with bullets was discovered by Iraqi security forces in the village of Tuloul Naser, on October 20.
Fifty police officers held hostage by ISIL were executed outside Mosul on Sunday. Somewhat balancing the ledger on atrocities, are reports of revenge attacks by forces closing in on Mosul, on men and boys believed to have fought for ISIL, surfacing as well.
On its social media sites, ISIL has posted suggestions of plans to retreat to the deserts of Anbar province on a temporary basis, there to rebuild and plan additional atrocities on Iraqis. As it is they have done stupendous harm. Kurdish peshmerga and Iraqi security forces have taken the full brunt of ISIL suicide bombings, killing and injuring a substantial number of those dedicated to releasing Mosul and its million residents from Islamic State.
The roads and hills around Mosul have been littered with IEDs, while snipers with Islamic State have been dispatched to greet coalition militias as they approach Mosul. Execution style killings continue to take the lives of former police officers as ISIL retreats from its Mosul territory.
Goran Tomasevic, Reuters

-- A man accused of being a Daesh fighter sits before a crowd of newly displaced persons at at a checkpoint at Qarayya, east of Mosul.
Labels: Conflict, Iraq, Islamic State, Mosul, Peshmerga