Vengeance: Entitled, Aborted
"We didn't want to come back [to pre-state Israel] without having done something, and that is why we were keen [to avenge the cataclysmic genocide unleashed by Nazi Germany on Europe's Jews]."




"We didn't understand why it shouldn't be paid back [Nazi extermination of six million Jews]."




"[So the clandestine group of former resistance fighters hatched a mission]: Kill Germans. As many as possible."




Joseph Harmatz, 91, Holocaust survivor, Jewish "Avenger", Tel Aviv, 2016
"[Doctors said the SS prisoners of war had symptoms] similar to cholera and included vomiting, diarrhea and skin rashes."




"[Arsenic was found on a bread loaf weighing 0.2 grams -- falling within the range of 0.1-0.3, [what would be] in most cases lethal."




"10 kilo of pure arsenic was present, mixed with water and glue for adhesive purposes."




Laboratory investigators, 1946, Germany
On April 13, 1946 three members of a 50-person group of Jewish Holocaust survivors, former young men and women who had fought in the underground resistance against the Nazis dedicated to the extermination of European Jewry, sought their revenge. They had decided to target imprisoned SS officers, to carry out a mass poisoning to kill thousands of Germans for the satisfying mission of avenging the deaths of millions of helpless Jewish men, women and children.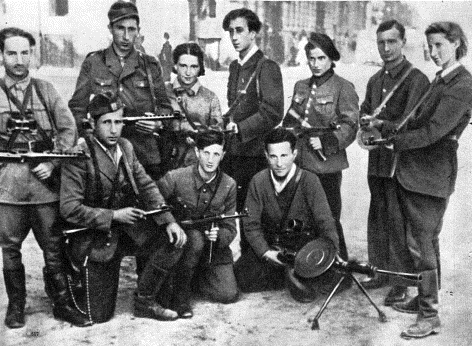 'Avengers' a Jewish group of assassins that targeted Nazi war criminals with the aim of avenging the Holocaust
This was highly unusual. What distinguished Jewish survivors of the death camps, the work camps, the concentration camps at liberation, was the very fact that they undertook no reprisals whatever. Even when the German guards who had made their lives a living hell before their intent on exterminating them, became vulnerable to mass attack when most of the SS military fled. Jewish survivors attempted no backlash against their tormentors.
At that point they would no longer be in a position requiring that they defend themselves from mortal assault; the war was over, they were liberated, those who survived, even though they had lost their entire families to the Third Reich-engineered apparatus of industrialized mass murder. The survivors turned their attention to healing themselves, to surviving, to live into a future that the Nazis sought to deprive them of. This, in and of itself, was held by most Jews to be their ultimate revenge: survival.
But Joseph Harmatz and his group of young people decided they would carry out a mass poisoning of SS prisoners in an American prisoner-of-war camp in 1946, located near Nuremberg, at Langwasser POW camp, Stalag 13. Three thousand loaves of bread were spread with arsenic with the goal to kill 12,000 SS personnel, prisoners in the camp. Undercover Avenger members found employment at a bakery supplying the POW camp.
Their plan failed. While many of the SS prisoners became severely ill, all recovered; there were no deaths, there was no revenge accomplished, merely the attempt to do so. This was revealed in a 1999 television documentary focusing on the plot. And that revelation spurred German authorities in Nuremberg into investigating Mr. Harmatz and his colleagues, but the prosecutors did so half-heartedly, deciding not to file charges as a result of the "extraordinary circumstances" that had led to the poisoning attempt.
The U.S. military Counter Intelligence Corps investigated the incident in 1946, finding that the amount of arsenic that had been utilized should logically have been sufficient to have caused a massive death toll. One 1947 memorandum with a "confidential" designation indicated that investigators discovered
"three empty hot water bottles and a burlap bag containing four full hot water bottles"
at the bakery.
When an analysis of the contents was undertaken it
"revealed that they contained enough arsenic mixed with glue and water to kill approximately 60,000 persons"
. Had the conspirators -- most of whom are now long dead -- succeeded in their plot, it is doubtful that any would have felt remorse afterward. They may have felt some degree of satisfaction at making the attempt, however, even though it remains a mystery up to the present time, why the attempt hadn't succeeded.