Israel Resisting the Hamas Occupiers
"The Palestinian people and the resistance can overcome all the obstacles made by the occupation."




"The resistance is creative and advanced and doesn't care about the occupation's procedures."




Salah Bardawil, senior Hamas official, Gaza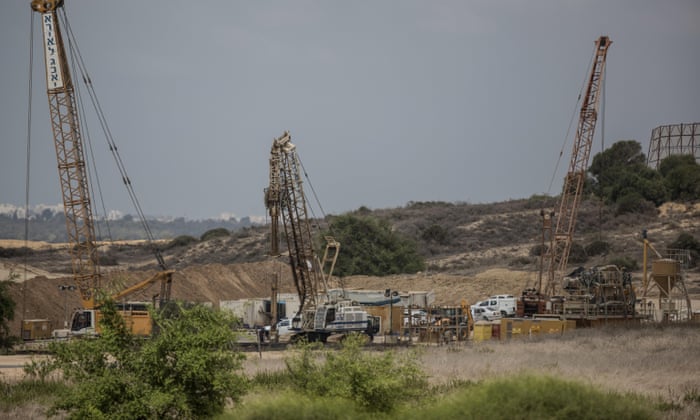 Digging machinery on Israel's border with Gaza. PM Benjamin Netanyahu plans 'to encircle Israel with a security fence'.
Photograph: Tsafrir Abayov/AP
Israel responded to terrifying suicide attacks killing Israeli civilians in restaurants, malls, on buses, at markets, just anywhere people tend to gather for social or commercial purposes, taking a dreadful toll of human life in a campaign designed to demonstrate to the world how much Hamas loves death and is willing to sacrifice themselves in a suicide-murder campaign to fight the 'occupier'.
The 'occupier' which won all the territory comprising Israel, the West Bank and Gaza in a war imposed upon it by the Arab Muslim states meaning to extirpate Israel from the Middle East, left Gaza to the Palestinians. The only 'occupiers' of the Gaza Strip are the Palestinians who live there under the rule of Hamas whom they voted into office as a popular response to the existence of the State of Israel on land that Arabs consider theirs by right of imperial Islamic conquest.
Once Hamas 'occupied' Gaza, it set about barbarously hunting down and killing members of Fatah who controlled Gaza, a lawless, crime-ridden territory which Hamas, exulting in its charter-right to commit to destroying Israel, keeps in tight Islamist discipline. The deathly antipathy between Fatah which maintains the Palestinian Authority in the West Bank, and Hamas in the Gaza Strip has them at one another's throats.
Activestills.org --
Wall construction in Anata, Dec. 20, 2006.
Photo by Yotam Ronen
The separation wall that Israel built between itself and the Territories was decried by the international community as an 'apartheid' separation between people, characterizing Israel as an oppressor for taking steps to protect its population from incessant deadly attacks whose perpetrators were celebrated as 'heroes', listed on a role of martyrs, having streets named after them and their families paid generous stipends as reward for their sacrifice. The Palestinians were seen to be suffering, the Israelis, who were the victims, were seen as the oppressors.
In the last war with Hamas, when Israel responded to the ongoing rocket assaults from Gaza into Israel targeting Jewish border towns, the discovery was made of the presence of over 32 tunnels penetrating from Gaza into Israel, and from where Hamas terrorists planned attacks against Israeli army units and kibbutzim. The threat was dire and double-pronged; rockets overhead, armed terrorists underground.
Although the Israel Defence Forces ended up destroying sophisticated, costly and well-equipped tunnels during the period of conflict, as soon as a ceasefire was declared, Hamas set about digging new tunnels, using materials for that purpose that were meant for the reconstruction of houses and buildings and other civil infrastructure destroyed during the conflict, when Hamas took to attacking the IDF from positions certain to draw return fire, among crowded civilian areas; apartment buildings, hospitals, schools.
Infamously, Hamas used Gazan civilians as shields, inviting as high a body count as possible, to be used as propaganda to present the IDF as deliberately slaughtering Arab Palestinian Gazans and particularly children, for maximum impact in the international community. The rebuilding of new tunnels, both between Gaza and Israel and Gaza and Egypt has kept the Egyptian military busy flooding the tunnels and destroying them as soon as their presence is discovered.
Israel has embarked on the building of another wall, this one deep underground, to act as a permanent barrier underground along the border with Gaza, to keep Hamas terrorists from their determined tunnelling into Israel. According to Israeli authorities, this concrete barrier will be dozens of metres deep and eventually run the full length of the border. Cranes, tracked machinery and cement mixers are deployed on the initial phase of the 70 kilometre border project which is expected to take years to complete.
The international community that was swift and condemnatory of Israel attempting to put a stop to the killing of Israeli civilians is now busy itself building walls in the hope of keeping floods of Muslims from Africa, Asia and the Middle East, fleeing poverty, oppression, crime and conflict, out of Europe while Muslim ruling oppressors of Muslim populations inflict their own brand of terror on their national civilians.